'This Is Us' Season 6 Episode 7 Could Answer Why Rebecca and Miguel Stop Talking for 8 Years
Rebecca and Miguel have started showing signs that they have feelings for each other in the past in 'This Is Us' Season 6, but fans know heartbreak is coming.
It took six years, but This Is Us fans are finally ready to see how Rebecca and Miguel become a couple. Not only are viewers willing, but they're also eager to see their romance blossom onscreen. Unfortunately, it wasn't an easy road for Rebecca and Miguel, and things will likely get worse before they get better. And This Is Us Season 6 Episode 7 might show what went wrong for them in the years after Jack's death.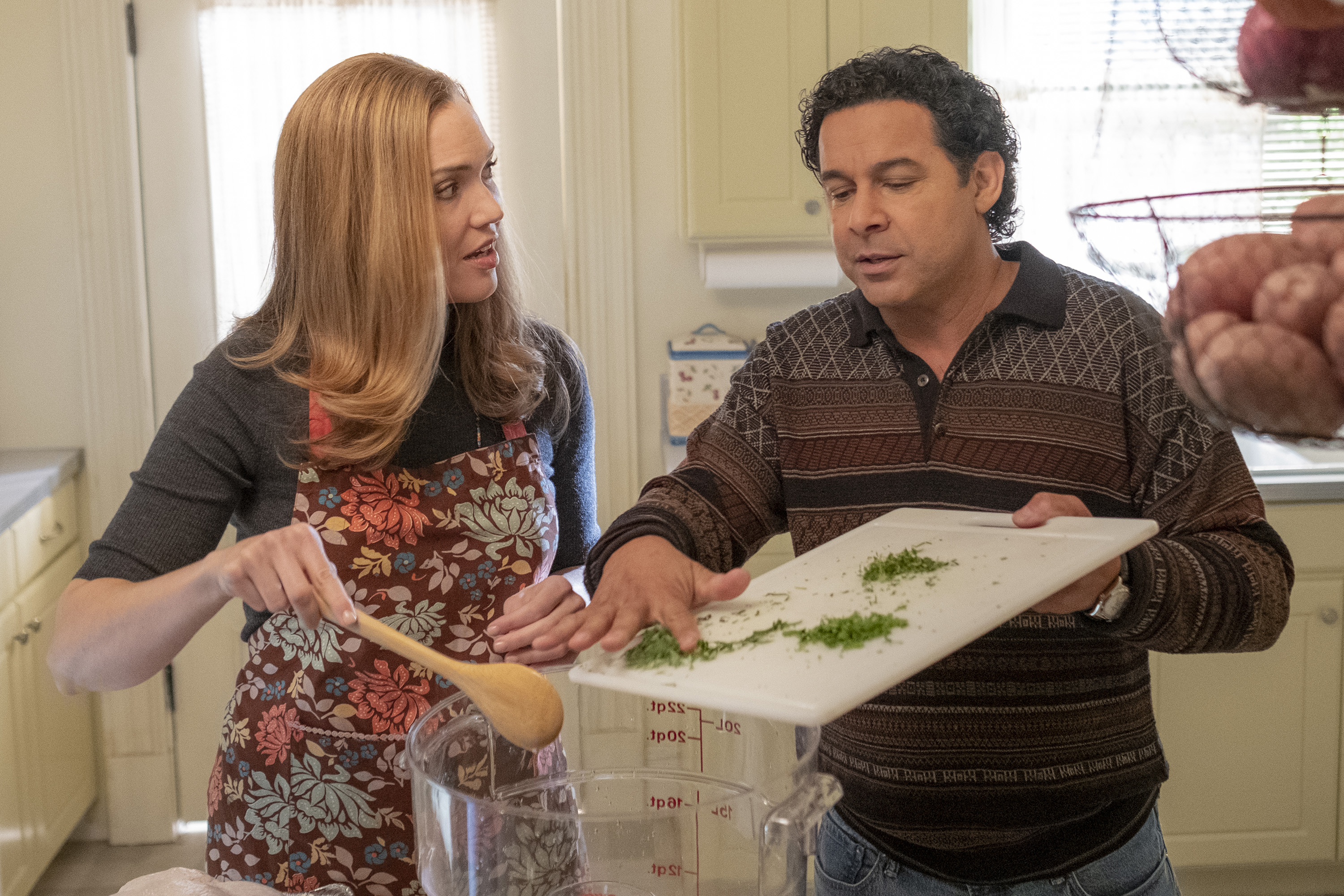 Everything we know about Rebecca and Miguel's romance in 'This Is Us'
When fans first learned that Rebecca and Miguel became a couple following Jack's death, they were unhappy. Like the Big Three, it took a while for viewers to warm up to the idea that Jack's widow and his best friend got married. But, now, the chemistry between Mandy Moore and Jon Huertas is undeniable.
Before jumping into theories about This Is Us Season 6 Episode 7, we have to remember what we already know about the couple. Of course, they were friends while Jack was still alive. Then, after his death, Rebecca and Miguel got even closer and became best friends. And in season 6, fans notice that they are starting to develop feelings for one another. And they are clearly jealous of each other's new partners.
Unfortunately, we know that Rebecca and Miguel stop talking around this time. It's not until eight years later, following the birth of Tess, that Miguel sends Rebecca a Facebook message. It reads, "Congrats on your first grandchild! Hello from Houston — didn't know you were on this! How've you been for the past eight years?" Rebecca replied, "I'm good. How are you?"
After reconnecting, Rebecca and Miguel get married. While fans still want to know where Miguel is during the flash-forward scene at Kevin's house, many are desperate to discover why the couple stopped talking for eight years. Thankfully, This Is Us Season 6 Episode 7, "Taboo," might have all of the answers.
Why 'This Is Us' Season 6 Episode 7 might fill in the blanks in Rebecca and Miguel's story
Both Mandy Moore and Jon Huertas have teased that This Is Us Season 6 will finally tell viewers what happened between Rebecca and Miguel.
"It's one of the saddest moments that I've felt as a character, as an actor, and even as an audience member and a fan of the show, too," Huertas told Entertainment Weekly. Moore added, "Rebecca and Miguel collectively reach this boiling point where neither of them can ignore that there's sort of this unspoken chemistry. And someone needs to do something about it. And you'll see how that unfolds. But it's heartbreaking and so true to life."
Given the past couple of episodes, it seems like This Is Us Season 6 Episode 7 may feature the moment Rebecca and Miguel reach their boiling point. And the preview for the hour shows some tension between the two of them.
During an interview with Entertainment Weekly, This Is Us co-producer and writer Laura Kenar teased "Taboo." She said, "Tensions are high, and there's going to be some interesting movement with Miguel and Rebecca in the '90s. There's drama in every time period for Rebecca Pearson, for sure."
Perhaps Huertas' "saddest moment" as Miguel will be a part of This Is Us Season 6 Episode 7. And as a result, Rebecca and Miguel go their separate ways. Thanksgiving is never boring in the Pearson household, that's for sure.
'This Is Us' Season 6 Episode 7 airs on March 8
The synopsis for "Taboo" reads, "Rebecca has a big announcement to make at Thanksgiving dinner."
Given the preview, it's likely that the synopsis refers to the show's present-day storyline. The Pearsons gather for Thanksgiving at the cabin in the video, and Rebecca lets her kids know that she wants to have a family talk following dinner. She tells them, "There's no easy way to start this."
Elsewhere in the preview, Rebecca's mother joins her and Jack for the holiday, and Rebecca and Miguel stare longingly into each other's eyes.
Fans can watch This Is Us Season 6 Episode 7 on Tuesday, March 8, at 9 p.m. ET on NBC to discover what happens between Rebecca and Miguel.