'This Is Us' Season 6 Finale: New Photos Show Rebecca's Funeral and a Flashback to an Iconic Game
The This Is Us Season 6 finale is coming soon, and NBC viewers can't wait to see how it all ends for the Pearson family. Rebecca's death in This Is Us Season 6 Episode 17, "The Train," deeply saddened both the cast and fans. Now, her funeral looms. Here's what new photos from NBC depict.
The 'This Is Us' Season 6 finale features Rebecca's funeral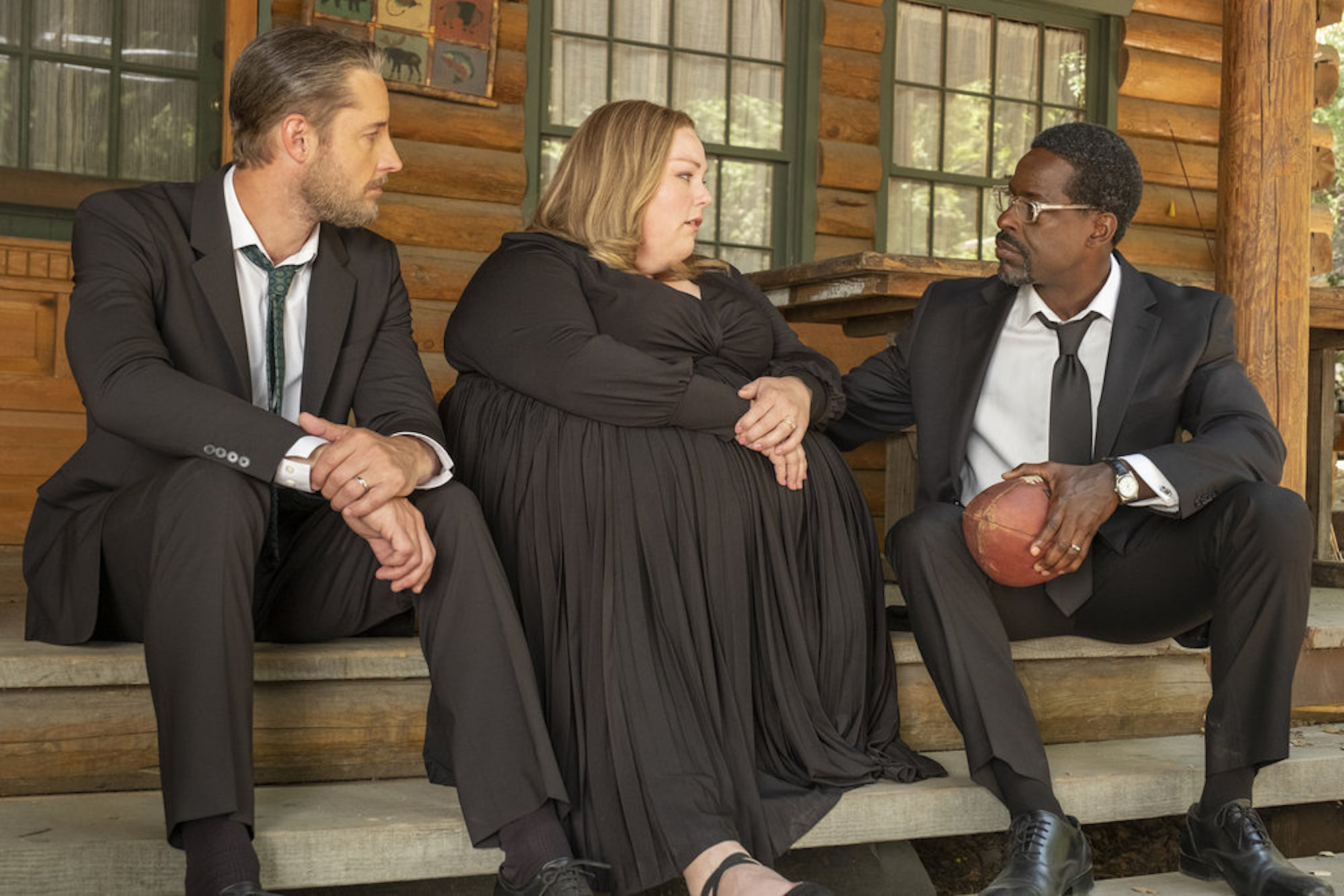 The This Is Us Season 6 finale shows the aftermath of Rebecca's death, show creator Dan Fogelman promises. "In the last episode, we will try to capture something simple which, while sad, is kind of a day in the life, which is so much of what the show is about, set against Rebecca's funeral," Fogelman told Deadline.
Fogelman went further with his description of the final episode, too. While fans were devastated watching "The Train," episode 18 — simply titled "Us" — will serve as more of an epilogue to the show. "While it will make you cry, it will make you sad, the end of the finale moves me in a way that is different," he added. "I think the cast and crew captured something about the human condition and the condition of being a person in the family that I am really proud of."
New season finale photos show the Big 3 sitting together dressed in black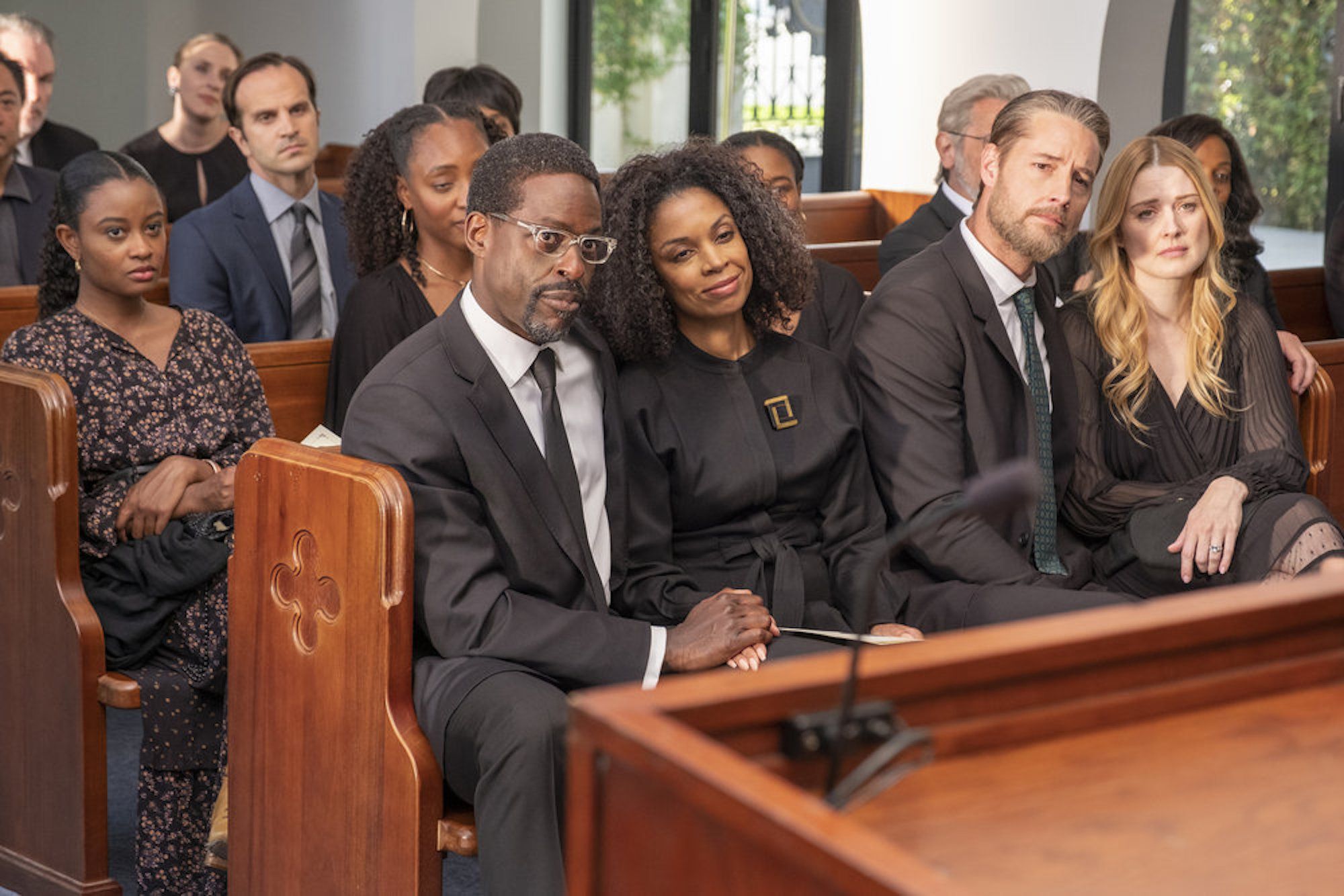 Just as show creator Dan Fogelman explained, the This Is Us Season 6 finale will feature the Big 3 together at Rebecca's funeral. New photos from NBC show Kate, Kevin, and Randall sitting side by side dressed in black.
It seems Randall will get additional support from his own family, too. More photos show him and his daughters, Deja, Annie, and Tess, all sitting together and wearing black, seemingly for the funeral. It looks like Randall and Deja have a particularly close heart-to-heart during this time.
Other photos show Uncle Nicky and Kevin speaking closely with one another, and Kate and Randall seem to give solo speeches about Rebecca to those who gather to celebrate her life. As for flashbacks, one photo shows a young Rebecca holding up a "Pin the Tail on the Donkey" game for Jack to see while Jack's holding an infant. It seems that the same game is played at the funeral. Another photo shows Uncle Nicky blindfolded and playing the game.
The 'This Is Us' cast reflected on their time with the show ahead of the finale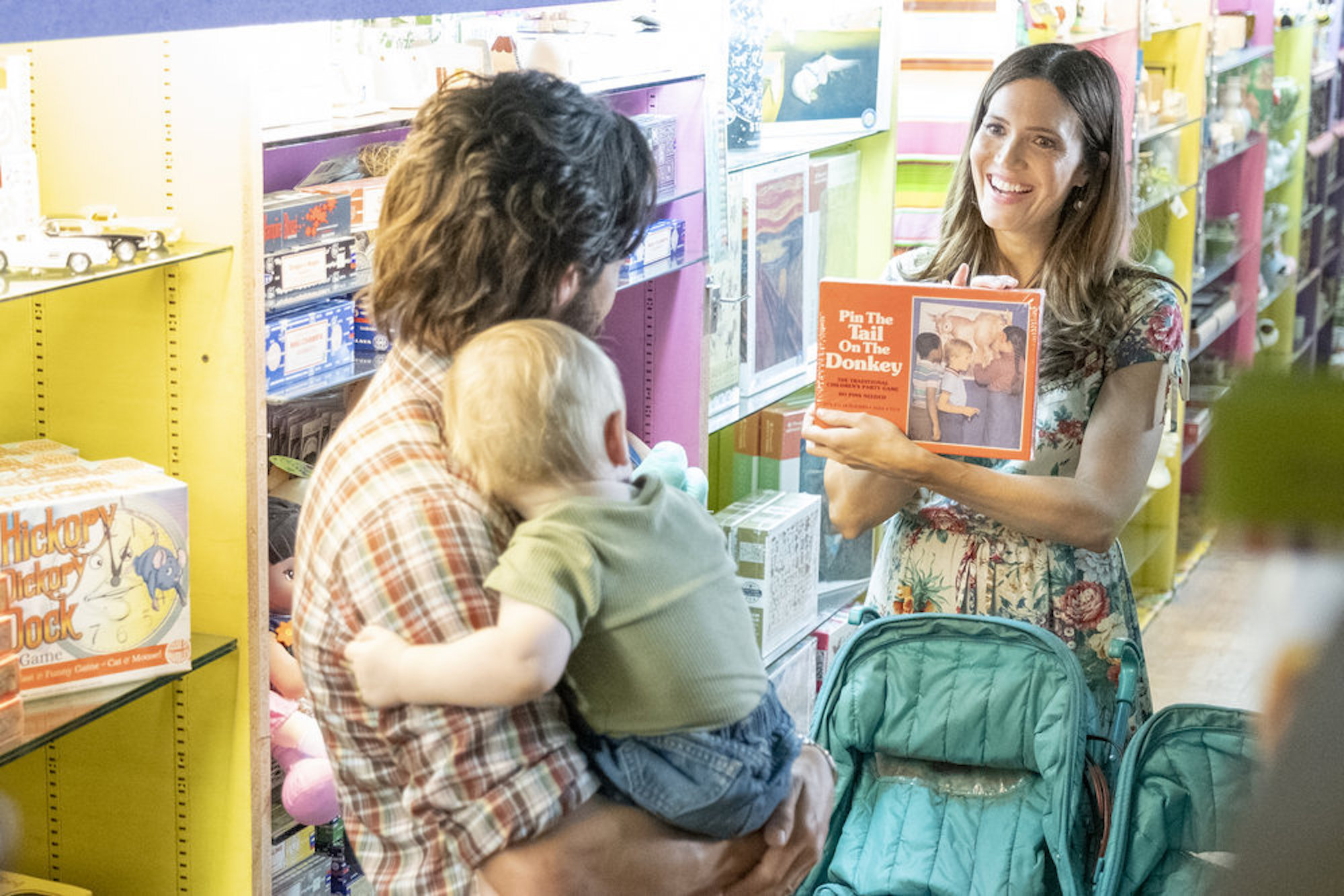 The cast isn't ready to say goodbye after the This Is Us Season 6 finale. They all talked about the wonderful experience they had in filming the final moments of the show.
"It was whole and it was full," Jack actor Milo Ventimiglia said about his final day on set, according to Yahoo. "I was happy to end the show with Mandy [Moore] in a scene together because that's how we started it. It felt good, it felt accomplished. It felt like we'd been given this opportunity to close things out respectfully, wholeheartedly for the characters. I was grateful."
Kate actor Chrissy Metz also shared that she had "a lot of feelings at once" regarding the end. "But I knew it was going to be the last time I was going to see Justin [Hartley] as Kevin and Sterling [K. Brown] as Randall," she noted. "I was like, 'Oh, this is really happening.'"
The This Is Us Season 6 finale airs Tuesday, May 24, at 9 p.m. ET on NBC.
For more on the entertainment world and exclusive interviews, subscribe to Showbiz Cheat Sheet's YouTube channel.