'This Is Us' Season 6: Mandy Moore Reveals the Moment That Made Her Throw up in Episode 17
After watching This Is Us Season 6 Episode 17, we have a feeling that many people feel the same way Mandy Moore did when she read the script. The penultimate hour of the series was emotional from beginning to end as the Pearsons said goodbye to Rebecca. But one specific moment in the script caused Moore to get ill.
[Spoiler alert: This article contains spoilers from This Is Us Season 6 Episode 17, "The Train."]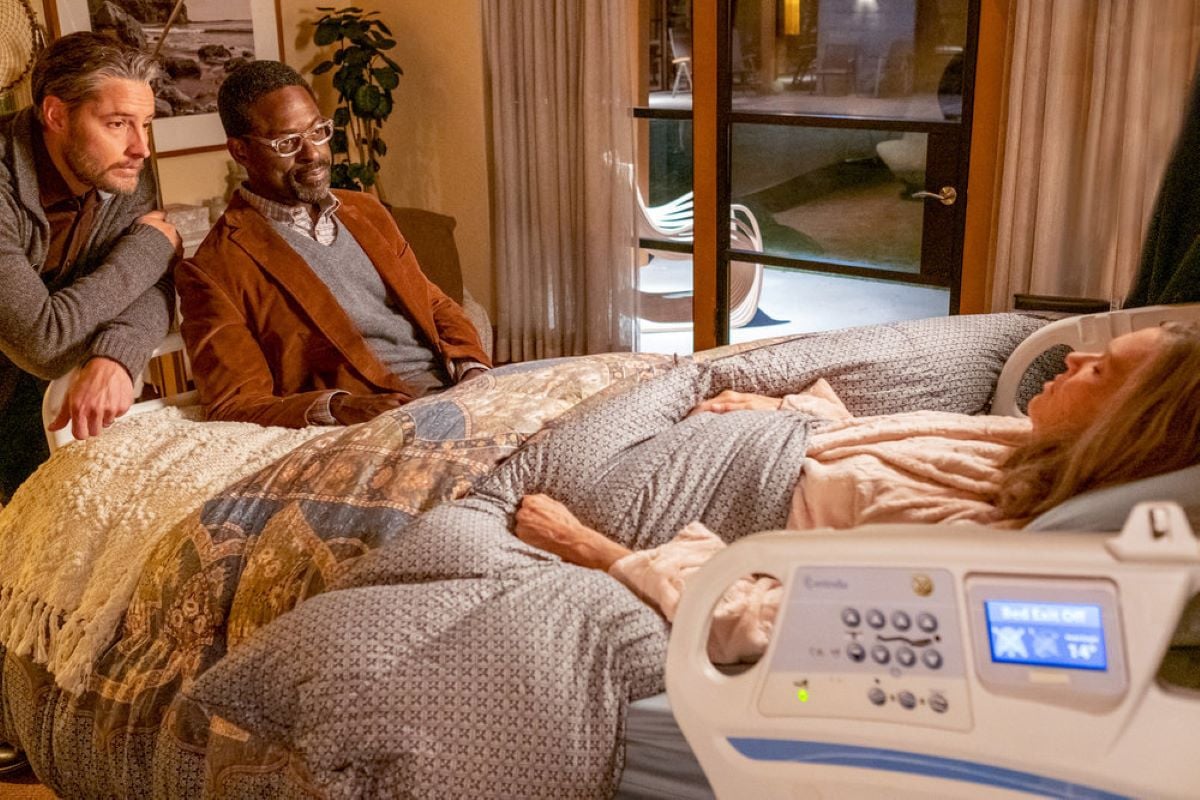 Rebecca dies in 'This Is Us' Season 6 Episode 17
This Is Us Season 6 Episode 17 featured William guiding Mandy Moore's Rebecca through a train, which featured many mementos and people from her past. And the end destination was the afterlife. But in the real world, her family gathered at the home Kevin built for Rebecca to say their goodbyes.
Rebecca's nurse Layla informed Kevin and Randall that their mother only had a little time left. So the Pearsons, including Beth, Toby, Sophie, and Annie, said farewell to the Pearson matriarch. Unfortunately, Kate was in London, so the earliest she could arrive at the house was the following day. But Rebecca is "as tough as they come," and she waited for her daughter's arrival before she allowed herself to rest.
As we mentioned above, Rebecca's subconscious placed her on a train as this was all going on. And during the ride, she saw William, Dr. K, Miguel, and her kids. But after she died in the real world, Rebecca finally reunited with Jack in This Is Us Season 6 Episode 17.
Mandy Moore explained which 'This Is Us' Season 6 Episode 17 scene made her throw up
Before This Is Us Season 6 Episode 17 premiered, Mandy Moore teased that the hour's script made her physically ill. And after the episode's airing, the actor explained to Entertainment Weekly what made her throw up.
"The Dr. K stuff really got me because it's not like he was an enduring presence in their life," Moore shared. "She saw him during this very monumental moment of giving birth and losing a child. And then he came to Jack's funeral. She saw him when they were babies once. It wasn't this constant throughline. Or at least, like, there wasn't the physical presence in one another's life. I think she held him in such high regard and high esteem and had him on this pedestal."
"So the fact that they could have this very candid conversation about what happened during [the birth] — I imagine this event that Rebecca carried around with her, for the entirety of her adult life. But him giving her permission to take a rest, like you've earned the rest — oof, that really, really got me. That idea of you're so strong … [she trails off] sorry, I get emotional thinking about it."
She added, "But for someone to tell her, 'You lived a great life, and you were an incredible mother, and you had all of this tragedy befall you, and you still made such a beautiful thing of all of it. And now you're allowed to rest.' I think just getting that [she starts to cry] permission from someone that she didn't even know very well but loved so much and held in such high regard really just went such a long way. And that, oof, that got me. Still gets me, obviously. [Laughs.]"
Rebecca's scene with Dr. K in the penultimate This Is Us episode is what made Mandy Moore throw up. And after seeing it play out on our television screens, we can't blame her.
Mandy Moore teases the 'This Is Us' series finale
So now that Rebecca is dead, what can viewers expect to see in the This Is Us series finale?
"I think the simplicity of what's in store for people in parts of this episode are what the whole series is really about," Mandy Moore told Entertainment Weekly. "People waiting for things to be tied up perfectly in a bow with every single character and every single story need to abandon that idea because that's not the reality of life anyway."
The actor continued, "You finish telling one person's story, and it's like, 'Yeah, but they have children, or they will continue having a life. And their children will have children. This story could just go on forever and ever and ever.' But having said that, the simplicity and the beauty of the quiet, simple, seemingly mundane moments of this family's life are going to feel like a warm hug for people."
This Is Us Season 6 Episode 18, "Us," airs Tuesday, May 24, at 9 p.m. ET on NBC.
RELATED: 'This Is Us' Season 6 Reveals the Father of Deja's Baby