'This Is Us' Season 6: Mandy Moore Teases Rebecca's Journey, 'She's Kind of on a Farewell Tour'
Rebecca's health is at the front and center of 'This Is Us' Season 6, and, per Mandy Moore, her character will be saying her goodbyes in the final episodes.
There's no doubt about it. This Is Us Season 6 will emotionally wreck fans, especially when it comes to Rebecca's storyline. The Pearson matriarch is slowly losing her memories due to Alzheimer's, and the final season will highlight her life and her story more than ever. And, in doing so, fans will get to see Rebecca making the most of the time she has left.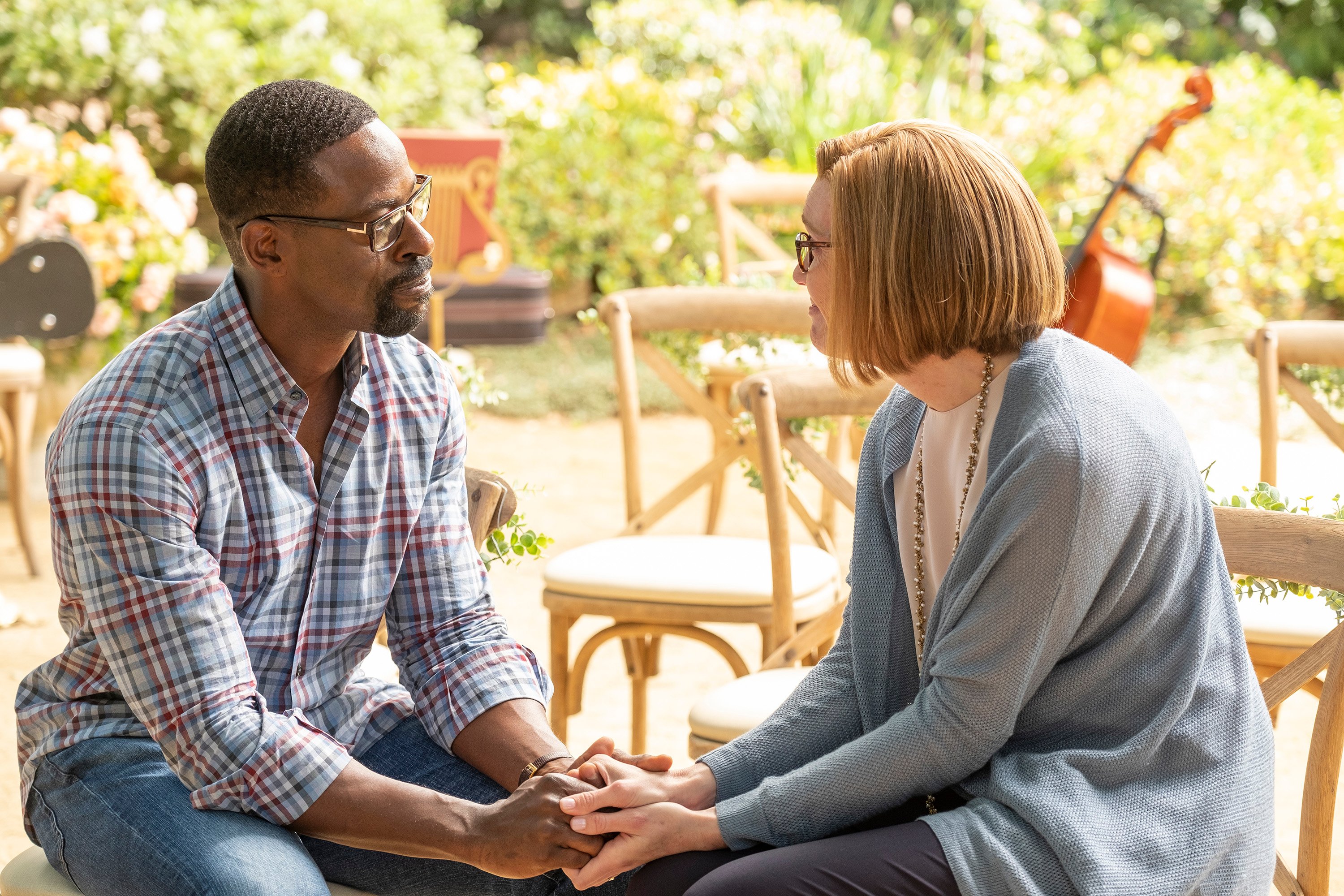 Rebecca is losing her memories in 'This Is Us' Season 6
As many fans recall, before This Is Us Season 6, Rebecca was diagnosed with Alzheimer's. And ever since then, fans have watched as she has her good days and her bad days with the disease.
Rebecca will sometimes forget little things here and there, and her family is doing everything in their power to help her. Unfortunately, not all of them agreed on the best course of action for Rebecca. But, going into the final season, it seems like they have all come to an understanding of the situation.
Mandy Moore, who plays Rebecca in This Is Us Season 6, told People, "It's really challenging. It's challenging not to let my grief of her situation influence what she's going through because she is handling this situation with so much grace and honesty. She's very intentional about what she wants from her life right now and how she wants to live it. The plan she makes, it's really something, but it's hard."
Mandy Moore teases that her character is saying her goodbyes in the final episodes
At the This Is Us Season 6 premiere event, Mandy Moore spoke with Variety about Rebecca's journey in the final episodes.
"She's kind of on a farewell tour, like all of [the This Is Us cast] are, sort of," Moore shared. "It's obviously deeply heartbreaking. But Rebecca's got so much grace and compassion for the way people are inevitably going to have to pick up the pieces of life around her. And she just is so present and appreciative of all the moments with her family. But I think she's also really honest and direct about what she wants and what she expects."
The actor continued, "And it's such a really beautiful thing in that sense to be able to know sort of a direction that your life is taking. And to prepare, prepare your family, it's a lot. She's got a lot of words in the scenes. She's got a lot on her mind. While she's sort of there with her family, she really wants to be able to reflect back on the parts of her life that she doesn't want to forget and impart what she's found so beautiful."
The reporter then commented, "Heartbreaking, yet life-affirming," which Moore adamantly agreed.
If you haven't already, stock up on tissues for This Is Us Season 6 and prepare to cry every time Rebecca is on the screen. It sounds like the tears will be flowing in every episode.
The final season will tell the story of how Rebecca and Miguel got together
On a lighter note, This Is Us Season 6 will also finally show fans the beginning of Rebecca and Miguel's romance in the years after Jack's death.
In the interview with People, Moore said, "I really am excited about exploring Rebecca and Miguel. Figuring out their courtship, how they found themselves back together and eventually getting married."
Jon Huertas, who plays Miguel, added, "When you start playing with their romance a little bit more, it's like, 'Oh, this is cool.' We've had so much fun doing it. I think that's going to translate through the screen. When the actors are having fun, and like the story they're telling, the audience feels that. I think that's going to help anybody who's apprehensive about Miguel and, hopefully, say, 'I'm rooting for these two.'"
This Is Us Season 6 premieres on Jan. 4 at 9 p.m. ET on NBC.