'This Is Us' Season 6 Teases New Clues About Where Miguel Is in the Flash-Forward
This Is Us has teased a flash-forward at Kevin's house in 2032 since season 2. The future scenes show the Pearson family gathering to seemingly say their goodbyes to Rebecca, who is on her death bed. But one person is mysteriously missing from the This Is Us flash-forward — Miguel.
[Spoiler alert: This article contains spoilers from This Is Us Season 6 Episode 13, "Day of the Wedding."]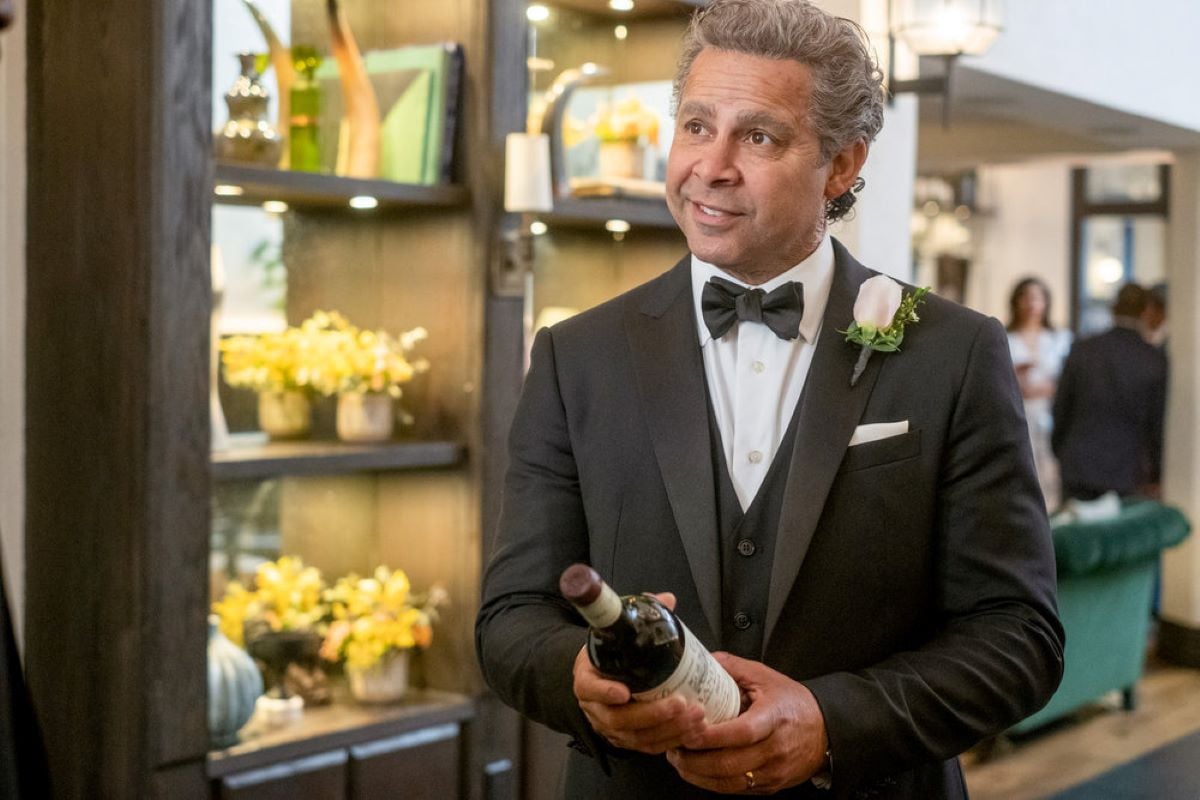 Miguel is taking blood pressure medicine in 'This Is Us' Season 6 Episode 13
This Is Us jumped ahead to 2026 to the day of Kate and Phillip's wedding in This Is Us Season 6 Episode 13. Rebecca's Alzheimer's has gotten worse, but she isn't the only member of the Pearson family that fans should worry about.
Being the observant and concerned man he is, Randall noticed that Miguel's hand was tremoring while they were wine tasting. And earlier in the day, he also saw some blood pressure medicine with Miguel's name on it among Rebecca's pill bottles. Miguel refused to talk about it at first, but when Randall insisted that he carry boxes of wine bottles for Miguel, he got upset.
Miguel told Randall, "You didn't need to snoop through our pill bottles … I didn't need you calling out my hand shaking, which is a harmless response to my medication, which I am handling. You know what I needed? I needed an hour to drink wine with someone. I needed just one minute to feel like a human being … I just needed a day, Randall, because it is moving fast now." Randall asks, "What's moving fast?" and Miguel responds, "All of it."
It's unclear why Miguel is taking blood pressure medicine in This Is Us, but he seems more concerned with Rebecca's health. Although, at the reception, Randall tells Beth, "Mom's sick. Miguel is getting old. I can see where it's all headed now, and it's all headed there so fast."
Miguel might be dead in the 'This Is Us' flash-forward
Perhaps Miguel is not in the This Is Us flash-forward at Kevin's house because he's dead. Fans have feared that this is the case for a while now, but episode 13 may have sealed Miguel's fate.
It's not a good sign that Miguel is now taking blood pressure medicine. And Rebecca's illness is undoubtedly putting stress on her husband. He has been by her side for the past five years while she's gotten sicker and sicker. Their story is ending, and it's looking like Rebecca may live to see two of her husbands die.
It's a tragic conclusion, no matter how fans look at it. But it wouldn't be a surprise if Miguel dies from old age, as Randall alluded to, before the This Is Us flash-forward. The NBC drama has never pledged to give all of its characters happy endings, but at least most of them had happy middles.
Jon Huertas addresses his character's absence at Kevin's house
On March 8, 2022, People asked Jon Huertas, who plays Miguel, if fans will see his character in the pivotal This Is Us flash-forward. However, he wasn't very forthcoming with his answer.
"We don't get the scripts for the episodes until sometimes a week out," Huertas shared. " [Creator] Dan [Fogelman] keeps us very much in the dark, keeps it close to the vest so that we don't tell people like you what's going to happen and get in trouble. [laughs] So I'm not sure 100 percent sure of how the show ends. And I kind of like it that way."
The actor continued, "I like being an audience member who gets to follow along with the audience on what's going on. I know a little while ahead of everyone else because I'm on the show. I'm shooting it, but we haven't shot that episode yet. We're only shooting episodes 13 and 14 right now. We're shooting them together. We will have to wait and see."
Huertas didn't give any new clues regarding where Miguel is in 2032 in This Is Us. His ambiguity makes us believe that the theory that he's dead might be true, after all.
This Is Us airs Tuesdays at 9 p.m. ET on NBC.