'This Is Us' Season 6 Will Finally Tell the Story of How Rebecca and Miguel Became a Couple, 'It's so Beautiful and so Simple'
'This Is Us' Season 6 will fill in the blanks regarding the beginnings of Rebecca and Miguel's relationship and how they found each other years after Jack's death.
Rebecca and Miguel have been a polarizing couple since This Is Us Season 1. Fans were shocked to discover that Rebecca married Jack's best friend sometime after he died. And since Jack is a popular character among fans, many were not happy with the relationship. But, somewhere along the line, the show made the audience care about Rebecca and Miguel. Now, in season 6, it's finally time for This Is Us to show how the two of them got together.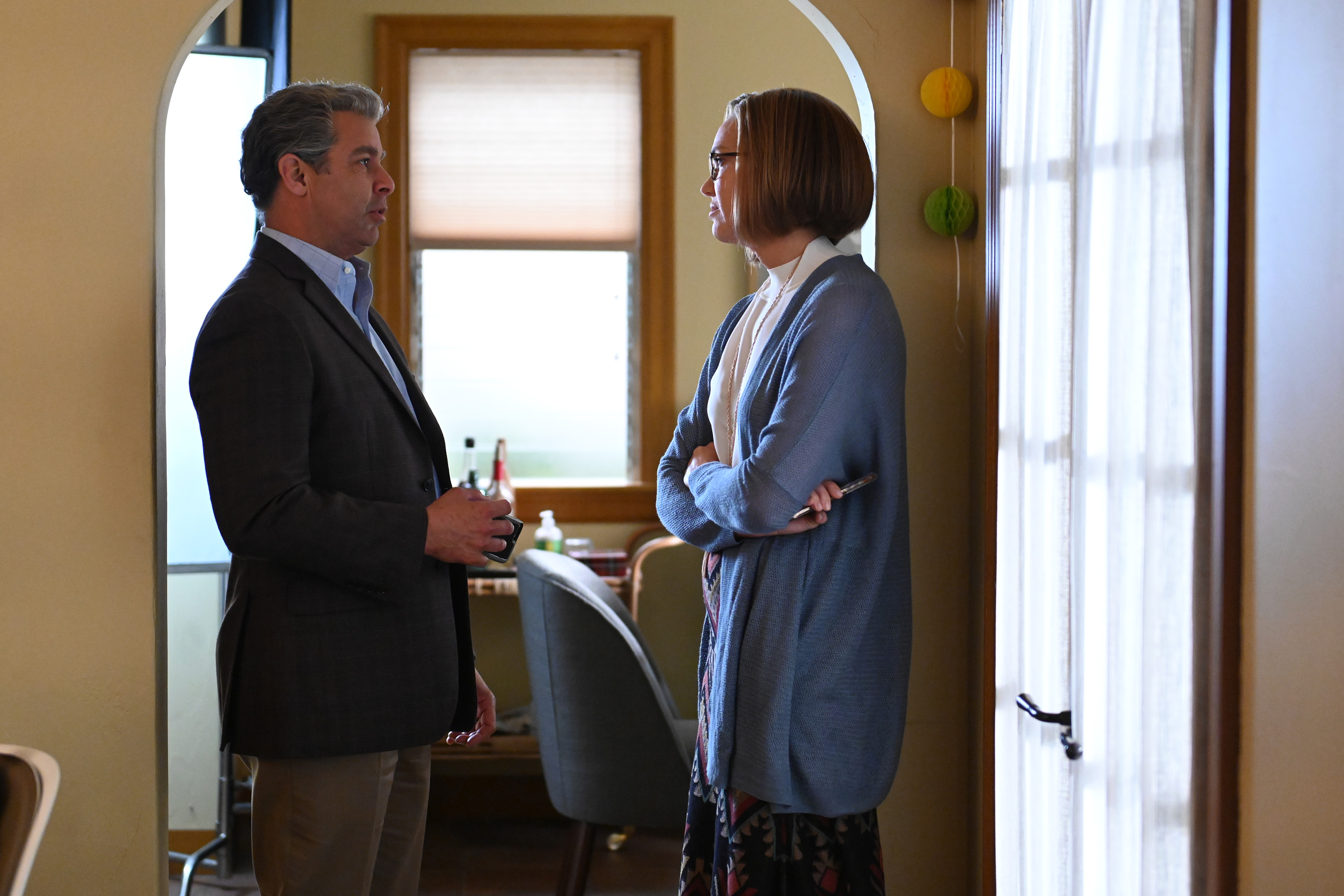 'This Is Us' Season 6 stars reveal upcoming episodes will highlight Rebecca and Miguel's relationship
During an interview with Entertainment Weekly, Mandy Moore and Jon Huertas, who play Rebecca and Miguel, shared that This Is Us Season 6 will depict the beginning of their characters' romance.
"Mandy and I are really excited," Huertas said. "We have discovered over the years that we have pretty great chemistry, and we make each other laugh like nobody else."
He added, "What I can tease is that the chemistry that Mandy and I have — we'll see that same chemistry with Miguel and her. I think the audience will understand how something as profound as a relationship between a best friend and his best friend's widow could even happen. And the way that the writers have gone about it, it's so beautiful. We take our time, and it's just beautifully told."
As a shock to no one, it sounds like the upcoming scenes between Rebecca and Miguel in This Is Us Season 6 will make everyone cry. Hopefully, there will be more happy tears than sad tears.
Rebecca and Miguel will fall apart before they get together in flashbacks in 'This Is Us' Season 6
As fans might recall, This Is Us already teased how Rebecca and Miguel get together in season 2 episode 6. The hour jumped back to 2008 and showed Rebecca getting a Facebook message from Miguel. He asked her how she had been the past eight years. So, fans know that Rebecca and Miguel stopped talking around 2000. And, according to Mandy Moore and Jon Huertas, there's more to that story.
"It's one of the saddest moments that I've felt as a character, as an actor, and even as an audience member and a fan of the show, too," Huertas shared. "This moment was so tough, so sad, that I think [it] will really help propel people into having their minds open to, 'Oh my God. We kind of want these two together.' As weird as it was in season 1 episode 2 to see these two together, this moment, I think, will make people go, 'They should be together.'"
The actor continued, "There's a surprise. It surprises all of the other characters as well. And that's what causes the — it's not a rift, it's just a, 'Hey, we've gotta look at this differently. This is something different what we're feeling, what we're experiencing.'"
"We shot this scene a couple weeks ago, and it gutted me," Moore teased. "It's so beautiful and so simple. Rebecca and Miguel collectively reach this boiling point where neither of them can ignore that there's sort of this unspoken chemistry. And someone needs to do something about it. And you'll see how that unfolds. But it's heartbreaking and so true to life."
Jon Huertas discusses the hate his character has gotten from other characters and fans
Miguel has sometimes been unfairly hated by both members of the Pearson family and by This Is Us fans because of his relationship with Rebecca. Jon Huertas talked to Entertainment Weekly about how the perception of his character has changed over the seasons.
"I love the challenge of turning the audience and winning people over," Huertas said. "At the beginning, the hate tweets, all that stuff was crazy. I had never experienced that before as an actor. You always want your characters to be likable."
He continued, "Now I get stopped on the street. I get tweets, or on Instagram, people say that they actually love Miguel. They love who he is to the Pearson family. That's a testament to the writers and their plan because, at the beginning, I was like, 'Hey guys … what are we doing? I don't want to be the guy who nobody likes on the show.'"
This Is Us Season 6 premieres on Jan. 4 at 9 p.m. ET on NBC.