'This Is Us': Sterling K. Brown Told a 'Terrible' Joke During Randall's Eulogy
This Is Us fans need not worry — just because the series is over doesn't mean that we're not finding out new things about the NBC drama every day. And thanks to Sterling K. Brown, we now know what Randall said during his eulogy in the This Is Us series finale. Forewarning: It gets a little bit PG-13.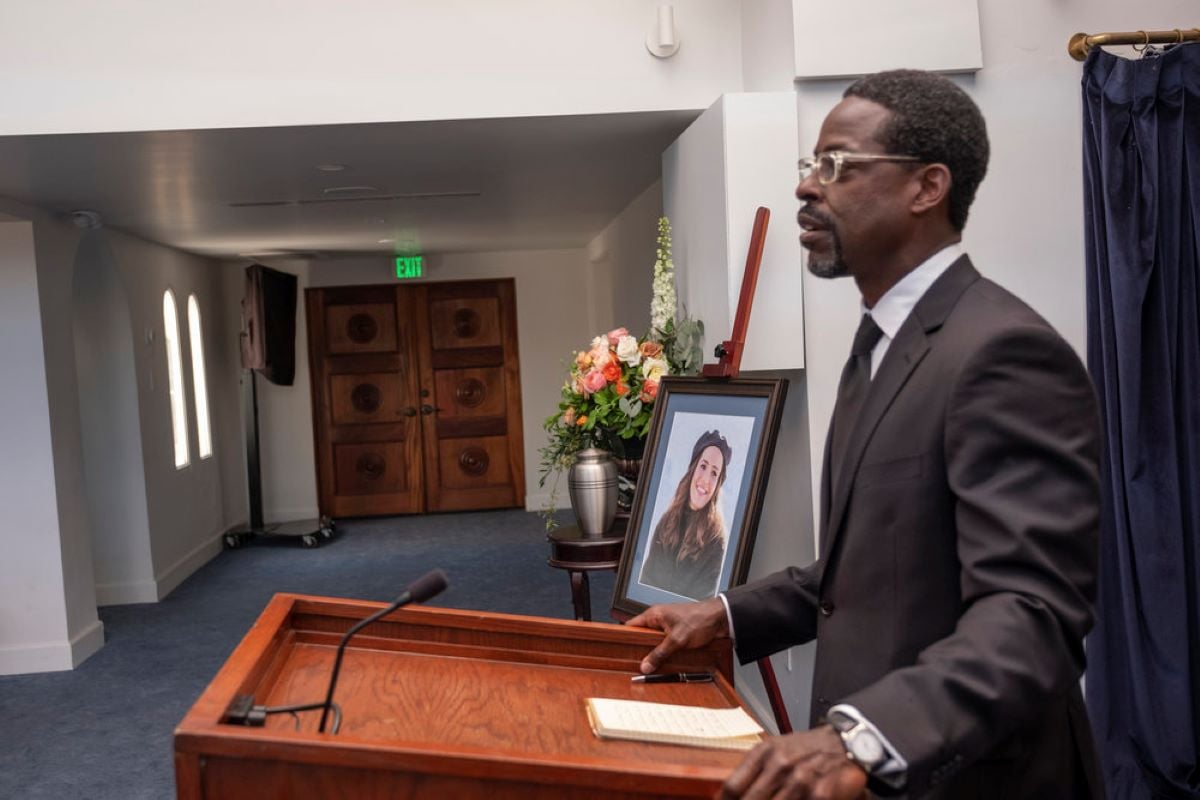 Randall gave a eulogy at Rebecca's funeral in 'This Is Us' Season 6 Episode 18
Toward the beginning of This Is Us Season 6 Episode 18, viewers learn that Randall is struggling to write his eulogy for Rebecca's funeral. In the hours before the service, he is still trying to string together the perfect words to stay.
Eventually, Randall completes his eulogy, but the audience doesn't get to hear it. While he, Kevin, and Kate stand up to say a few words about their mother, music plays over them and drowns out their voices. Kate can be heard singing "Time After Time" by Cyndi Lauper, though.
Later, Randall admits to Deja, Tess, and Annie that he doesn't remember a word he said during his eulogy. And Deja tries to comfort her father after Randall admits that everything seems pointless now that Rebecca is gone. But fans never learn exactly what he said at the funeral.
Sterling K. Brown reveals what Randall said during the 'This Is Us' series finale
During an interview with The Hollywood Reporter, Sterling K. Brown shared what he said as Randall during Rebecca's funeral in This Is Us Season 6 Episode 18.
"I knew you weren't going to hear [the speech], but I wasn't one hundred percent sure because they tell you one thing, but mic you up just in case," the actor explained. "I took to writing a eulogy on this pad of paper that I had as a prop. In between setups, I would just write stuff down. I actually delivered about two minutes of the eulogy during that time. I'm saying goodbye to Mandy [Moore]; Randall is saying goodbye to Rebecca."
Brown further shared a dirty joke that he included in Randall's speech.
"It's important to me, at any funeral that I go to because they tend to be sad events, that you try to inject some humor," Brown said. "So I took it upon myself to write a very bad joke. I'm prefacing this by saying it's a very bad joke."
He revealed, "I was saying something about, 'My brother Kevin teases me about the inappropriate nature of my relationship with my mom. Saying that it borders on something quasi-Oedipal. And I find it very interesting because technically, he's the only one that's actually been inside her.'"
"It's a terrible, terrible joke! Half cracked up," Brown admitted. "Most of the ladies were like, 'Uh, Sterling.' I broke the mood. And that's what I try to do. Even in real life, when I'm at a funeral. Let us remember in the midst of this loss that there's always something to smile or laugh about."
We can all agree that we're grateful Brown's joke didn't make the cut for Randall's eulogy in the This Is Us series finale.
Sterling K. Brown shares how he incorporated his own life into his character's story
While speaking with The Hollywood Reporter, Sterling K. Brown discussed how much an input he had into Randall's story in This Is Us.
"They know I have two boys in real life, and I have three girls in television," the actor said. "When [Randall and Beth] adopted Deja, there was talk about how Deja could have possibly been a boy. But the research says that if you're bringing in an older child, it's usually an easier transition if they're all the same sex. Dan [Fogelman] had a boy, Mandy had a boy, [Chris Sullivan] had a boy."
Brown continued, "And so the idea of a boy being there, I don't know if I had direct input [with Randall getting a grandson], but I think it's in the ether of the show."
"My mom is ill," he shared. "And I would talk to the writers before COVID happened about what that process was like in terms of dealing with her care and the friction that it could bring about amongst siblings. And I have a brother and sister. So, that's sort of in the sauce as well. And my marriage. I love my wife very much. I love our children. So I think that's probably baked into the sauce a little bit, too."
This Is Us is available to stream on Hulu and Peacock.
RELATED: 'This Is Us': Dan Fogelman Always Knew the Series Would End With Rebecca's Death