This Is What Meghan Markle Did During Her First 100 Days As a Royal
Though the drama coming from her father, Thomas Markle, and her half-siblings seems never-ending, Meghan Markle, Duchess of Sussex isn't letting that phase her one bit. Since officially sliding into her royal pumps when she wed, Prince Harry on May 19, 2018, Markle has taken every royal protocol and mini-scandal concerning her family in stride.
Taking on new responsibilities and learning all of the royal lingo and rules have probably overwhelmed her at times, but we haven't seen the former Suits actress sweat once. Here's what Meghan Markle did during her first 100 days as a royal.
1. Prince Charles' 70th birthday celebration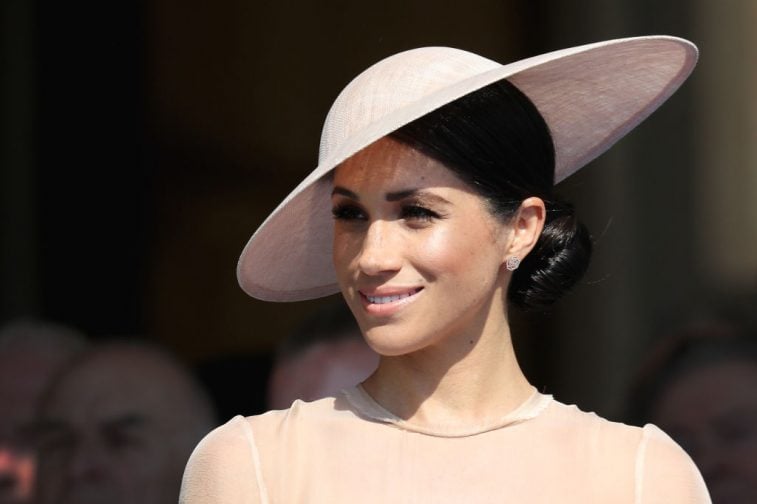 Though Prince Charles celebrates his 70th birthday on Nov. 14, 2018, the future King of England who just happens to be Markle's father-in-law got the party started super early. On May 22, just three days after she and Prince Harry said, "I do," the duchess attended the Prince of Wales' garden party at Buckingham Palace.
The newlyweds delayed their honeymoon to attend, but at least Markle and her royal bestie, Duchess Camilla Parker Bowles laughed and giggled their way through it.
Next: A top-secret getaway
2. A secret honeymoon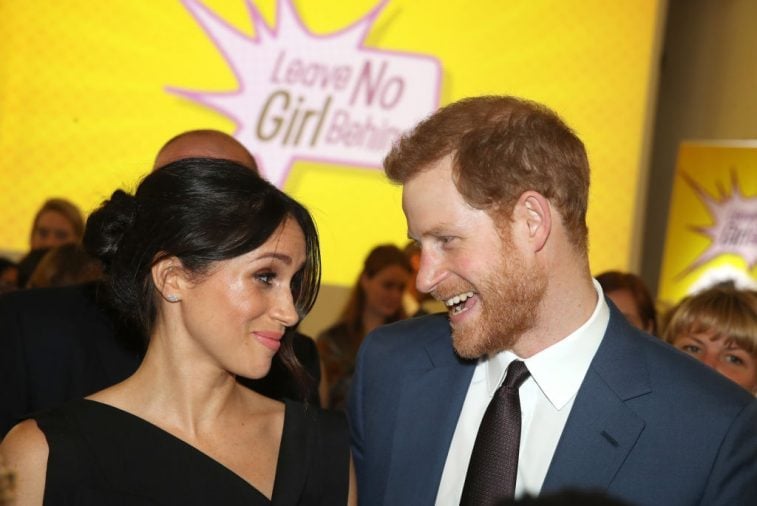 Sometime in early June, Prince Harry and his new wife slithered off for their honeymoon. Though we had nearly all the details about their beautiful nuptials ahead of time, we have no clue where they spent their first vacation as a married couple. Wherever they may have gone, they were home for more royal duties by June 7, so it was a super quick holiday.
Royal correspondent Omid Scobie told Elle.com, "Kensington Palace has said that the honeymoon is very much a private trip and they won't be releasing details to the media. The couple shared so much during the wedding and now is the time for them to enjoy some privacy. They deserve it."
Next: A balcony debut
3. Trooping the Color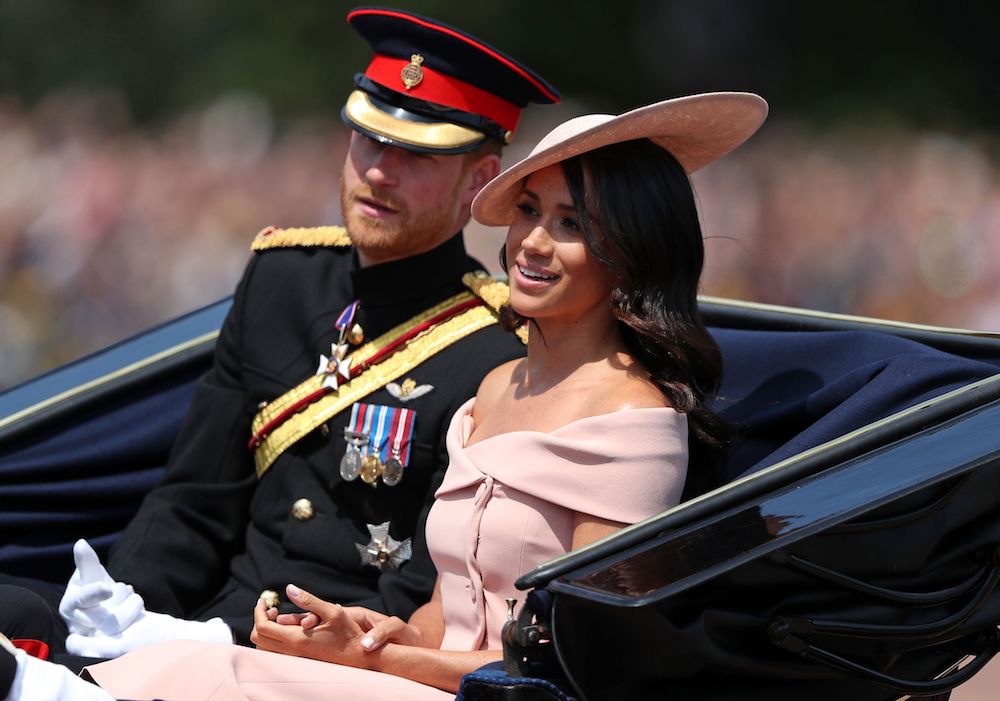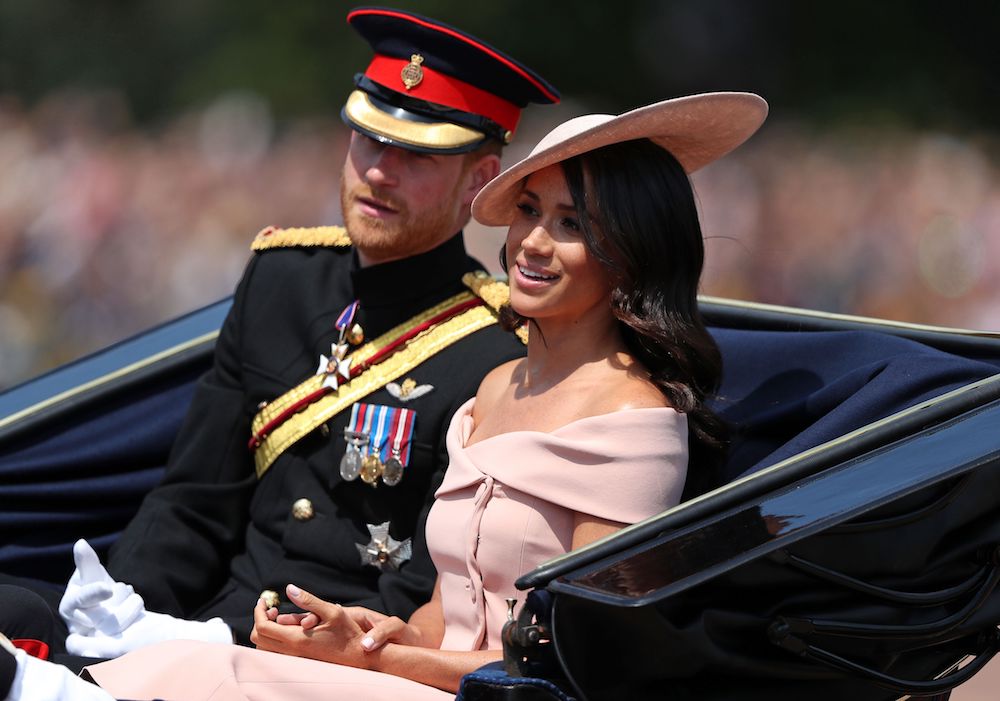 On June 9, fresh and tanned from her honeymoon, Markle, and her dapper hubby were seen at Trooping the Color, a ceremony performed by regiments of the British and Commonwealth armies that dates back to the 17th century. Seated in a horse-drawn carriage, it was clear that not even a month after her wedding, the Duchess of Sussex had officially, mastered the princess wave.
It was also Markle's grand debut on the Buckingham Palace balcony making her a super official Windsor.
Next: Meghan and the queen
4. Giggling with the queen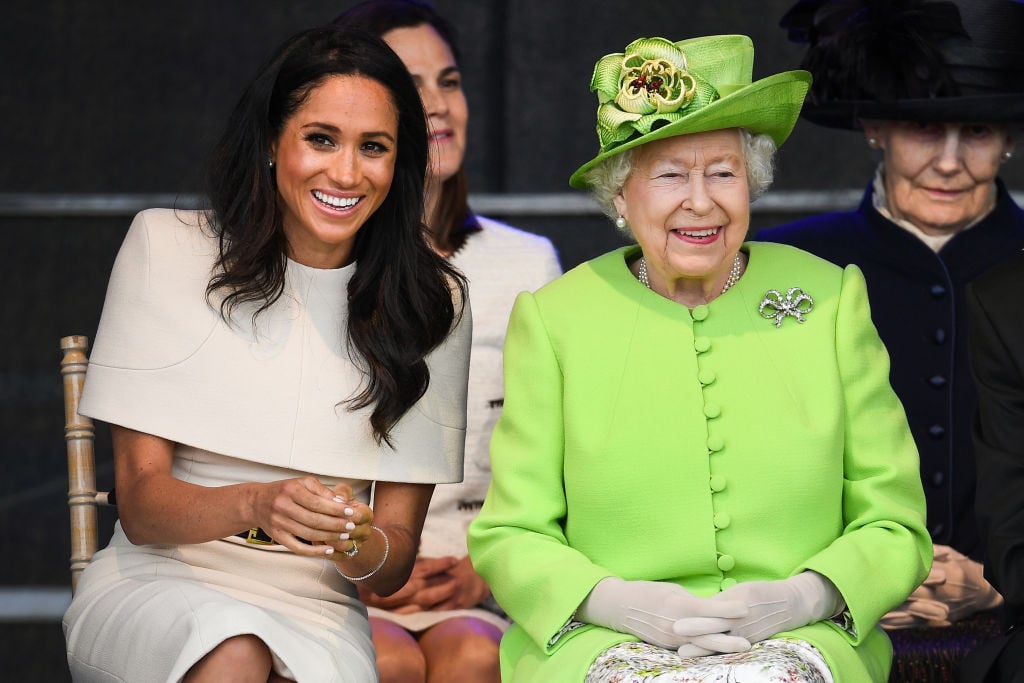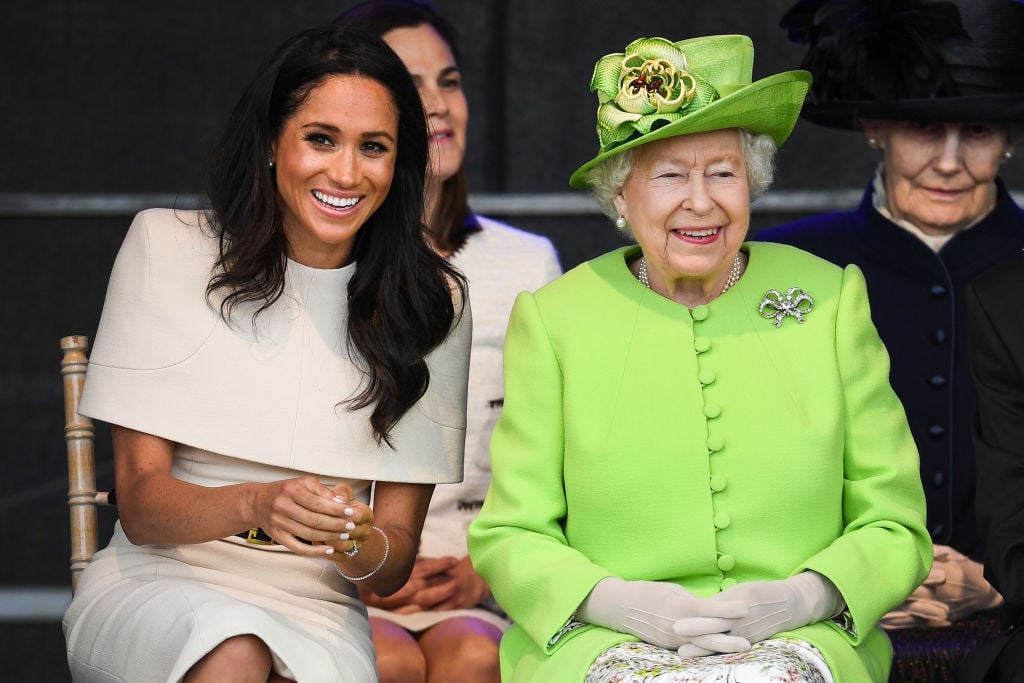 If you didn't know so from her career as an actress and her pre-royal public appearances, the Duchess of Sussex has a vibrant and vivacious personality, and it's already rubbing off on the royal family.  On June 14, Markle accompanied Queen Elizabeth II to Cheshire, where she was seen making the long-reigning monarch giggle.
That day the pair opened a bridge, spent time touring a community arts center, and they even greeted the public. While she and the queen were having a grand ole' time, Markle's father began to blow up her spot in the news. Luckily, the duchess seems too refined to engage.
Next: A game amongst horses
5. Royal Ascot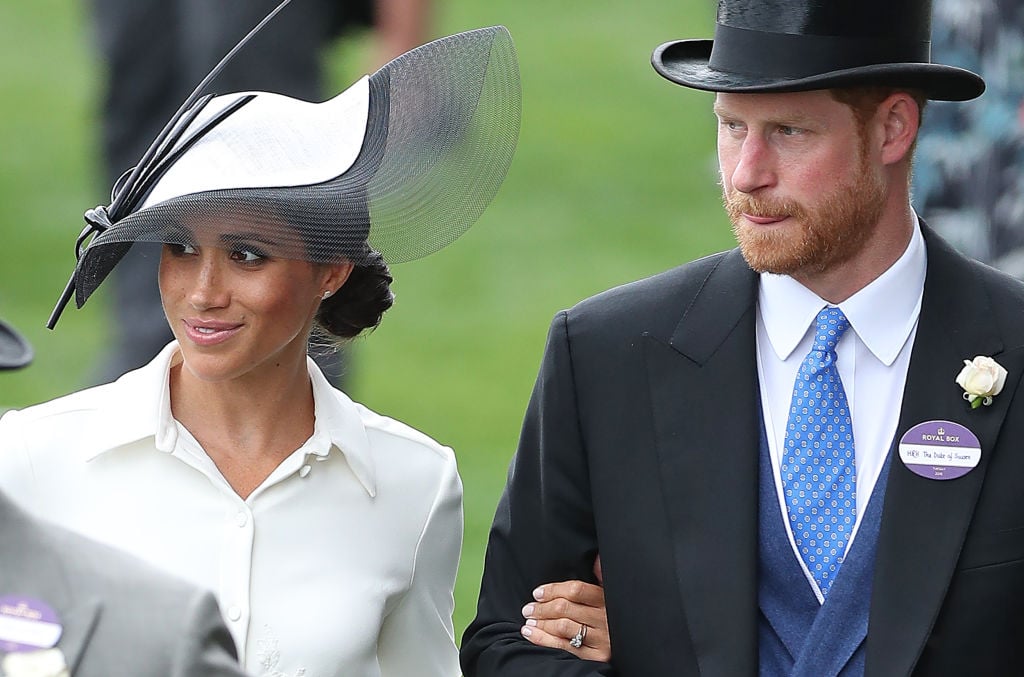 We all know that Markle adores her dogs, but now that she's a duchess, she's going to have to enjoy horses as well. On June 19, the Duke and Duchess of Sussex attended Royal Ascot, which is Britain's most valuable race meeting. Many of the world's finest racehorses compete for more than £7.3m in prize money. It's the queen absolute favorite event of the year. Prince Edward and Sophie, Countess of Wessex were also in attendance.
Next: Celebrating youth 
6. The Queen's Young Leaders Award Ceremony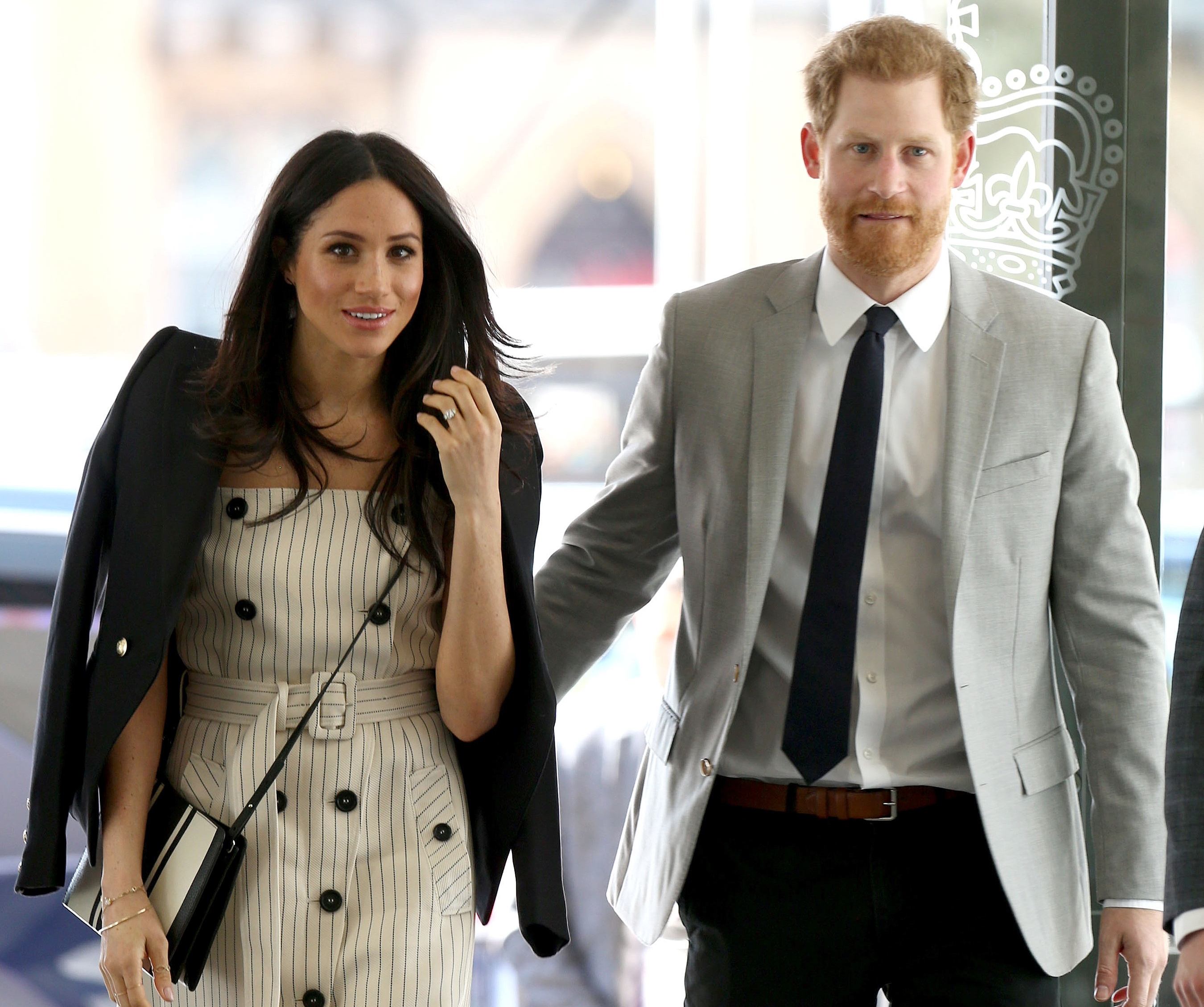 Exactly one week after Royal Ascot, the duchess appeared at the Queen's Young Leaders award ceremony at Buckingham Palace alongside Prince Harry. The event which is held annually at the palace honors young people who are making a positive impact in their communities around the Commonwealth.
The ginger prince gave a moving speech during the event where he said he looked forward to working with the youth "together with my wife, Meghan."
Next: A family celebration
7. Prince Louis' christening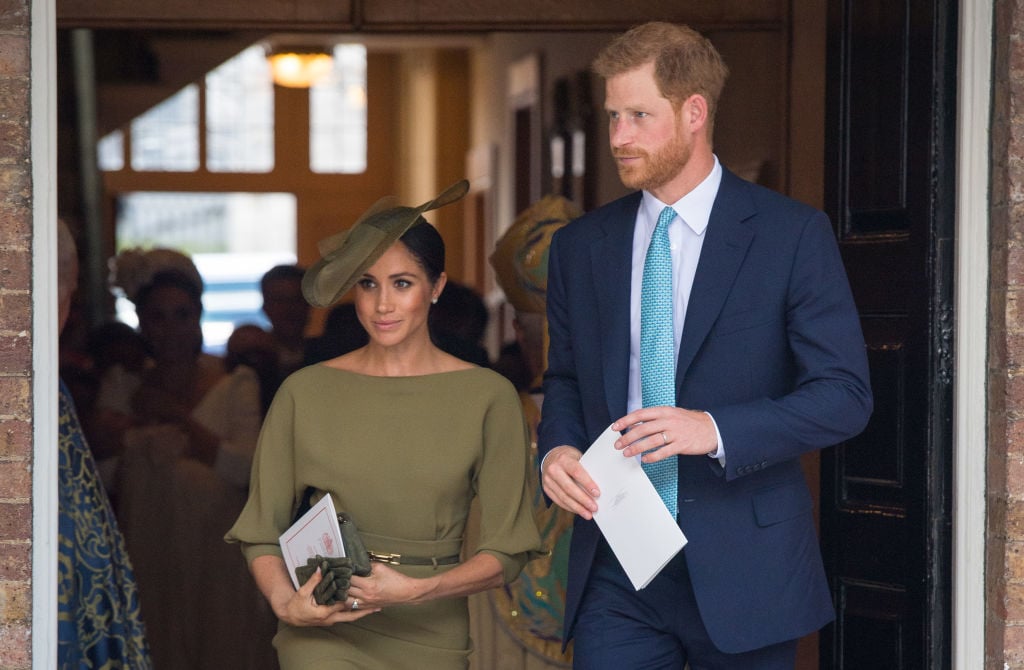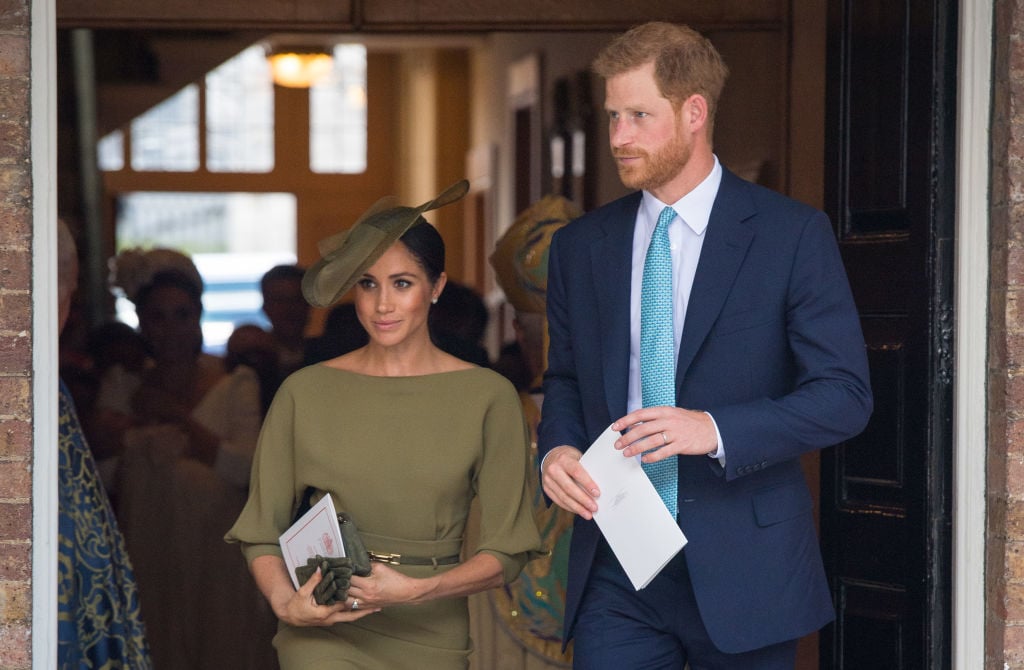 It's been clear from day one that Markle and the prince love babies and kiddos. Therefore, on July 9, they took some time out to honor one of the youngest members of the royal family, Prince Louis. Prince William and Duchess Kate Middleton's youngest child was christened, and the entire royal brigade was on hand for the event.
Next:  The royal balcony once again
8. The 100th anniversary of the Royal Air Force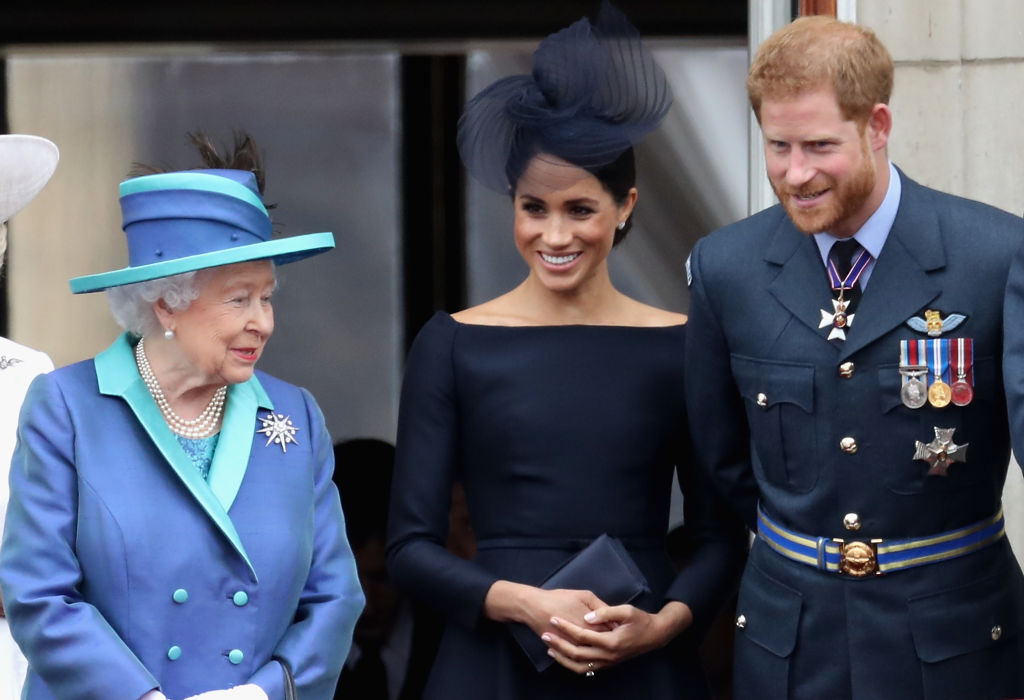 The military has been vital in royal life; therefore, it was no surprise that Markle was on hand to celebrate the 100th anniversary of the Royal Air Force. In her second appearance on the Buckingham Palace balcony, the duchess attended a service at Westminster Abbey and reception with servicemen and women.
Next: A quick royal trip
9. Off to Ireland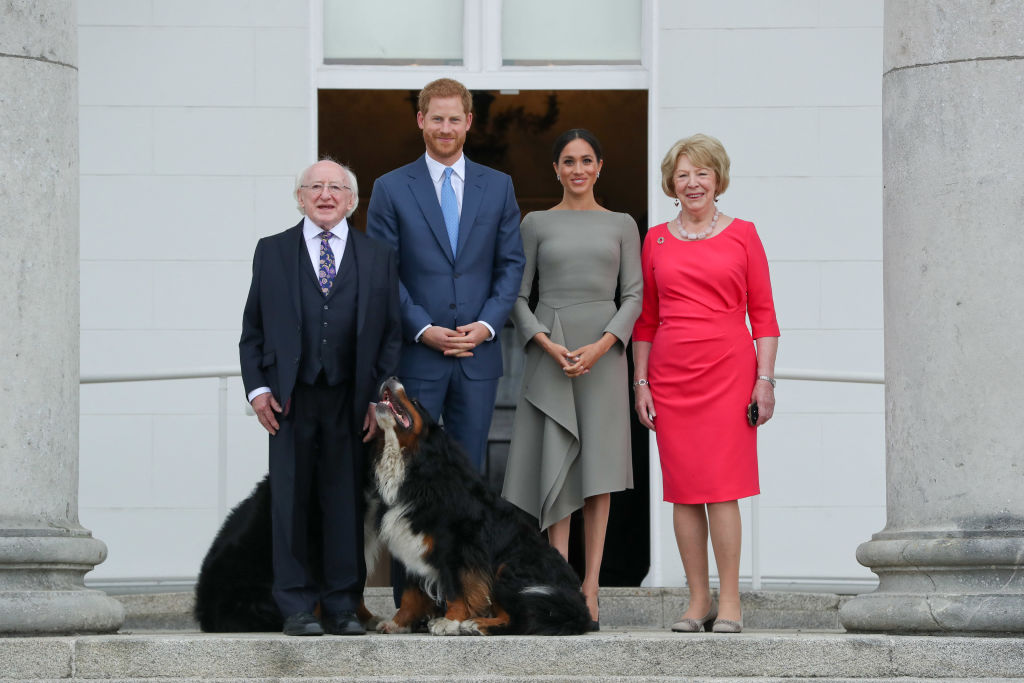 Just a few days after Prince Louis' christening, Markle and Prince Harry jetted off to Dublin, Ireland for a quick visit. On July 10th they touched down and embarked on a whirlwind of events for the next two days. The newlyweds met with Michael Higgins, the President of Ireland and Leo Varadkar, the Taoiseach. They also got to see the Gaelic Sports Festival and Trinity College.
It wasn't all work. Markle got to interact with the Irish public, and one little boy even enjoyed touching her hair. The pair were also invited to a summer garden party at the British Ambassador's residence. Once the U.K. leaves the European Union, the royals will become pseudo-Brexit ambassadors. Therefore, we expect even more traveling on their already packed agendas in the future.
Next: Catching up with Duchess Kate Middleton
10. A girls day out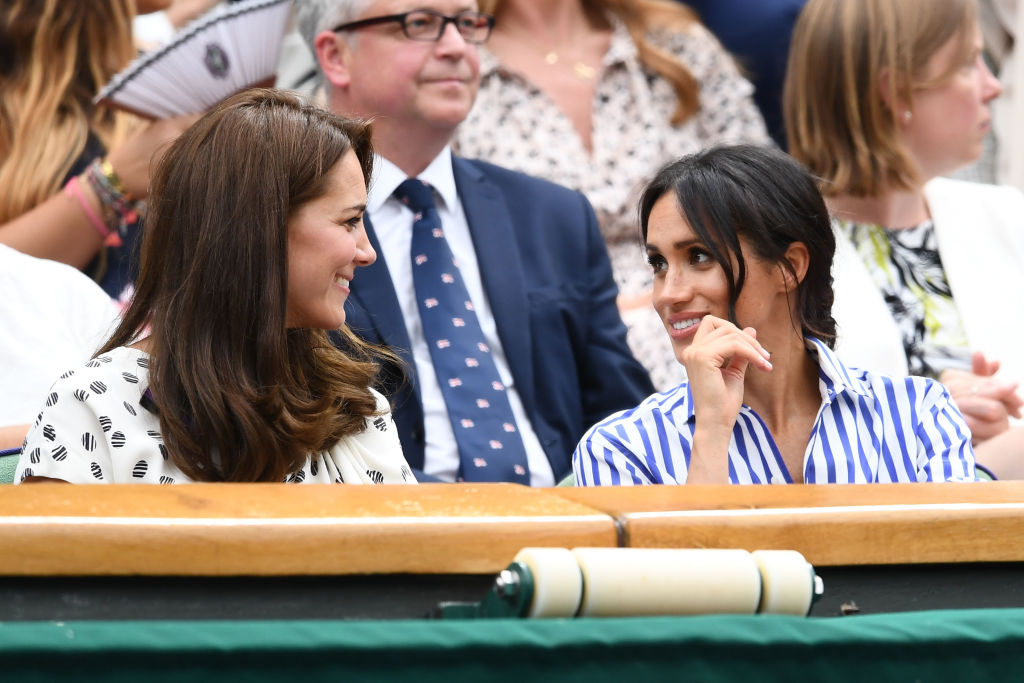 Duchess Meghan Markle and Duchess Kate Middleton began bonding when Prince Harry first introduced his lady love to his family. Though Middleton has had her hands full with three small children, the women took the time out to hang on July 14.
They headed to Wimbledon to watch Markle's good friend Serena Williams compete in the Ladies' Singles final.
Next: A look back at a massive life
11. Celebrating Nelson Mandela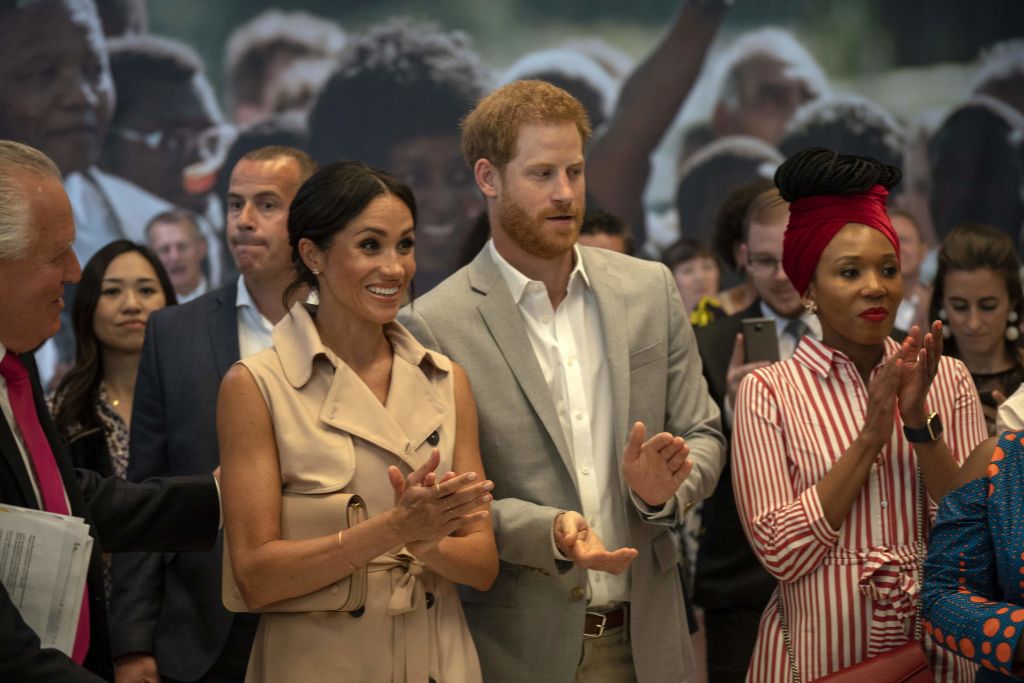 The late legendary Nelson Mandela would have celebrated his 100th birthday on July 18, 2018. The day before, in commemoration of his life, the duke and duchess attended the opening of a new exhibition centered around the Nobel Peace Prize winner's life and work. The pair met with Mandela's granddaughter and his good friend, Andrew Mlangeni.
Next: In the honeymoon stage
12.  Some major PDA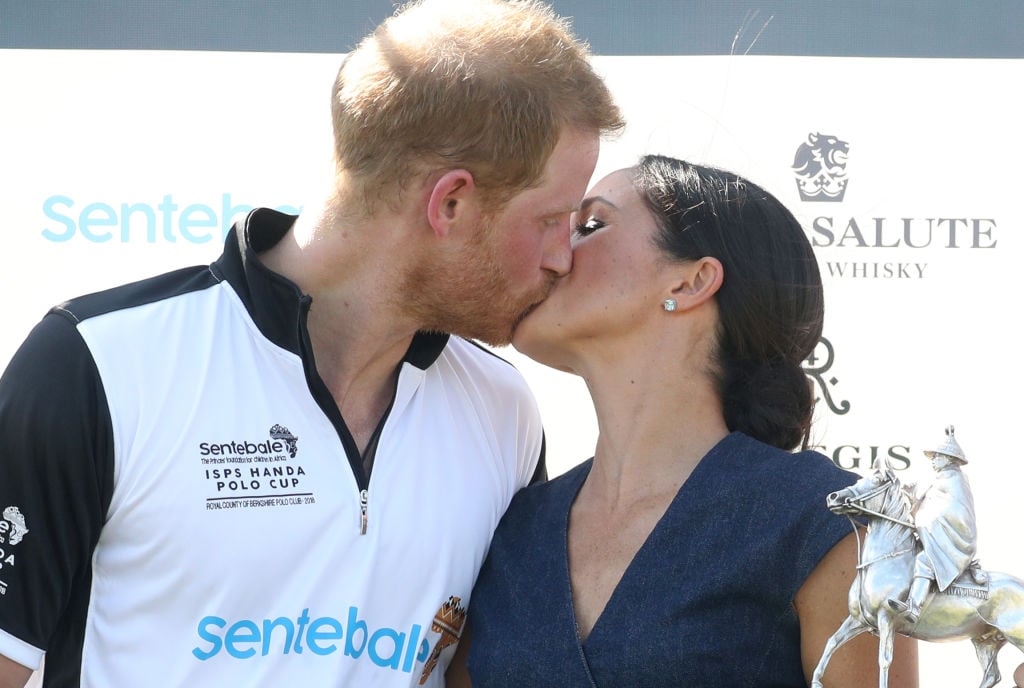 Duchess Markle and Prince Harry are some of the most touchy-feely people in the entire royal family. They've engaged in so much PDA, that the prince was called in to speak to his grandmother about their overly affectionate behavior. However, when the newlyweds appeared at the Sentebale Polo Cup trophy ceremony on July 26, they shared a lovely smooch for the camera.
Next: Some time out of the spotlight 
13. Hiding away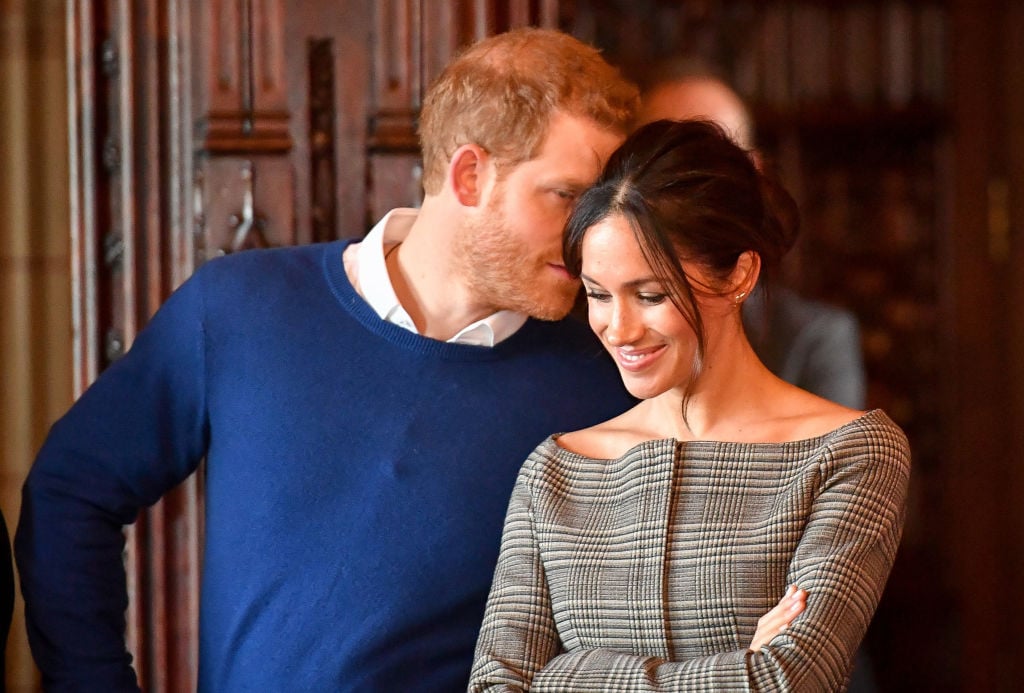 With so many events and activities just after their wedding, Prince Harry, in particular, was concerned that it was all taking a toll on his new wife. Royal expert Katie Nicholl told Vanity Fair, "[Harry] worries there is too much hysteria around Meghan and he wants to row back a bit."
In the final weeks of July and into the first few days of Aug., Markle was seen less and less. It looks like the woman's rights activist was taking a much-needed breather from the glaring public eye.
Next: A birthday with friends.
14. A birthday celebration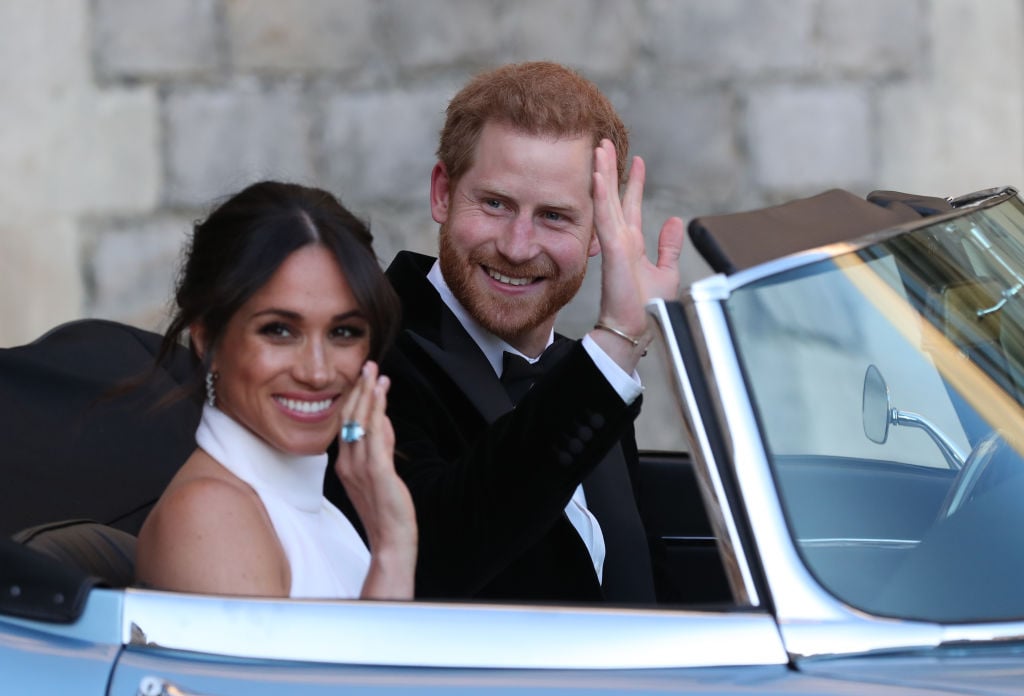 On Aug. 4, 2018, Markle turned 37-years-old, but the duchess didn't exactly spend her first royal birthday celebrating herself. Instead, she and the prince attended the wedding of Prince Harry's childhood friend Charlie Van Straubenzee and his bride, Daisy Jenks.
It's always lovely to celebrate love, but we still want to know what Markle got from her husband as a birthday gift.
Next: A packed schedule
15. Fall travels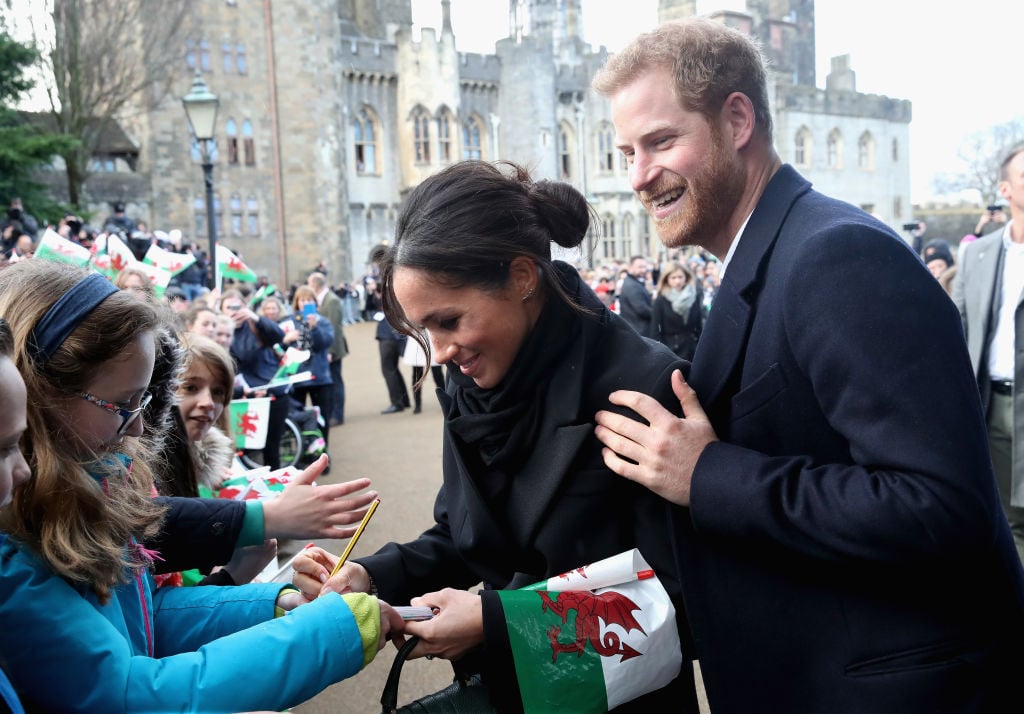 Though Aug. is a slower month for the royal family, the Duchess of Sussex shouldn't get too comfortable for too long. Her fall plans are going to have her running across the globe. In Oct. she will embark on her first international tour with Prince Harry at her side. They will jet off to Australia, Fiji, the Kingdom of Tonga, and New Zealand. In Nov. the couple will attend their cousin Princess Eugenie's wedding.