This 'Sex and the City: The Movie' Scene Featured a Series First for Carrie Bradshaw
There are lots of things about Sex and the City that never made sense, like Carrie Bradshaw being able to afford her gorgeous Upper East Side apartment on a freelance writer's salary. Buying designer shoes and clothes on the paycheck from her column was also a conundrum.
But there's another part of the series (and frankly, many New York City-based stories) that just didn't make sense: people rarely took the subway. In a new interview, Sex and the City director Michael Patrick King commented on some of the series firsts created in Sex and the City: The Movie.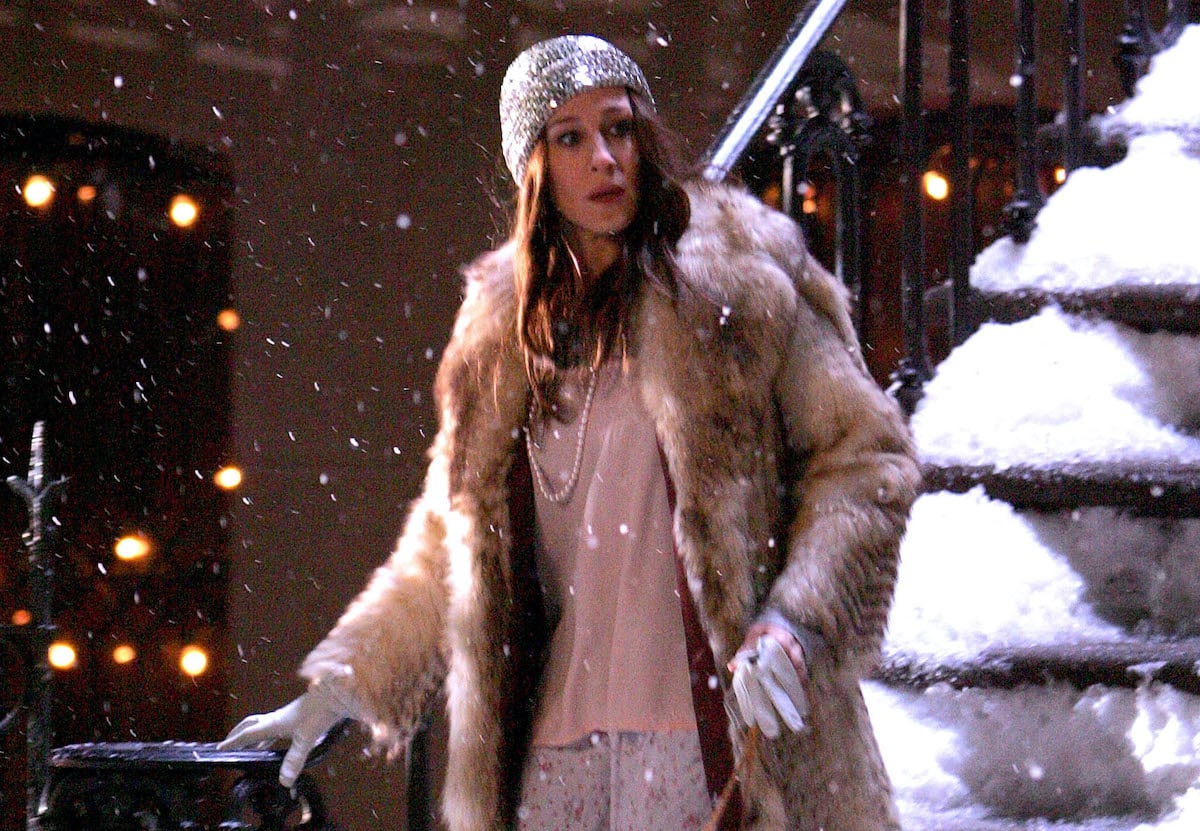 'Sex and the City: The Movie's New Year's Eve scene was iconic
In beloved series' feature film debut, Miranda (played by Cynthia Nixon) laments to Carrie (Sarah Jessica Parker) that she's alone on New Years Eve.
"I thought that one of the perks of having a family, was that you didn't have to spend New Year's Eve alone with Chinese food," she said. "I am alone with Chinese food."
Carrie, who was asleep when Miranda called, tried to comfort her friend, but the call ended quickly and both of the women were left feeling gloomy about their New Year's Eve loneliness. (Carrie had been long separated from Mr. Big after his cold feet thwarted their wedding day.)
In a beautiful moment, Carrie decided to throw on a coat, shoes, and hat over her pajamas and jet off to Miranda's to be with her before the clock struck midnight. In true Carrie fashion, she donned a fur coat, sparkly hat, and designer boots. She eventually made it to Miranda's seconds before midnight to remind her she's not alone, and the two friends spent the rest of the night laughing over Chinese food.
Outside of the fact that this moment was one of the only scenes set in wintertime for the series, there was small part of it that was a first for Carrie as well.
Carrie Bradshaw takes the NYC subway for the first time in 'Sex and the City: The Movie'
During their phone call, Carrie offered to come to Miranda's to lift her spirits. But Miranda, feeling bad for waking her up, told Carrie to go back to sleep because there's no way she'd catch a cab on New Year's Eve. In a series first, Carrie said to hell with a cab and took the subway instead.
"It is the only time, in the entire series or either of the movies, that we saw Carrie come up out of the subway or go into the subway," King—who directed the series and the movies—told Entertainment Weekly. "That was a major thing for me as a writer: Carrie's on the subway—that's how much she's trying to get someplace for her friend."
When Parker comes out of the subway station, she finds herself running out of time to make it to Miranda's before midnight. King said he wanted fans to feel the stakes in this scene.
"I wanted to find a way to let the audience know how close time is now," he said. "There's a lot of New York in that moment when she comes out of the subway."
The scene also features a chilling cover of "Auld Lang Syne"—a musical choice King really loved.
"I was just like, We're never gonna top 'Auld Lang Syne,'" he shared. "I just put it over the end of that scene and that's them just laughing. That's all you need to see."
Overall, King said the entire scene was about the connection between Miranda and Carrie.
"I love that sequence," he said. "I loved it because it wasn't about words, it was just about this desperate need to connect to somebody that actually matters to you."