'Thor: Love and Thunder' Star Tessa Thompson Calls Natalie Portman a 'Real World Superhero'
Tessa Thompson and Natalie Portman will share the screen for the first time in a Marvel Cinematic Universe project via Thor: Love and Thunder. However, the two actors have worked together before — on the film Annihilation — and Thompson has much praise for her two-time co-star.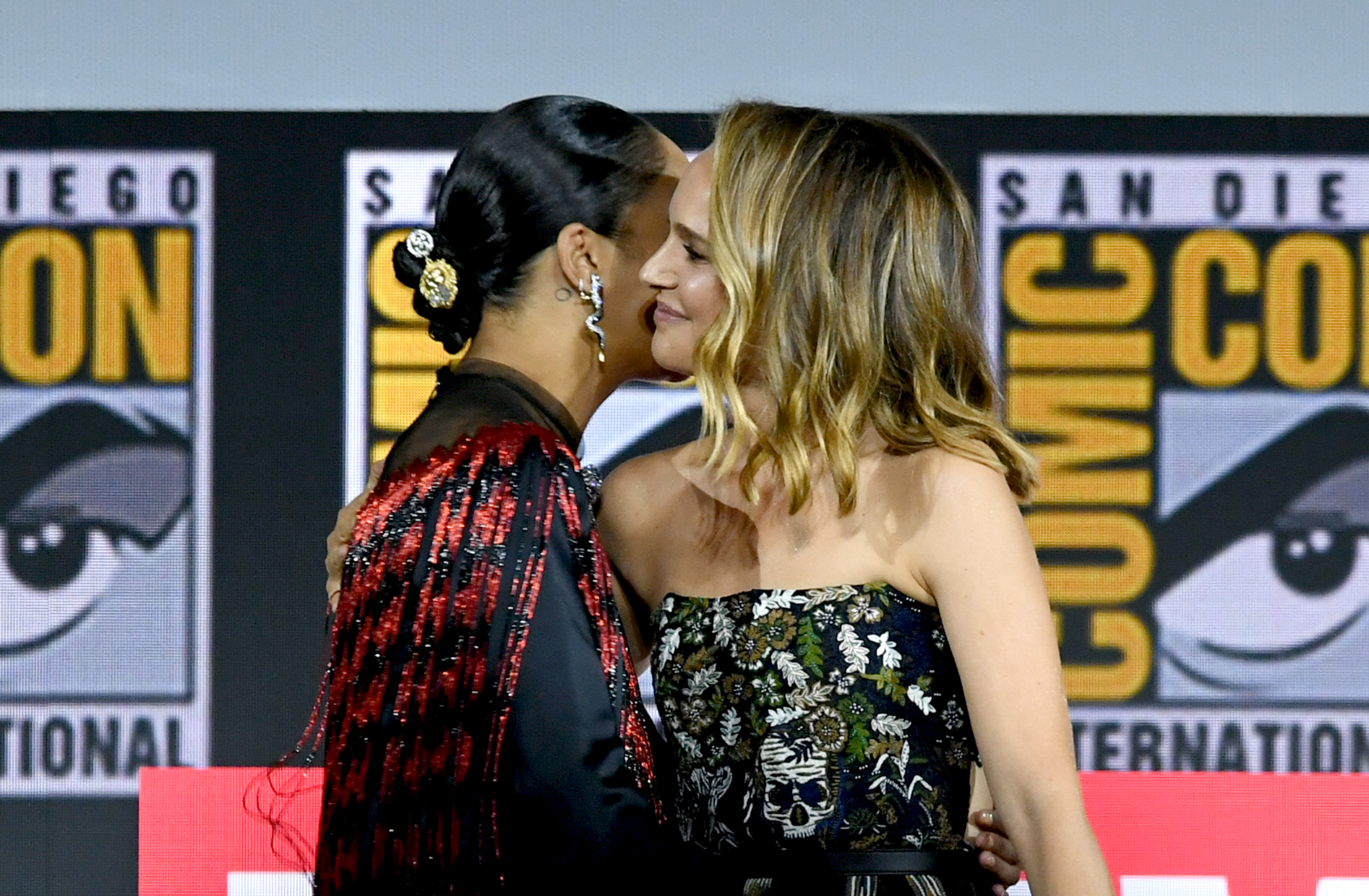 Tessa Thompson and Natalie Portman star as Valkyrie and Jane in 'Thor: Love and Thunder'
Thor: Love and Thunder will bring the God of Thunder's two leading ladies together when Tessa Thompson and Natalie Portman return as Valkyrie and Jane Foster.
Jane will look a lot different from the last time fans saw her in Thor: The Dark World. This time around, she's taken on the mantle of Mighty Thor and wields Mjölnir. Meanwhile, Valkyrie is dealing with the pressures of being the King of New Asgard after Thor left her in charge at the end of Avengers: Endgame.
Tessa Thompson and Natalie Portman's characters will team up in Thor: Love and Thunder when a new threat enters the scene — Gorr the God Butcher.
Tessa Thompson praises her co-star for her work offscreen
While speaking with Variety, Tessa Thompson described what it was like to work with Natalie Portman in Thor: Love and Thunder.
"Natalie's the kind of person who would call another female castmate and have transparency around what she's making so that she can help someone also advocate for herself," the actor shared. "That's like real-world superhero sh*t that I have seen Natalie do time and time again."
And Portman added how nice it was to have both Thompson and Jaimie Alexander, who returns as Lady Sif, by her side in Thor: Love and Thunder.
"I haven't had particularly bad workplace experiences, but I was usually the only female around," she explained. "It's just imbalanced. So it's nice to feel the awareness of it. There doesn't have to be the girl in the movie. There can be many women who have many different personalities and many different desires."
We love to see women supporting women. And we can't wait to see Tessa Thompson and Natalie Portman's real-life friendship transfer to the screen in Thor: Love and Thunder.
Natalie Portman describes her transformation into Mighty Thor
Natalie Portman had to undergo many changes for Thor: Love and Thunder. But in the end, it was more than worth it.
"On Black Swan, I was asked to get as small as possible," Portman told Variety. "Here, I was asked to get as big as possible. That's an amazing challenge — and also state of mind as a woman."
The actor also revealed that she wasn't expecting to return to the MCU after she didn't appear in Thor: Ragnarok. She said, "They don't often make more than three films in a series."
According to director Taika Waititi, having Portman come back as Jane was always one of his and Marvel's biggest priorities. He explained, "I've seen her play the scientist character in Thor 1 and 2, and it just seemed pointless to do it again. That character feels like just a love interest. It's an Earth woman who runs around being mortal and not really consequential throughout."
And Natalie Portman was onboard for Thor: Love and Thunder after learning Jane would become Mighty Thor. "I feel like it's the phase of my career where I'm really trying to just impress my kids," the actor shared. "My 5-year-old and my 10-year-old were so enthralled by this process, getting to visit the set and see me dressed up in a cape. It made it really cool. You know, it's very rare that my kids are like, 'Please go to work!' Usually, it's quite the opposite."
Thor: Love and Thunder premieres exclusively in theaters on July 8.
RELATED: Chris Hemsworth Reveals When He'll Stop Playing Thor in the MCU