'Thor: Love and Thunder' Star Tessa Thompson Explains Valkyrie's Powers, 'It Can Be Quite Erotic'
Tessa Thompson, who plays Valkyrie in 'Thor: Love and Thunder,' discussed her character's powers in the comic books, but clarified that she wasn't sharing spoilers about the movie.
Marvel fans are excited to see more of Tessa Thompson as Valkyrie in Thor: Love and Thunder, which is scheduled to premiere in the summer of 2022. Valkyrie was first introduced in Thor: Ragnarok, and it sounds like the fourth Thor film will further explore her character in the Marvel Cinematic Universe.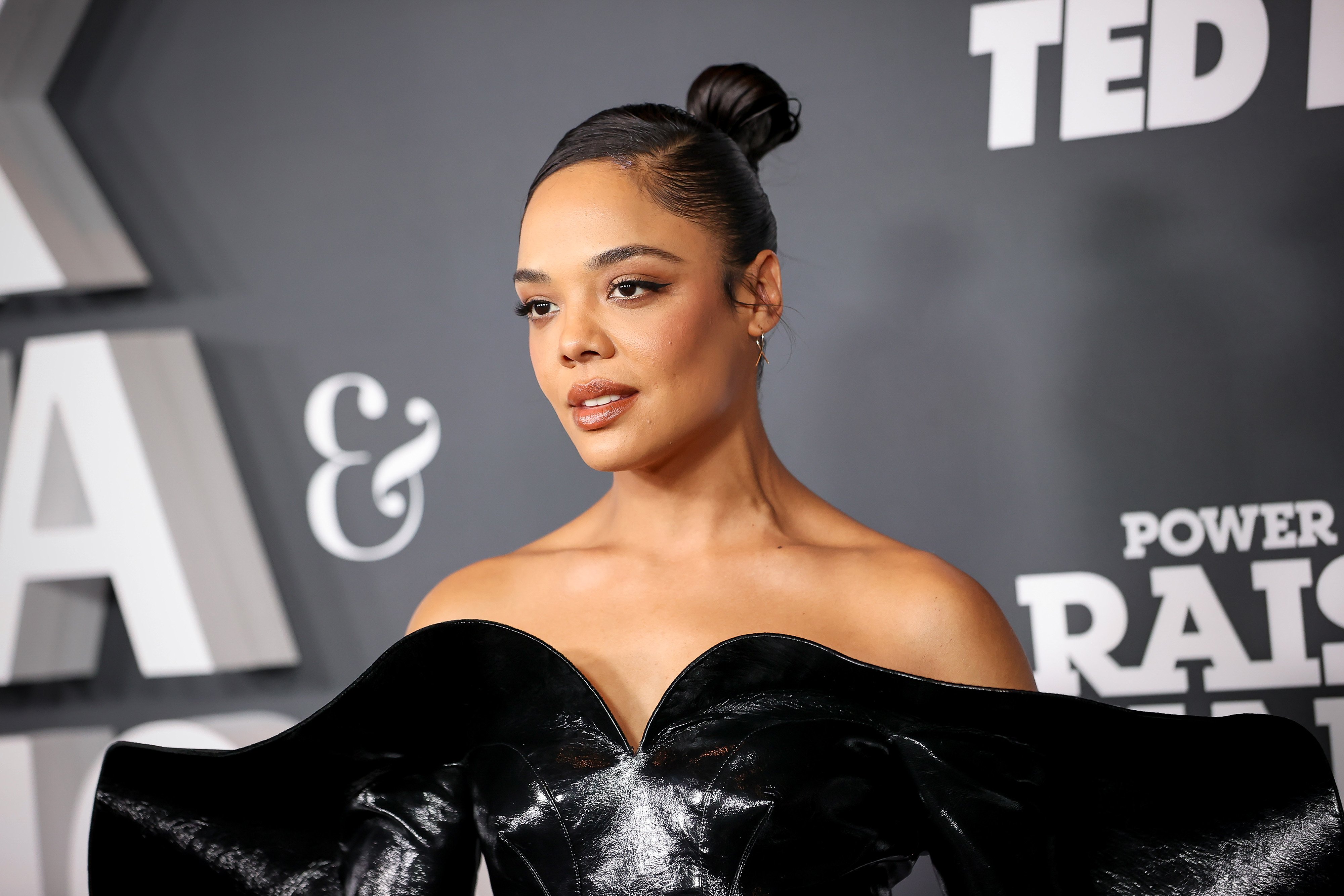 Tessa Thompson reprises her role as Valkyrie in 'Thor: Love and Thunder'
Valkyrie's world was turned upside down when she crossed paths with Thor in Thor: Ragnarok. She is the last surviving member of the Valkyries, a group of Asgardian female warriors. After Hela killed them, Valkyrie ended up on Sakaar, a garbage planet, where she met Thor and sold him to the Grandmaster as a gladiator.
After Thor fought the Hulk, he escaped and helped his friend from work transform back into Bruce Banner. Valkyrie then decided to help Thor and Bruce fight Hela back on Asgard. After the battle, they all escaped on a spaceship as Surtur destroyed Asgard.
Fans later found out in Avengers: Endgame that Valkyrie survived both Thanos' attack aboard the spaceship and the snap that wiped out half of the universe's population. She and the rest of the surviving Asgardians retreated to a town in Norway named New Asgard. Thor appointed Valkyrie New Asgard's official ruler at the end of the fourth Avengers film.
At a panel for Marvel Studios during Comic-Con in 2019, Thompson confirmed that Valkyrie is bisexual, making her the first LGBTQ character in an MCU movie. Thor: Love and Thunder will assumingly explore Valkyrie's sexuality.
The 'Thor: Love and Thunder' actor discusses Valkyrie's powers
During an interview with W Magazine, Thor: Love and Thunder star Tessa Thompson gushed over Valkyrie's powers.
"She has weird skills, to be honest," the actor shared. "[Valkyrie] can sense when someone is close to death, and she takes them into Valhalla, which is essentially the afterlife. She can revive people. But when she revives people, sometimes she ends up in their body. It's a weird thing. It can be quite erotic. And then she has superhuman strength and is essentially God."
Many believed that Thompson was referring to what fans can expect to see from Valkyrie in Thor: Love and Thunder. However, she later clarified her comments in a now-deleted Instagram story. Thompson said, "In talking about Valkyrie to [W Magazine], I was talking generally about powers that are canon and that I loved in reading the comics and not about [Thor: Love and Thunder]. I shant be a home for spoilers."
Everything we know about 'Thor: Love and Thunder'
Aside from Tessa Thompson as Valkyrie, Thor: Love and Thunder stars Chris Hemsworth as Thor, Natalie Portman as Jane Foster/Thor, Christian Bale as Gorr the God Butcher, Chris Pratt as Star-Lord, Jaimie Alexander as Lady Sif, Pom Klementieff as Mantis, Dave Bautista as Drax, Karen Gillan as Nebula, Sean Gunn as Kraglin, Jeff Goldblum as Grandmaster, and Vin Diesel as Groot.
Taika Waititi returned to direct the film, and Waititi and Jennifer Kaytin Robinson wrote the script. Kevin Feige and Brad Winderbaum produced the movie. Thor: Love and Thunder will be the sixth film in Phase Four of the MCU.
Not much is known regarding the movie's plot, but we know that Jane Foster will take on the mantle of Thor while undergoing cancer treatment. And, of course, the Guardians will make an appearance since Thor was last seen joining them on the Milano at the end of Avengers: Endgame.
Thor: Love and Thunder premieres in theaters on July 8, 2022.