T.I. Recalls When Morgan Freeman Scolded Him and Caused Him to Get Fired
T.I. shares a tale about Morgan Freeman chastised him in a room full of people.
Morgan Freeman is known for his commanding presence and "voice of God" tone, and he's had a legendary career in Hollywood.
At times, he's ventured into hip-hop working with artists such as B.o.B, Missy Elliott, and 21 Savage. He's done a Super Bowl commercial with Elliott and put his famous voice to use on wax.
But he's also crossed paths with some rappers in the acting world, including T.I. And the memory still sticks with the Atlanta rapper.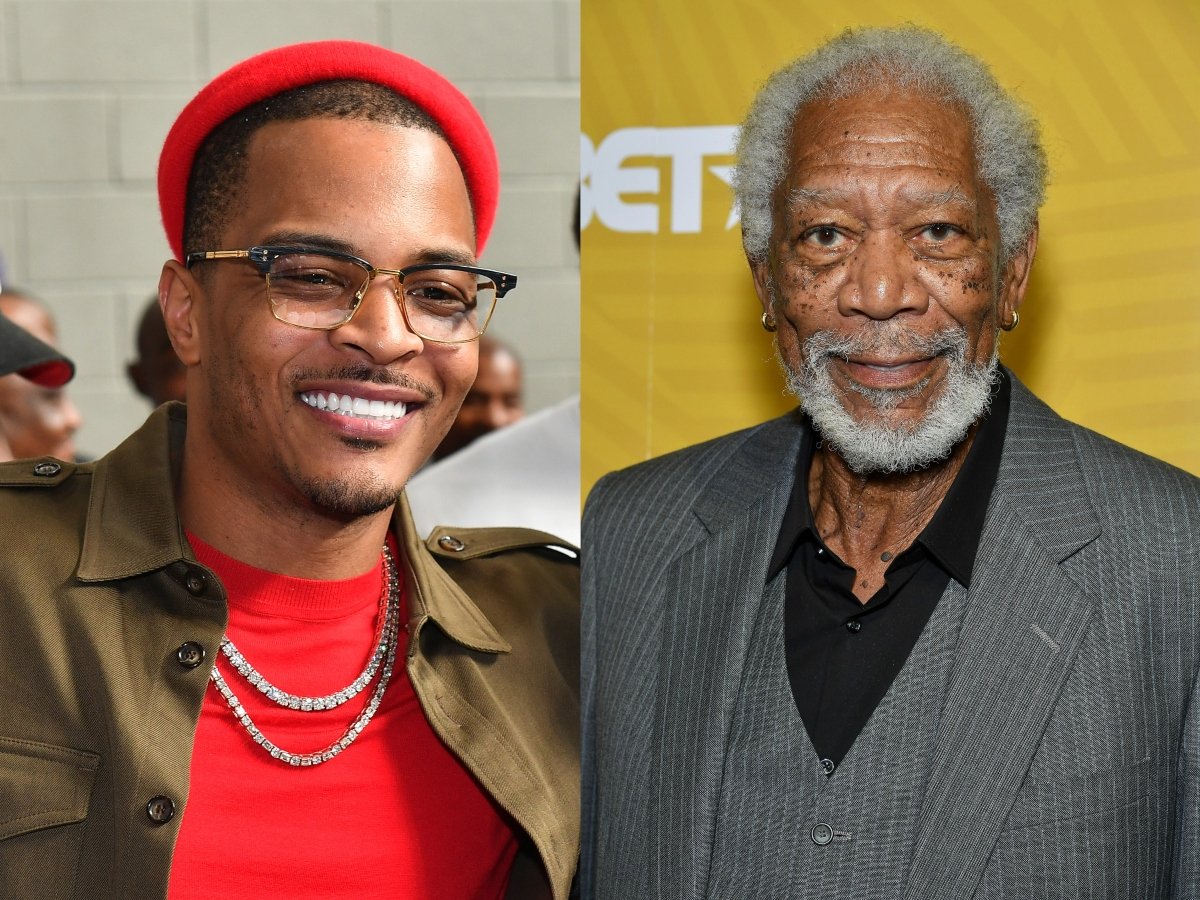 T.I. welcomed 21 Savage to his podcast
Back in November, 21 Savage stopped by T.I.'s expediTIously podcast to discuss his new music and highs and lows in his career.
After he released his Savage Mode II album this past October, it soared to number one on the charts. The follow-up project marked the rapper's first major outing since being released from jail and featured guest appearances from Drake, Young Thug, and Freeman.
It was Freeman's monologue about snitches and rats that had plenty of people talking, and 21 Savage shared how he landed the acclaimed actor to do the narration. He called it the easiest part of album's process and said Freeman only charged a nominal fee. There was no pre-existing relationship and all they did was reach out to his team, and he said yes.
This reminded T.I. of his personal experience with Freeman that got him fired from a movie.
Morgan Freeman once scolded T.I.
While chopping it up with 21 Savage, T.I. offered up his own tale about Freeman, and said he had to take it back to around 2012. He explained he was into lean in those days and had signed on to do the film Last Vegas with Freeman, Michael Douglas, Robert De Niro, Kevin Kline, Jerry Ferrara and other stars.
"I already got the role. I didn't have to audition for it or nothing," he said. T.I.'s manager called and urged him to attend a table read that included the entire cast.
He reluctantly agreed and shared that he was in Los Angeles at the time working on new music with Lil Wayne. T.I. said he booked a bus ride from L.A. to Las Vegas to get to the morning reading.
After finishing up in the studio around 2 a.m., he jumped on the bus and said he sipped on his drink the entire ride. Because he arrived a couple hours early, he killed time by walking around.
"Come time to sit down for the table read — man, that drink got on my a*s so bad, I'm dozing off at the table! Falling asleep while everybody's right there," said T.I.
Ferrara kept nudging him when it was his turn to speak, and he groggily woke up trying to compose himself to read his lines.
"After I did this about three or four times, Morgan Freeman from across the table says, 'Son! Are you with us, son? Are you ok? Son? Get up! What is your problem?'… The man chastised me like a little boy right there at the table," T.I. recalled.
T.I. was let go from the film
To cap things off, the rapper said his manager called him again after the table read to say Freeman refused to work with him. "Morgan Freeman said he won't work with you. They don't want you," he said. As a result, he was fired from the project — but still received his full salary.
When 21 Savage asked if he ever spoke to Freeman again, T.I. replied, "Hell na, we ain't never talk after that."
He shared that none of the other actors such as De Niro expressed any issues with him, so he didn't get why Freeman did. But he still declared his respect for the OG actor and his craft. T.I. joked that the "movie tanked" and felt he could've helped generate better numbers.
2013's Last Vegas went on to earn more than $130 million worldwide.