'Tick, Tick…BOOM!': Alexandra Shipp Was so 'Embarrassed' by Her Audition, She Wouldn't Let Her Mom Watch
Tick, Tick…BOOM!'s Alexandra Shipp doesn't want you seeing her audition video. In a recent appearance on The Late Late Show with James Corden, Shipp detailed her video audition for Tick, Tick…BOOM! director Lin-Manuel Miranda, saying she thinks it's cringeworthy. Clearly, it was good enough to land her the role! But Shipp explained why she was too "embarrassed" by her audition for the movie musical to even let her mother watch it in the interview.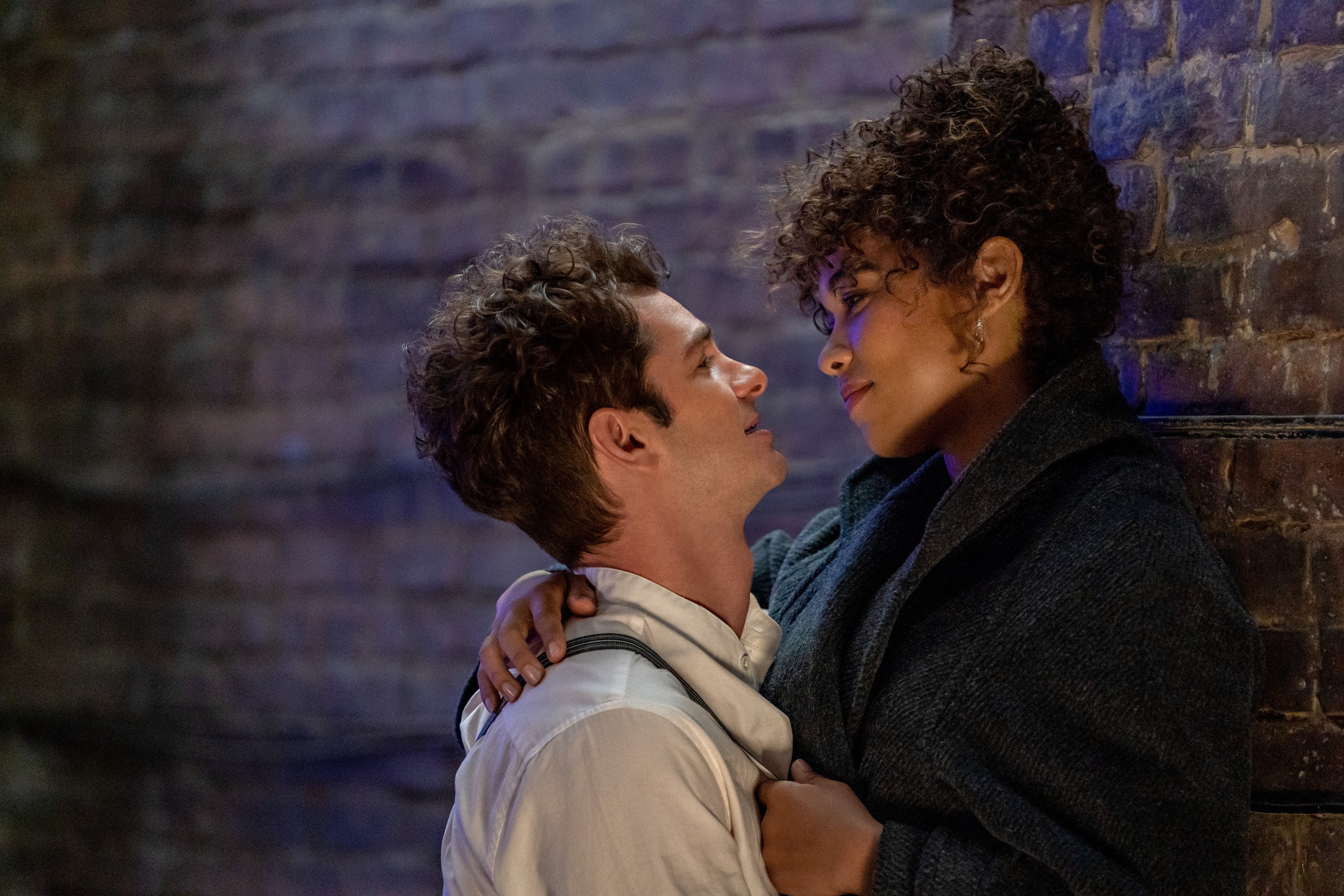 'Tick, Tick…BOOM!'s Alexandra Shipp details her video audition for Lin-Manuel Miranda
Shipp co-stars with Andrew Garfield in Tick, Tick…BOOM!. Garfield plays the late Jonathan Larson, creator of RENT. Shipp plays Jon's girlfriend, Susan. It's a film adaptation of Larson's autobiographical musical of the same name (previously called Boho Days). And Miranda screenwriter Steven Levenson added more to the story to incorporate Larson's life events that were inspiring the creation of Tick, Tick…BOOM! So, it is a film adaptation of the off-Broadway musical, but there's more.
For her audition, Shipp performed one of the songs from the musical, but she didn't say which one. The X-Men: Apocalypse star really wanted to prove she had what it took to star in a musical.
"I was really nervous because I don't have your conventional musical theater, classic voice," Shipp told Corden. "I was really excited because every time I go out for musicals they're like, 'Oh, the voice is just not really clicking for us.' And I'm like, 'Alright.'"
To make her audition for the Hamilton creator stand out, Shipp added her own twist to the song. She said:
"I added a little sauce onto it. I was like, let me just go really hard in the paint and give him this R&B version. I worked it out with a piano player, and I sent him this tape that is so embarrassing. My mom was like, 'Can I see the tape? Can I watch it back?' And I was like, 'You will never see this tape.'"
RELATED: 'Tick, Tick… BOOM!': Andrew Garfield's Singing Is on Full Display in First Official Song Release and It's so Good
Alexandra Shipp co-stars with Andrew Garfield in 'Tick, Tick…BOOM!'
Clearly, the tape isn't as embarrassing as Shipp fears. She got the role, after all. And now, fans will get to see her show off her singing skills when the movie comes out later this month.
In the movie, fans will see Garfield and Shipp as Jonathan and Susan. Just like their characters in the musical he's creating in the movie, Susan is ready to move on from her artistic dreams and settle down elsewhere. Jonathan's best friend, Michael (Robin de Jesus), left the arts altogether for a more financially stable career. Jonathan struggles with whether to follow their leads or keep hustling to make it as an artist.
Tick, Tick…BOOM! opened off-Broadway in 2001, five years after Larson's death. He died of an aortic aneurysm the morning of RENT's first Broadway preview on Jan. 25, 1996. Tick, Tick…BOOM's premise took on new meaning following Larson's death, as it's all about an artist hustling to make sure they accomplish their purpose. His anxiety around his career manifests as a ticking noise — a metaphor for time running out. Garfield told Vogue he thinks Larson had some subconscious knowledge that he didn't have much time left. He said:
"I believe that Jon knew, in some profound way, that he did not have a lot of time to write and sing and create what he was meant to create. So the ticking was a manifestation coming from his deep unconscious, saying, You've got to write this damn thing before you're 35. And then you'll have done what you've been called to this earth to do."
RELATED: Andrew Garfield Explains Why David Fincher Makes Actors Do so Many Takes—and Why It Works so Well
'Tick, Tick…BOOM!' cast
Larson made a handful of musicals in his lifetime. Tick, Tick…BOOM! and RENT are the only ones to be fully produced. But his other body of work, Superbia, had successful staged readings and got the attention of the Broadway community at large. It got Larson labeled as an up-and-coming artist to look out for. And it even got the attention of Larson's icon, Stephen Sondheim — the creator of Into the Woods, Company, Sunday in the Park With George, and West Side Story lyricist.
Sondheim mentored Larson for a bit during his life. In the movie, Sondheim's played by Bradley Whitford. Other Tick, Tick…BOOM! cast members include some of Broadway's most famous faces. Joshua Henry plays Rodger (that name is a nod to one of the characters in RENT), Vanessa Hudgens plays Karessa. Pose star MJ Rodriguez plays Carolyn (and in case you didn't know, Rodriguez got famous in theater for her portrayal of Angel in a production of RENT).
Other cast members include Jonathan Marc Sherman, Judith Light, Ben Ross, Laura Benanti, Utkarsh Ambudkar, Gizel Jimenez, Kate Rockwell, and more.
Tick, Tick…BOOM! will be available in select theaters nationwide starting Nov. 12. It will be available to stream on Netflix one week later on Nov. 19. Hopefully, Shipp will let her mom watch the movie.