'Tick, Tick… BOOM!': Andrew Garfield's Singing Is on Full Display in First Official Song Release and It's so Good
Ever wanted to hear Andrew Garfield singing? Now you can. The first full-length trailer for Lin-Manuel Miranda's Tick, Tick… BOOM! dropped Oct. 4. And with it came the first official song from the Tick, Tick… BOOM! soundtrack featuring Garfield, Vanessa Hudgens, and Joshua Henry. The song is the opening number of the Jonathan Larson musical and will likely be the opening number in the Netflix movie, coming out in November. It marks the first time fans have heard Garfield's singing on full display, and it's honestly shocking how good his voice is.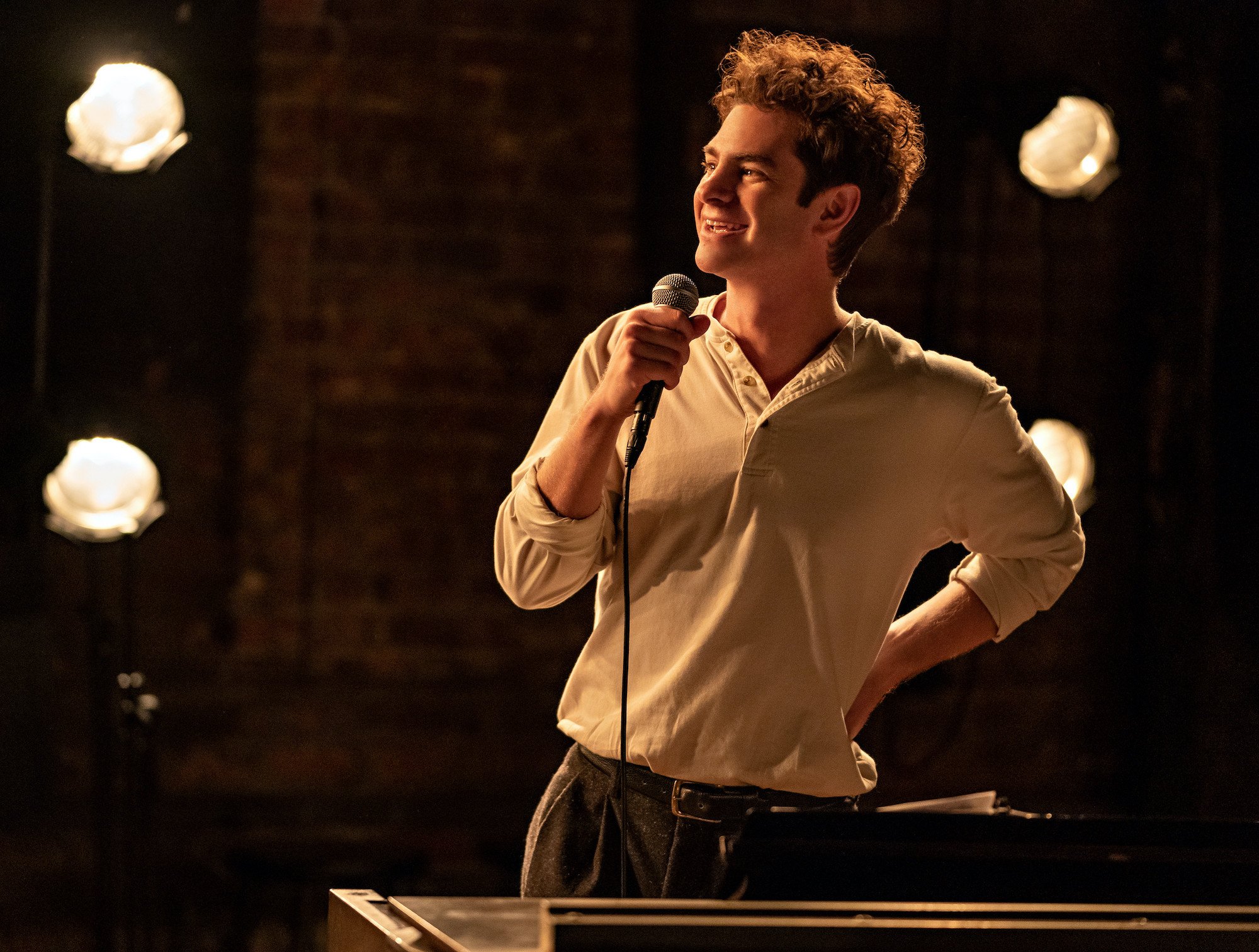 Andrew Garfield sings in 'Tick, Tick… BOOM!'
Garfield plays the late RENT creator in the movie musical, which is also Miranda's feature film directorial debut. RENT is Larson's most famous body of work, and Tick, Tick… BOOM! is the musical he made before it. The Tick, Tick… BOOM! movie is not about the creation of RENT. Rather, it's a film adaptation of Larson's autobiographical musical of the same name.
The story follows Larson as he struggles with existential crises as his 30th birthday looms. He's faced with the inevitable questions every artist has to confront: do I commit to my art or opt for the safer path, and what am I meant to do? It's also set during the AIDS epidemic in New York City. Larson lost many friends to the illness during this time, as he was an active part of the theater community that was hit so hard by the pandemic. Making art during such a harrowing time leads to a lot of soul searching.
The original musical only has three characters. The movie will have more. And Garfield, Henry, and Hudgens sing together on the first song from the Tick, Tick… BOOM! soundtrack, "30/90."
'Tick, Tick… BOOM!' soundtrack drops opening number
Before Tick, Tick… BOOM!, fans never heard Garfield's singing. They got a glimpse of it in the teaser trailer for the movie. But "30/90" shows off just how good Garfield's singing really is. And y'all… it is good. The song is available for streaming on all streaming platforms. You can check it out on Spotify here.
In "30/90," Garfield dreads turning 30. He sings:
Stop the clock
Take time out
Time to regroup
Before you loose the bout

Face the thrill
Back it up
Time to refocus
Before they lap it upYear's are getting shorter
The lines on your face are getting longer
Feel like you're treading water
But the riptide's getting stronger

Don't panic, don't jump ship
Can't find it, like taxes
At least it happens
Only once in your life

They're singing, 'Happy birthday'
You just wanna lay down and cry
Not just another birthday, it's 30/90
Why can't you stay 29
Hell, you still feel like you're 22
Turn 30 in 1990
Bang! You're dead, what can you do?
What can you do?
What can you do?
Henry comes in after with his own verse, and Hudgens is heard later on.
Tick, Tick… BOOM! never made it to Broadway in Larson's lifetime. It's been staged as an Off-Broadway show over the last 30 years. The composer died on Jan. 25, 1996 — the opening night of RENT's first Off-Broadway preview — of an aortic aneurysm. He was 35 years old.
Miranda's Tick, Tick… BOOM! movie comes out in theaters Nov. 10. It will debut on Netflix on Nov. 19.