Tiffany Haddish Confirms Long-Rumored Relationship With Common: 'I Love Him'
At this point, we all figured something was going on with Tiffany Haddish and Common, but for the record, she has officially confirmed her relationship with the "Go" rapper. In one of her most candid interviews yet, Haddish talked about how they met, started dating, and eventually fell in love.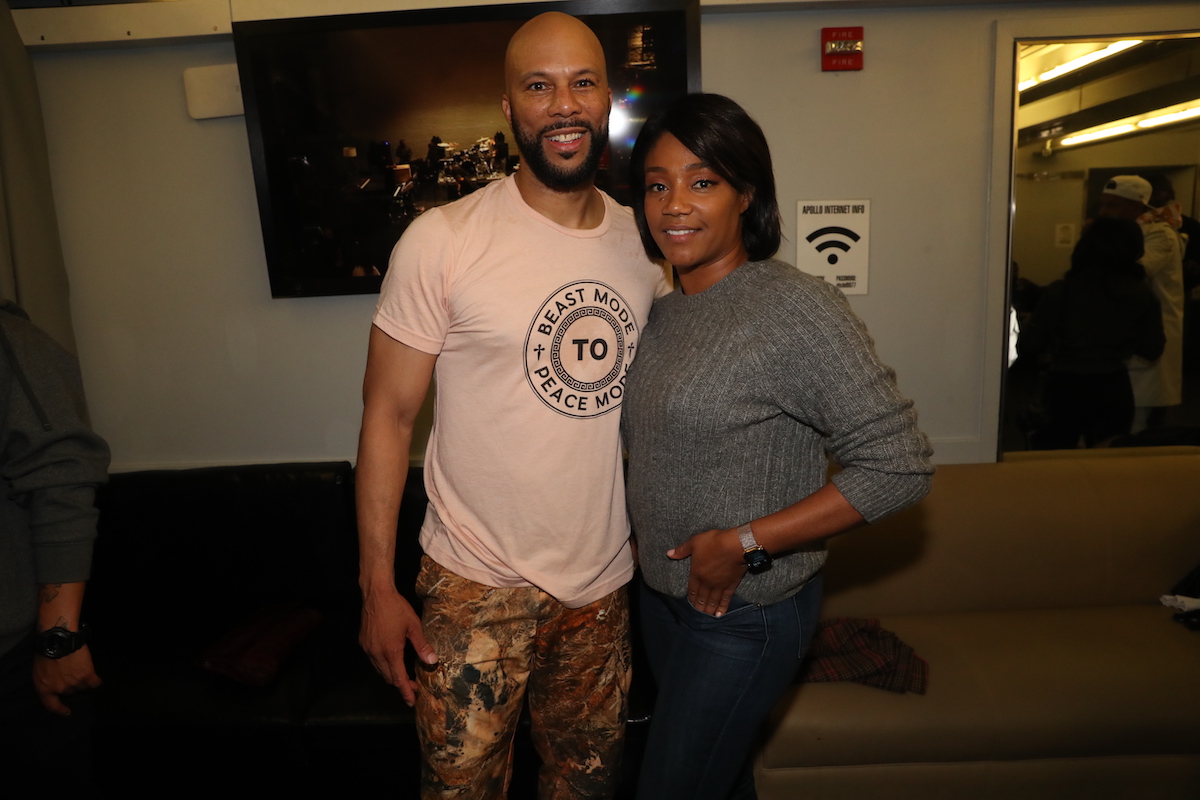 Tiffany Haddish's relationship with Common has been confirmed
Haddish had been in a recent interview on Steve-O's Wild Ride podcast when she was asked whether she was dating anyone. "I am in a relationship," she said, noting that she had been seeing the "Testify" rapper. "I'm doing it with Common now," she joked.
Haddish explained that her relationship with Common dates back nearly a year when they worked on the movie The Kitchen, but that it didn't turn romantic until earlier in 2020.
"He was in it and was kind of like my love interest," she said of the crime film, which came out in August 2019. "I made out with him in the movie and we became friends, but it wasn't anything sexual or anything like that because my eyes were set on someone else."
RELATED: Tiffany Haddish Reveals Her 3 Biggest Must-Haves In a Romantic Partner
Then she had a change of heart
After her interests changed, Haddish joined Bumble in May 2019 and started going on dates while continuing to keep in contact with Common. As their relationship grew more serious in the following months, she suggested they do a virtual date on the app to raise money for frontline workers during the coronavirus crisis. They had the date in April, during which they ordered food, got to know one another, and danced.
"Then he got tested for everything, I got tested for everything, and yeah, we've been f*cking," Haddish joked. She noted that Common is the first celebrity she's dated and that it's "hands down the best relationship" she's ever been in.
"I've lost 20 pounds since I've been in this relationship. I feel more confident in me and it's not him that's doing it," she continued. "I'm just way happier and it's, like, knowing I got somebody that cares about me, that really has my back. It seems like he does anyways, and I love it. I love him."
RELATED: Tiffany Haddish and Common Are Quarantined Together
The pair sparked dating rumors in February when they were spotted cozying up to one another during All-Star weekend. However, they repeatedly downplayed their relationship and said they were just friends.
So far, Common has not addressed the latest revelations about their romance. His relationship with the Girls Trip star is his first since his 2019 split from political analyst Angela Rye, whom he began dating in 2017. Before that, Common was linked to other popular figures such as Erykah Badu, Serena Williams, and Taraji P. Henson.
RELATED: Lamar Odom Reveals That He Left Taraji P. Henson for Khloé Kardashian