Tiffany Haddish Just Shaded Nicki Minaj on Clubhouse
Tiffany Haddish and Nicki Minaj have both dominated their respective fields. The Grammy-Award-winning comedian burst on the scene in 2017 with the hilarious and beloved film, Girls Trip. Minaj has been a force in the music industry for more than a decade. She helped redefine rap for women, walking in the footsteps of Lil Kim, Salt n Peppa, and Foxy Brown, among others, to transform hip-hop in the 21st century.
While the women have very different focuses, it doesn't seem like they are fans of one another. In some recent audio from Clubhouse, the Night School actor has some choice words for the "Anaconda" rapper, and she didn't hold back.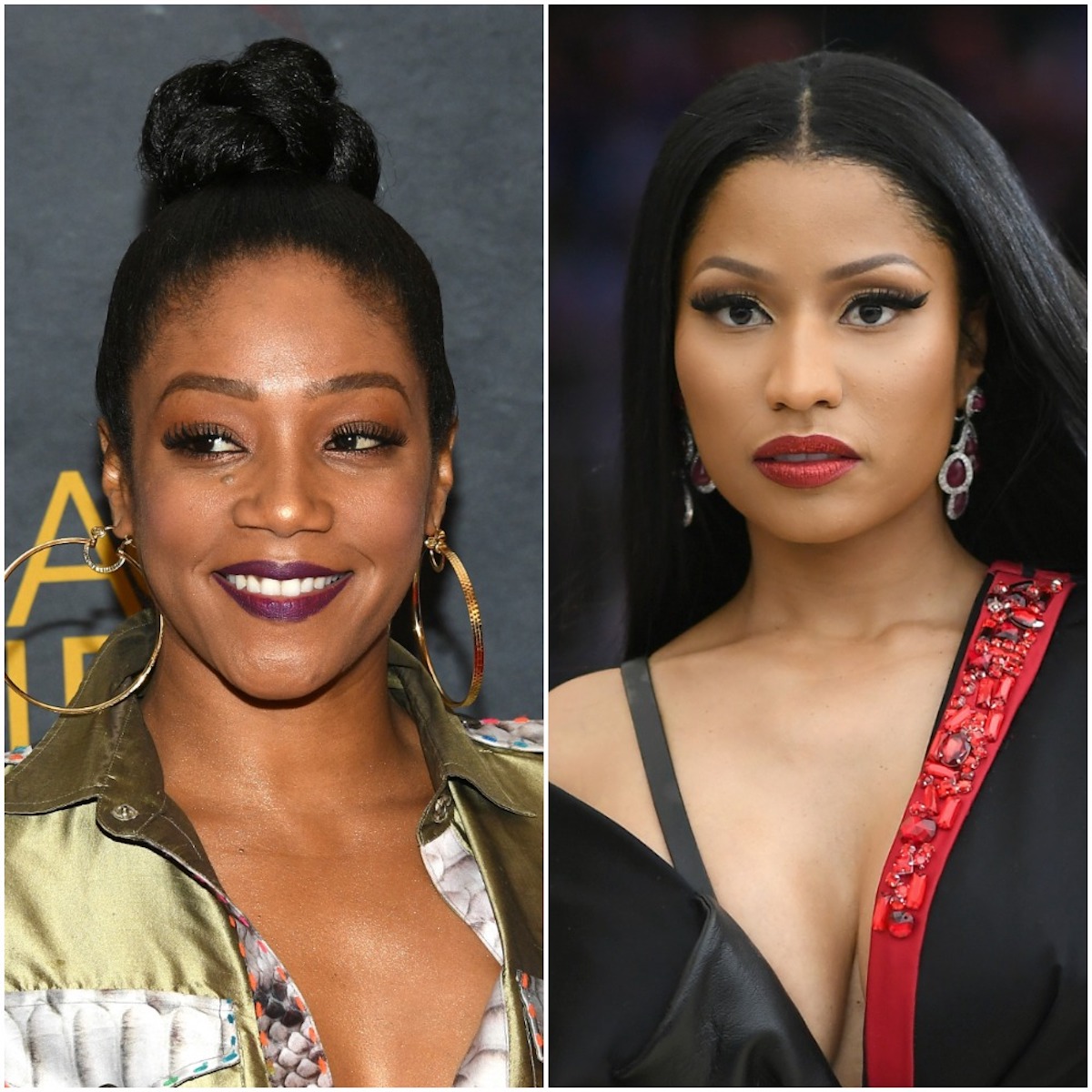 Tiffany Haddish and Nicki Minaj have had friction in the past
The Queen rapper and She Ready comedian have had issues with one another for several years. It all seemed to stem back from the 2018 MTV Video Music Awards. Haddish was a presenter at the awards ceremony. During her monologue, she made a joke about Fifth Harmony.
Fans of the girl group were not amused, especially considering the hardship that one of the group's members, Normandi had endured. Minutes after Haddish quip, Minaj took the stage to accept an award.
Upon accepting her award, she told Haddish, "Don't be coming for Fifth Harmony, because Normani is that b**ch."
RELATED: Common Won't 'Fake Laugh' at Girlfriend Tiffany Haddish's Jokes, the Star Confessed on 'The Kelly Clarkson Show'
Tiffany Haddish just shaded Nicki Minaj on Clubhouse
We're not sure if that was the source of the friction between the women, but apparently, there is no love lost between them. Recently on Clubhouse, the Bad Trip actor had some things to say about Minaj, and none of it was particularly nice.
This occurred when a fan praised Haddish's talents and compared her to the 38-year-old rapper. "You are the "Nicki Minaj of comedy right now," the fan praised.
Unfortunately, Haddish did not take that as a compliment. She quickly retorted that she was better than the rapper because she "shows up on time." She added, "And unlike Nicki, I treat everybody with respect and dignity."
Nicki Minaj's fans are slamming Tiffany Haddish
While Minaj has not taken to social media to comment on Haddish's comments, her fandom, the Barbz, are not playing any games when it comes to defending their queen. As soon as the Like A Boss' star's comments were made public, they've been in her mentions clapping back.
One fan used a clip from Avengers: Endgame to joke, "How all of Nicki Minaj's Barbz are assembling against Tiffany Haddish right now." Another added, "If we being completely honest I've laughed harder at Nicki bars than anything Tiffany ever said. Nicki Minaj funny af. You understand me?"
Since neither Minaj nor Haddish has commented on the comedian's words publicly, this drama will likely die down soon. However, neither the rapper nor her fan base has been quick to forgive when they feel someone has wronged them.
Tiffany Haddish's team has not returned a request for comment about the Clubhouse comments by the time of publication.