'Tiger King': What Happened to Joe Exotic's G.W. Zoo?
Right now, it seems that everyone is binge-watching Tiger King, Netflix's crazy-bananas new docuseries. The show — about the rivalry between a guy named Joe Exotic, who keeps hundreds of tigers in his private zoo in Oklahoma, and Carole Baskin, an animal lover who will do whatever it takes to shut Exotic down — is fascinating viewing. And it's likely to leave viewers with a lot of questions, including what the current status is of Exotic's G.W. Zoo
[Possible spoilers ahead for Tiger King] 
The G.W. Zoo has a new owner and a new name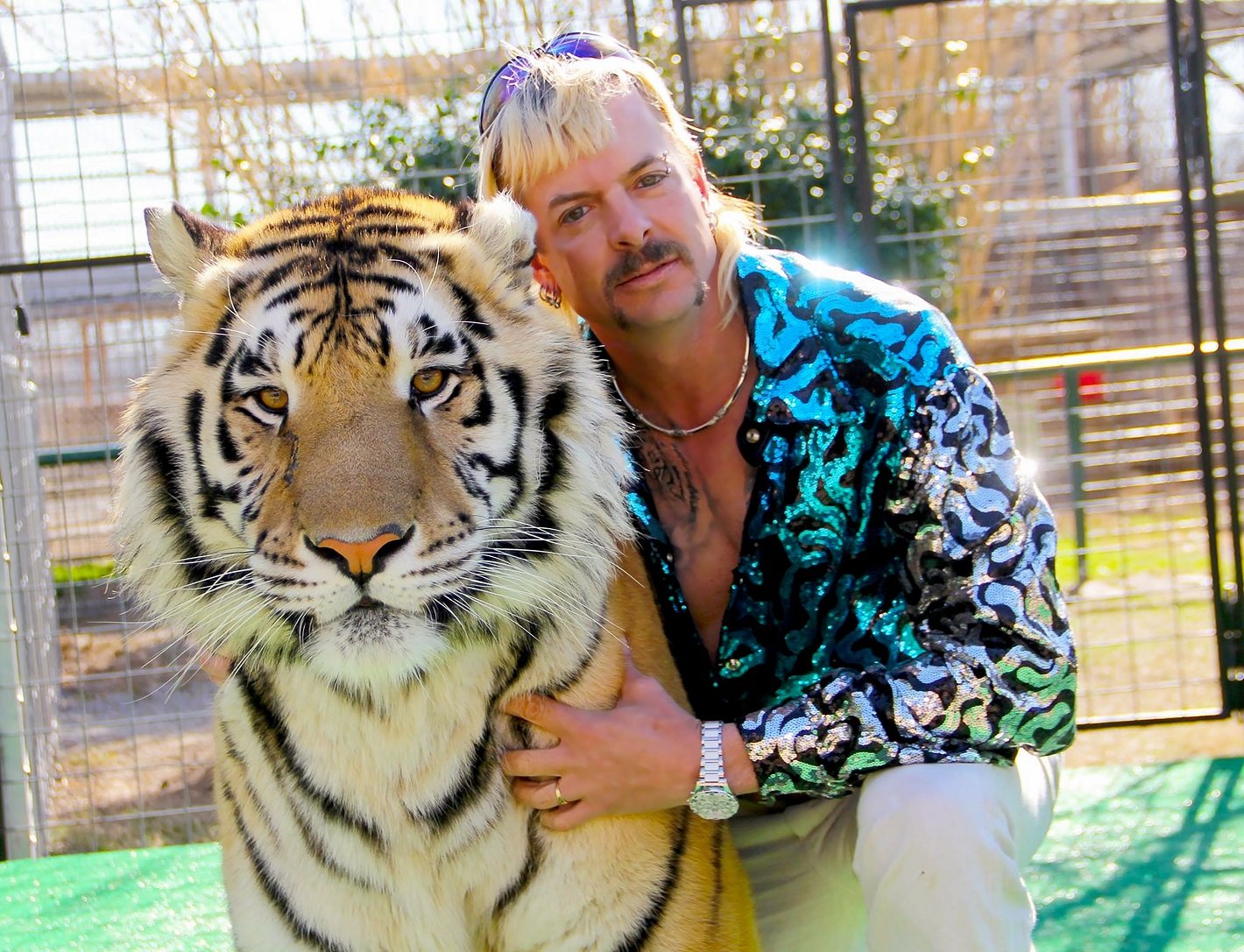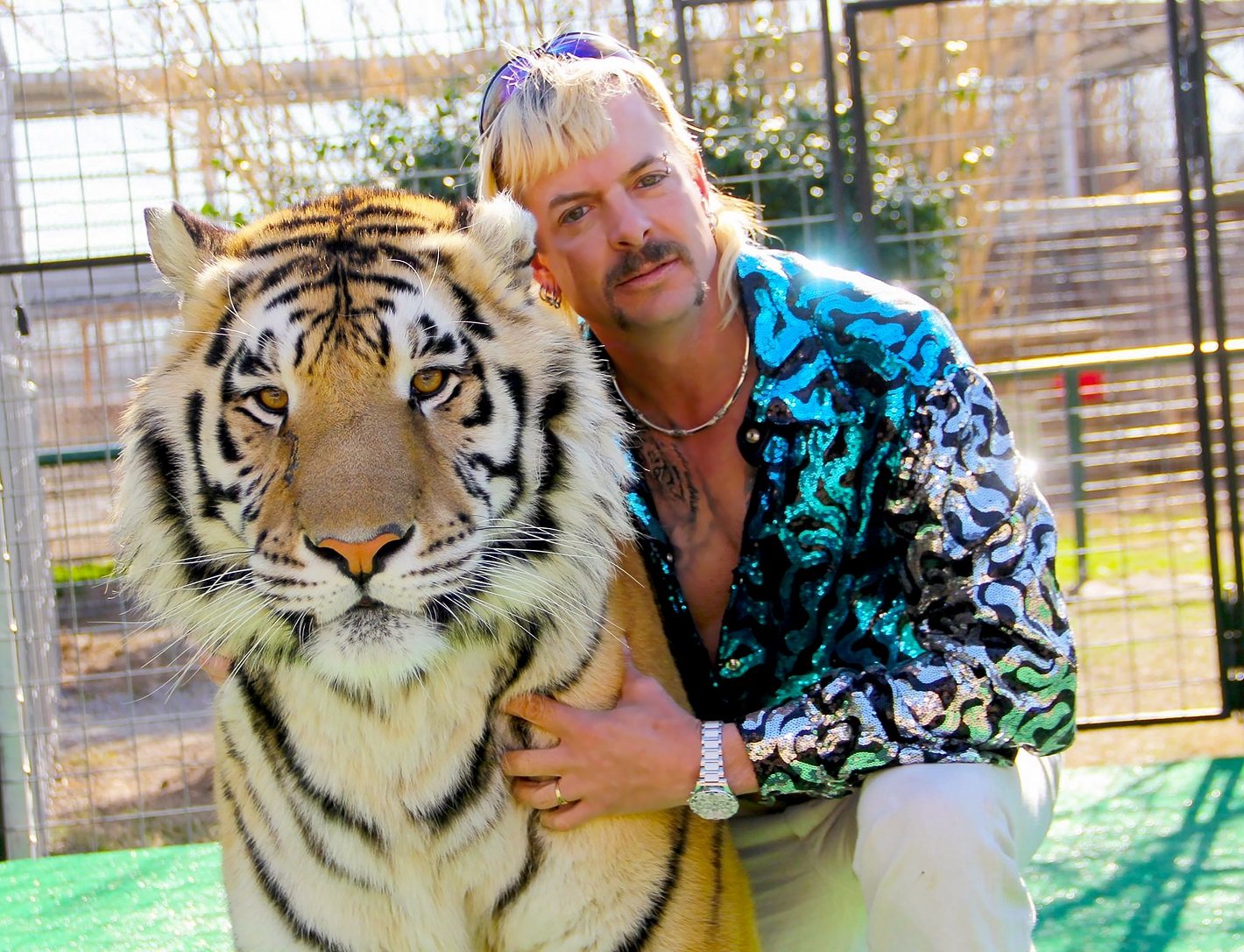 As those who've watched Tiger King know, Exotic — whose real name is Joseph Maldonado-Passage — eventually hired someone to kill Baskin. Unfortunately for him (but very fortunately for Baskin) the hit man he contacted in 2017 turned out to be an undercover FBI agent. As a result, in April 2019, Exotic was convicted on two counts of murder-for-hire, as well as eight counts of violating the Lacey Act for falsifying wildlife records, and nine counts of violating the Endangered Species Act. In January 2020, he was sentenced to 22 years in prison. 
Exotic is currently behind bars and he's also lost control of his notorious zoo. In 2015, he signed over the property to a man named Jeff Lowe, in part to keep it out of the hands of Carole Baskin, with whom he was engaged in a lawsuit. But their partnership quickly soured. Lowe eventually took over the business and rebranded the G.W. Zoo as the Greater Wynnewood Exotic Animal Park. 
On the zoo's Facebook page, the current owners praised the Netflix series and had harsh words for Exotic. "I will always believe that our biggest contribution to the animal kingdom was helping the feds take down monsters like Joe Exotic," reads one post. In another post, they wrote that their animals are "happy and healthy."
The Greater Wynnewood Exotic Animal Park has mixed reviews
Exotic is no longer involved in the zoo, but some online reviews claim that it is still not a great place for animals. 
"If you enjoy seeing animals trapped in small enclosures in their own feces and urine, by all means, come here!" one person wrote on Yelp in August 2019. Others complained of tiny cages and rude employees. But some had positive comments and good things to say about their visit, and zoo has a three-star rating overall. On TripAdvisor, reviews are mostly split between those raving about the up-close-and-personal experience with big cats and those slamming the facility. 
According to the zoo's website, they are still offering animal encounters, including private playtime with hybrid liger and tiliger cubs. Critics — including Baskin — have said such encounters encourage breeding of captive animals so that there is a steady supply of cute babies for people to pose with.
Joe Exotic's zoo will soon be moving 
The current owners say they've made big changes at the zoo. And an even bigger change is on the horizon. They are currently working on building a new zoo in Thackerville, Okla., behind the Winstar Casino. The facility will open in spring 2020, according to its website.  
 Jeff Lowe and his wife Lauren say the new zoo is about moving on from Exotic's troubled legacy. "His name will not be mentioned," Lauren Lowe told KOCO after Exotic's sentencing in Janauary. "He will have nothing to do with the new facility. Going to let this place in Wynnewood, Oklahoma, die with him."
But Eric Goode, one of the filmmakers behind Tiger King, says all is not well at Exotic's former park and that Jeff Lowe is struggling. "All I can tell you is that he is basically operating on fumes," Goode told Entertainment Weekly. "No one is going now and there's no source of income, and that's been going on for a long time."