Tim Tebow Has a Surprisingly Extensive Coffee Recipe
Tim Tebow is a world-famous football turned baseball star, who has made headlines over the years as much for his conservative religious habits as for his sports skills.
Tebow is very disciplined in every area of his life, especially when it comes to his diet and exercise routine. Recently, Tebow opened up about why he's a devotee of the keto diet and the elaborate ritual that he goes through to prepare his daily coffee.
Tim Tebow is a sports superstar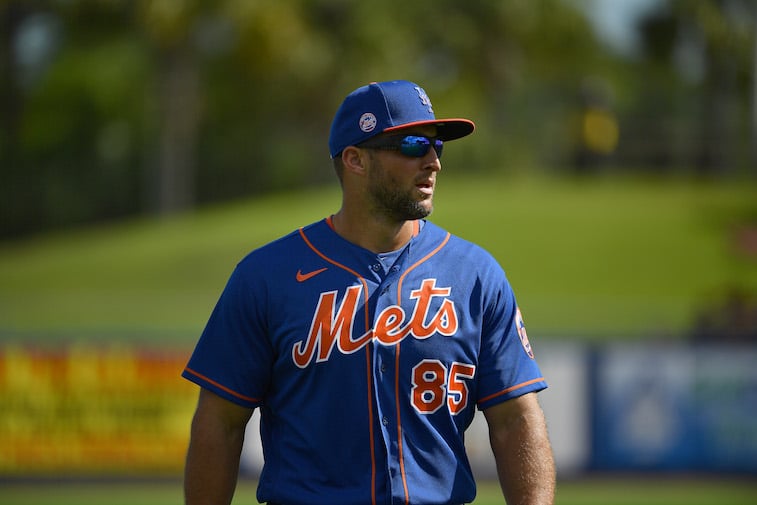 Born in 1987, Tim Tebow began his sporting career as a quarterback. He played for major teams like the New York Jets and the Denver Broncos and became notorious for his outspoken Christian faith.
Tebow made headlines for his habit of kneeling in prayer before the game started, a practice that became known as "Tebowing."
In 2016, Tebow shocked his fans by announcing that he would be leaving football in order to pursue a career in baseball. Later that same year, Tebow signed with the New York Mets and has been with the team ever since, mainly as a left fielder and designated hitter.
In addition to his baseball career, Tebow has worked with a wide variety of Christian-based charities and youth groups over the years and isn't shy about proclaiming his devotion to his faith. Many of Tebow's fans love him for his personal convictions and although he has received some mockery from a few pop culture figures, he has never wavered.
These days, he continues to thrive both in and out of the sporting arena. 
Tim Tebow follows the keto diet
As a professional baseball player, Tim Tebow must stay in excellent shape, year-round. He recently revealed that he follows the controversial keto diet and has been ever since 2012, long before the diet became a popular fad.
He revealed that he first heard about keto from his trainer when he was involved with football and due to the trainer's glowing recommendation, Tebow switched to the high-fat, low-carb diet. 
Tebow isn't the only one in his family to follow the keto diet. He admitted that his father, who suffers from Parkinson's Disease, also follows the keto diet and that all the good fats in the diet, including avocado and organic butter, has actually helped his brain. Still, not everyone in Tebow's inner circle does keto. He stated that his wife, Demi-Leigh Nel-Peters, hasn't been able to fully commit to the keto diet.
How does Tim Tebow prepare his coffee?
The keto diet allows for a lot of "treats" – food items such as bacon, guacamole, pork rinds, full-fat cheese, and more. Coffee is also allowed on the keto diet, however, most store-brand coffee creamers are chock-full of sugar and carbs. Therefore, many devotees of the keto diet turn to alternative methods of sweetening or flavoring their morning cup.
Tim Tebow has a very elaborate preparation method that he follows in order to craft his perfect cup of coffee. He revealed that he makes his coffee with "a mix of half-regular, half-decaf coffee, a tap of heavy organic whipping cream, a sliver of butter, a little unsweetened almond milk, and two-to-three drops of liquid Stevia, English Toffee flavor."
Tebow didn't state exactly how long it takes him to prepare a cup of his signature beverage, but he undoubtedly has more time in the mornings than most people, who only have the time for a quick splash of milk or cream. Still, his drink of choice certainly sounds delicious, and for those who wish to emulate Tebow's dietary habits, trying out his coffee recipe would be a great way to start.