Why 'Titans' Season 3 Needs More Krypto
Krypto was undoubtedly the breakout star of Titans Season 2. And now, as the superhero team faces new challenges and villains in Gotham, it feels like the super pup is being underutilized. He's more than just a good dog, which is why DC Comics fans want to see more of Krypto in Titans Season 3. 
Krypto is an asset to the 'Titans' team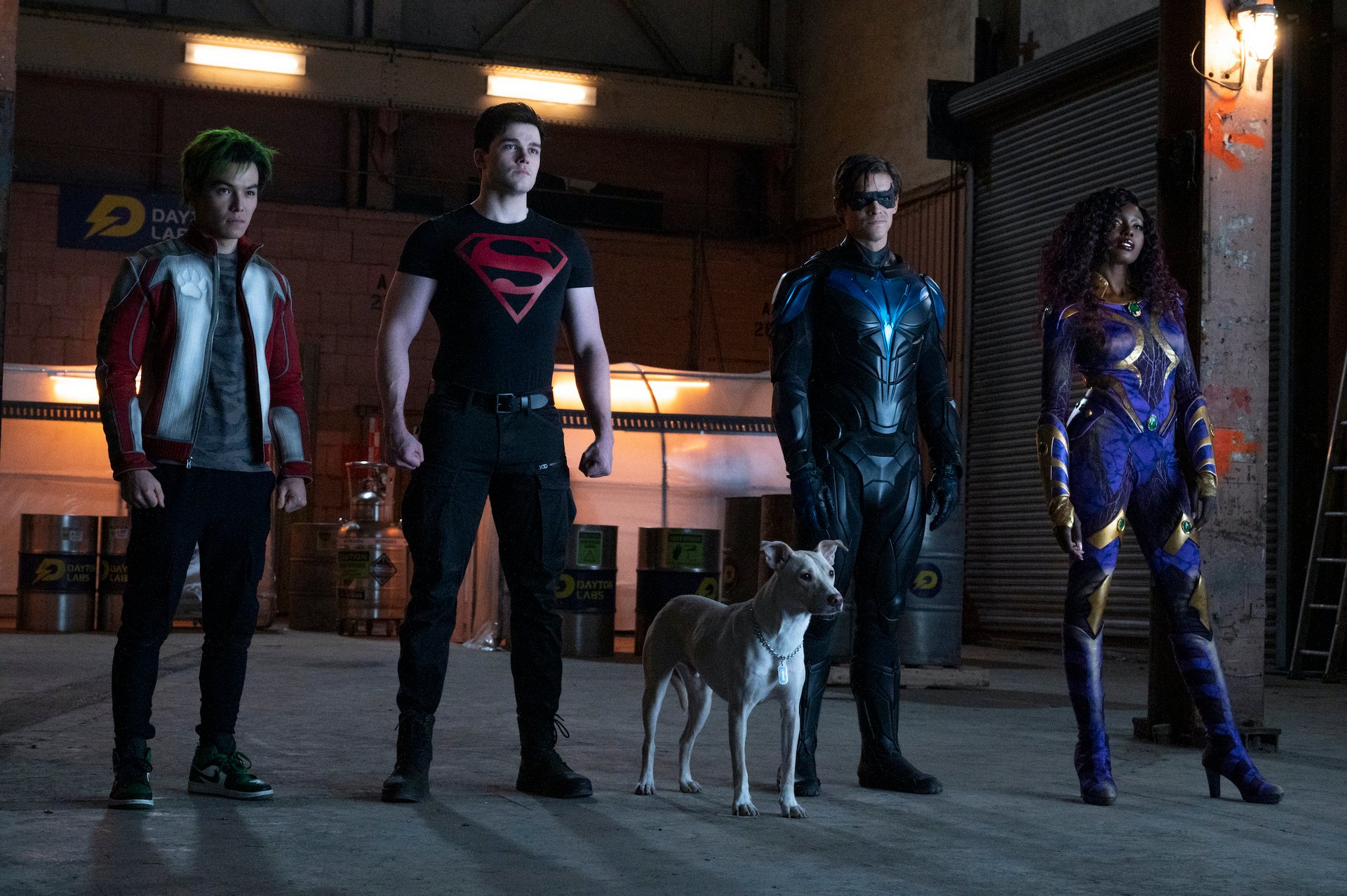 As seen in the Season 2 episode of Titans, titled "Conner," Krypto was created in a lab alongside Conner, aka Superboy (Joshua Orpin). While Conner was still figuring out who he was and trying to get a handle on his abilities, Krytpo knew exactly what needed to be done. 
When Conner visits the Luthor home, Krypto helps him take down the company goons with his heat vision and strength. And later, when Conner is cornered at the lab, the pup flies him out. 
And Krypto isn't just a powerful dog; he's also super smart. When Conner is in trouble and sends Krytpo away, the pooch rings the Titans Tower doorbell and gets Gar, aka Beast Boy (Ryan Potter), to help. 
But Krypto also proves that he isn't just a superhero. When Hawk (Alan Ritchson) is on his deathbed, Krypto stays at his side and comforts him until his last breath like a loving canine companion.
But the Superdog has been missing for much of 'Titans' Season 3
Titans Season 3 takes the superhero team from San Francisco to Gotham City, where they are tackling Jason's (Curran Walters) emergence as the Red Hood. But as they take on the city's various dangers and villains, Krypto is nowhere to be found. 
Sure, he appeared in Episode 3, "Hank & Dove," to comfort Hank in his final moments. But ever since the team moved to Wayne Manor, the Superdog hasn't been seen on screen. 
And as of Episode 6, Krypto hasn't really been mentioned. So, it's hard to tell if he's chilling at the mansion while his friends go about their missions or if he's just flying around town.
Fans want to see more of Krypto this season
He may not be a rich vigilante, space alien, or metahuman, but Krypto is by far one of the most remarkable members of the Titans team. Like Conner, the pup can fly, has heat vision, super speed, super strength, super hearing, and bullet immunity. 
Krypto has also proven that he has human-level intelligence, making him as much of an asset to the Titans as anyone else. Knowing how significant his powers are, some fans wonder why the Superdog isn't being utilized more this season. 
"Gotta point out that Krypto just disappeared lately," one Reddit fan wrote. "I mean, how useful could a dog that can sniff a clue and catch the person be by himself be. No biggie."
Rachel, aka Raven (Teagan Croft), Donna, aka Wonder Girl (Conor Leslie), and Rose (Chelsea Zhang) have also been MIA this season. Hopefully, as Season 3 continues, fans will get to see them and Krypto in action once again. 
New episodes of Titans air Thursdays on HBO Max.