What Is Toby Keith's Net Worth?
In the world of country music, Toby Keith is a legend. He's one of the most well-known artists of the genre, having successfully crossed over to the pop charts on multiple occasions, but he's also earned and kept the respect of serious country fans.
On top of his immense popularity as a musician, he's appeared in film and on television, and even has multiple successful business ventures. It's pretty obvious from this fame and this business acumen that Keith has to be wealthy. But just how wealthy is this icon of country music? And what does he do with the fortune he's undoubtedly made?
Toby Keith did not grow up wealthy
Though Toby Keith is clearly a very wealthy man today, this was not always the case. Keith's family did have ties to music: his grandmother owned and operated a supper club that frequently hosted country musicians, and Keith started playing with the band early on. He lived in Oklahoma for nearly all of his childhood, and, alongside music, had an interest in football. However, his first career was in the oil fields, until a decline in the local industry that led to his return to football as a semi-professional athlete.
In the 80s, Keith and his band, Easy Money, played clubs and bars around Oklahoma and Texas, and slowly grew a following. He moved to Nashville to try and break into the industry, but didn't initially find success – leading to a feeling of dejection and Keith almost leaving music altogether. However, by chance, a record executive heard Keith's demo, and ended up signing him. The rest of the story can be heard at the peaks of the Billboard country charts.
Success in music gave Toby Keith significant capital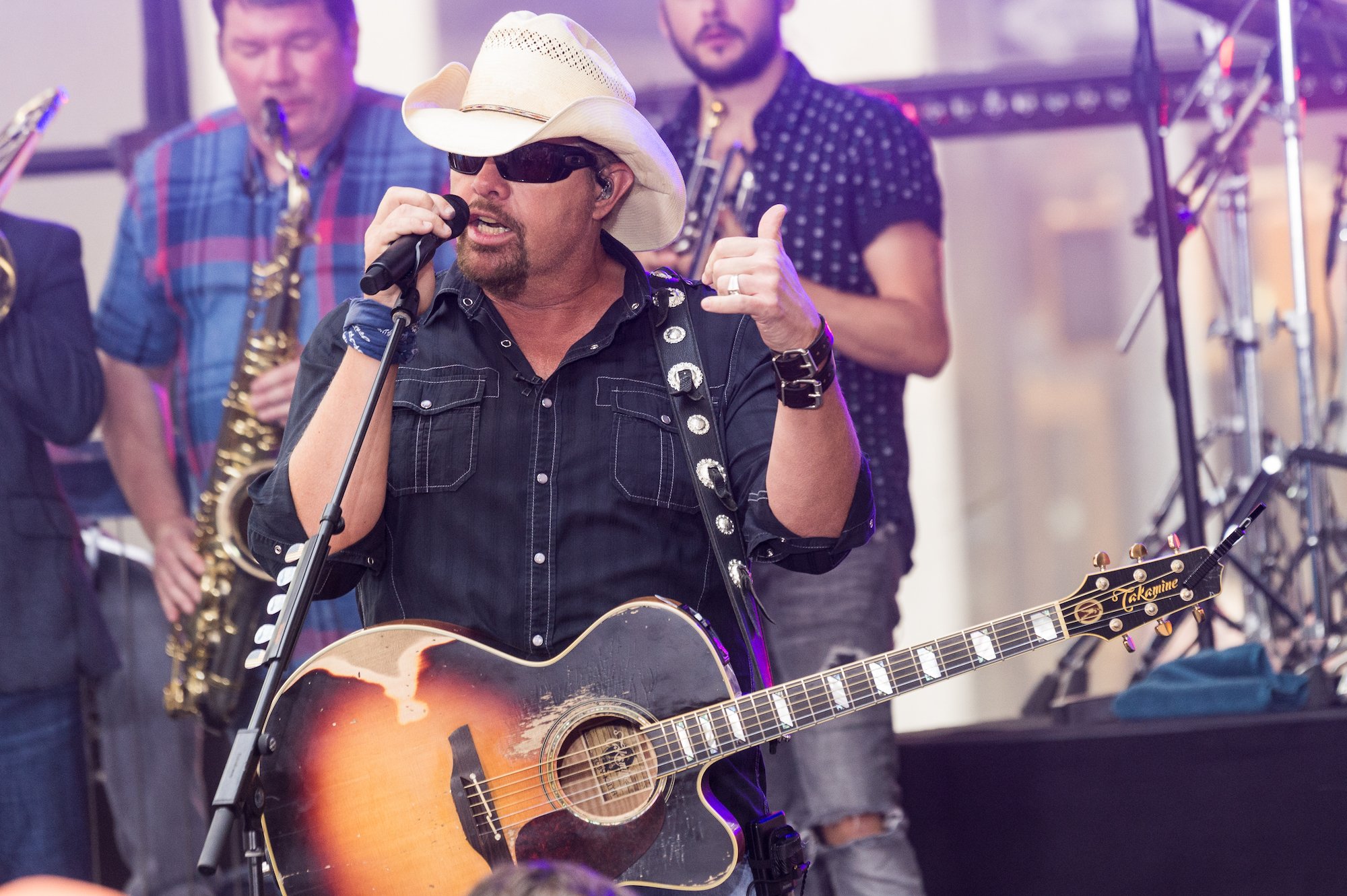 Naturally, the beginning of Keith's fortune came from his music career. According to Celebrity Net Worth, his current net worth is $365 million, but his first contract was $20,000. However, in 1993, after the release of his debut album, he made between $5,000 and $10,000 for each concert, and after the next album this became $20,000 per concert. On top of this, many of his albums went platinum, helping him bring in more money with the record companies he worked with.
Keith also has many investments and business ventures. In 2004, he invested a large amount of money in Big Machine Records, which would sign artists like Taylor Swift and Rascal Flatts. He also has his own record label, Show Dog-Universal Music, and, of course, his own restaurant chain: I Love This Bar and Grill. He also has a line of clothing, and a signature brand of tequila. All of these investments have paid off, and today he's known just as much for being a businessman as he is for being a musician.
Toby Keith is a philanthropist, but likes to live it up too
Keith has a lot of money, and doesn't hoard it. Keith has a large car collection, including a 1963 Chevy Impala and a Ford F150 Harley Davidson. He's stayed in his home state of Oklahoma, but his ranch is over 160 acres, and he even raises racehorses.
But Keith is also generous with his money. Keith is a major supporter of Ally's House, an Oklahoma non-profit that helps children diagnosed with cancer. He started his own foundation to help pediatric cancer patients: The Toby Keith Foundation, which offers no-cost housing for children and their families to make the process of dealing with cancer a little bit easier. This includes the OK Kids Korral, which aims to help kids feel more comfortable and give families space to relax. These philanthropic contributions in his home state have given Keith a well-deserved good name in the country music world.
RELATED: What Was Charlie Daniels' Net Worth After His Legendary Music Career?