'Today': The Comfort Food Hoda Kotb Turned to Recently After a Particularly Stressful Day – 'I'd Never Been Happier'
Reporting on the coronavirus (COVID-19) pandemic has been stressful for every news outlet and journalist. The global health crisis has been alternately distressful to report and confusing to keep up with.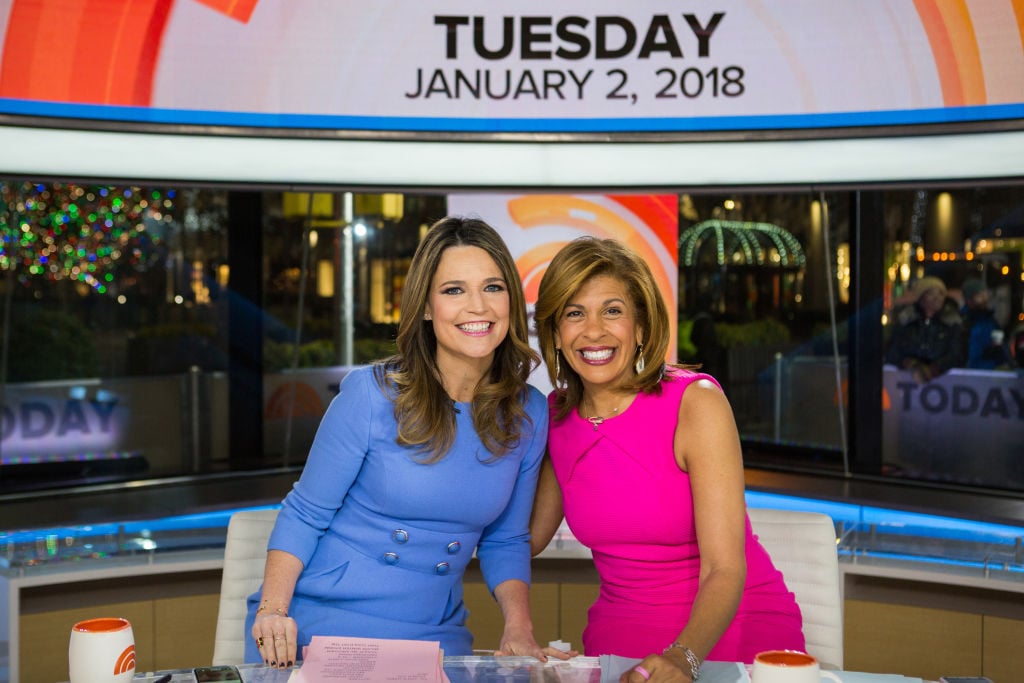 For Hoda Kotb, especially at the beginning of shelter-in-place measures, the anchor had to report on her own from Studio 1A in Rockefeller Center, due to her co-anchor, Savannah Guthrie, feeling under the weather and choosing to report from home out of an abundance of caution.
It all finally got to Kotb this week, when she understandably gave in to a beloved comfort food.
Hoda Kotb has been in the studio without her co-anchor on and off since mid-March
Since shelter-in-place measures were required by the federal government due to the current pandemic, Kotb has been holding down the fort in the Today studios while co-anchor Savannah Guthrie has had to report from home.
"This show's been around a long time … but never has this happened before," Guthrie told viewers on Today on Mar. 18.
"Here's what happened: I wasn't feeling my best, a little sore throat, some sniffles. I wouldn't have thought anything of it, but we are in different times, aren't we?" Guthrie said. "So in an abundance of caution, and also to really model the vigilance the [Centers for Disease Control and Prevention] is asking of all of us right now, we followed the advice of NBC's medical team."
Kotb remained strong until last month
The 55-year-old Kotb has been a rock for her Today co-hosts Guthrie, Al Roker, Craig Melvin, and Sheinelle Jones, who have all been taking turns broadcasting from home to observe social distancing guidelines from the CDC. She appeared strong on the air, until last month, when she broke down. The mother of two explained later that, as much as one tries to keep up a strong front, at some point, something's got to give.
In a Mar. 2020 interview with New Orleans Saints quarterback Drew Brees, the anchor spoke with the professional football player about his incredible $5 million donation to coronavirus relief for the state of Louisiana. Towards the end of their interview, Kotb became understandably emotional, so much so that it was difficult for her to speak.
"I think everybody has their breaking point somewhere," Kotb told Entertainment Tonight. "Sometimes you have it in the bathroom at home or you have it in the car and your kids are inside. I mean, mine probably was at the least appropriate place it could have been but I think there was something about his kindness and generosity in that moment."
The beloved comfort food on the menu for Kotb
The journalist revealed this week that after rising early to report to Today and then staying late to go on the air with Guthrie for more coronavirus reporting late in the evening, it's been stressful to say the least.
She told her Today with Hoda & Jenna co-host, Jenna Bush Hager, remotely of course, about her turning to one of her favorite comfort foods recently.
"One of the things that makes me feel cozy and comforted is fried chicken,' she said. 'Before I came here for the [NBC evening] special, I ordered fried chicken with dunking sauce and fries and onion rings and I left them at the apartment."
The NBC anchor explained that she got on the floor, put on a favorite TV show, and just chowed down. It reminded her of eating in college, a far less stressful time.
"I walked in. I took a paper plate. I put chicken, fries, onion rings in the microwave," she recalled. "Sat on the floor, turned on Friends, dunked that chicken — it was almost like KFC — into the sauce. I'd never been happier."
Read more: Savannah Guthrie vs. Hoda Kotb: Who Has A Higher Net Worth?