'Today's Hoda Kotb Gets Cooking With Pal Valerie Bertinelli on 'Valerie's Home Cooking'
Find out more about 'Today' co-anchor Hoda Kotb's upcoming visit to pal Valerie Bertinelli's Food Network show 'Valerie's Home Cooking.'
Today fans love when celebrity chefs stop by the Rockefeller Center studios. But this weekend, Hoda Kotb and her friend Valerie Bertinelli are switching things up.
Kotb will be stopping by Bertinelli's kitchen studio to help cook up a meal on Bertinelli's Food Network show, Valerie's Home Cooking.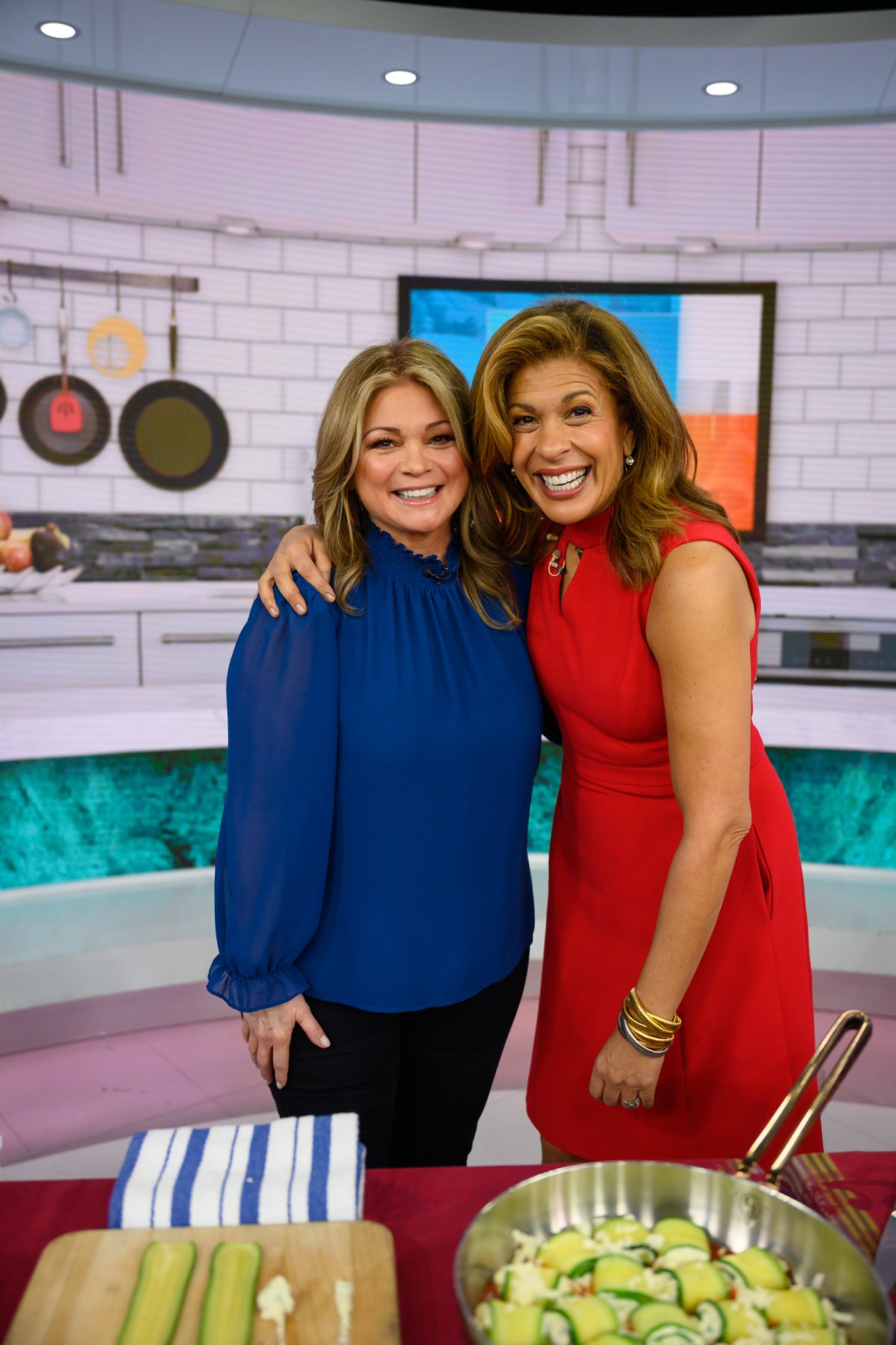 Valerie Bertinelli says Hoda Kotb 'can cook'
On Today this week, the former One Day at a Time actor visited the morning show from her home kitchen via video feed. She assured hosts Craig Melvin, Sheinelle Jones, and Dylan Dreyer that Kotb "can cook" before showing a segment from Kotb's visit to her Food Network set.
In the clip, the Food Network star instructs Kotb on extracting juice from a lemon using a squeezer. Bertinelli said: "when you put it in the juicer, take your cut side and put your cut side down where the holes are."
Kotb was delighted with what for her seemed to be the novelty of a lemon squeezer: "Oh! Dude! No wonder it went everywhere. This is amazing! No wonder it was oozing out everywhere."
Dreyer commented: "Have we ever seen Hoda cook before?," to which Bertinelli replied, "She's a great cook!"
Kotb will be on 'Valerie's Home Cooking' this weekend
During Kotb's visit to Valerie's Home Cooking, the two friends will prepare the ultimate summer meal. According to Food Network, the menu includes Arugula Salad with Quick Pickled Grapes, Fennel, Pear and Brie, followed by Flank Steak with Lemon Lime Herb Sauce, Smoky Tomato Eggplant Dip with Grilled Sourdough, and Citrus Grape Smash Cocktails.
The two will round the visit out with "tips for getting through the day with grace and gratitude."
Bertinelli has won two Emmy awards for her Food Network show and explained to Parade that when it first launched, she struggled greatly with wondering if she should be in the cooking space at all since she wasn't formally trained.
"My whole life, I've had this imposter syndrome," she said. "Winning my Emmys chipped away at that a little bit. I'm in a world where people make fun of actors trying to get into the cooking world. I find so much enjoyment in cooking. To be accepted and have people like the show and have it win Emmys, it's incredibly satisfying."
Kotb's appearance on Valerie's Home Cooking can be seen on Food Network Sunday July 11 at 11:30 a.m. Eastern time.
Bertinelli announced her new book to 'Today' viewers
During her stop on the morning show, the TV personality who is also an author, let it be known that she will have a new book publishing in 2022 called Enough Already. The title, as she explained, reflects her journey of self-acceptance of her body image and herself – and her feeling of 'enough already with the self-hate.'
"I wrote about the past two years," she told the Today hosts. "Grief, happiness, joy, finding joy, and I hope it touches some people's lives. It was a really challenging write for me but it was cathartic."
Enough Already is available for pre-order.