Tom Brady Is the Same Age as This Kansas City Chiefs Quarterback's Mom
Tom Brady is a quarterback for the Tampa Bay Buccaneers — and it's no secret Brady is one of the oldest players in the NFL. It turns out he's the same age as one of the Kansas City Chiefs' quarterback's moms. Here's who it is.
Tom Brady plays for the Tampa Bay Buccaneers at 43 years old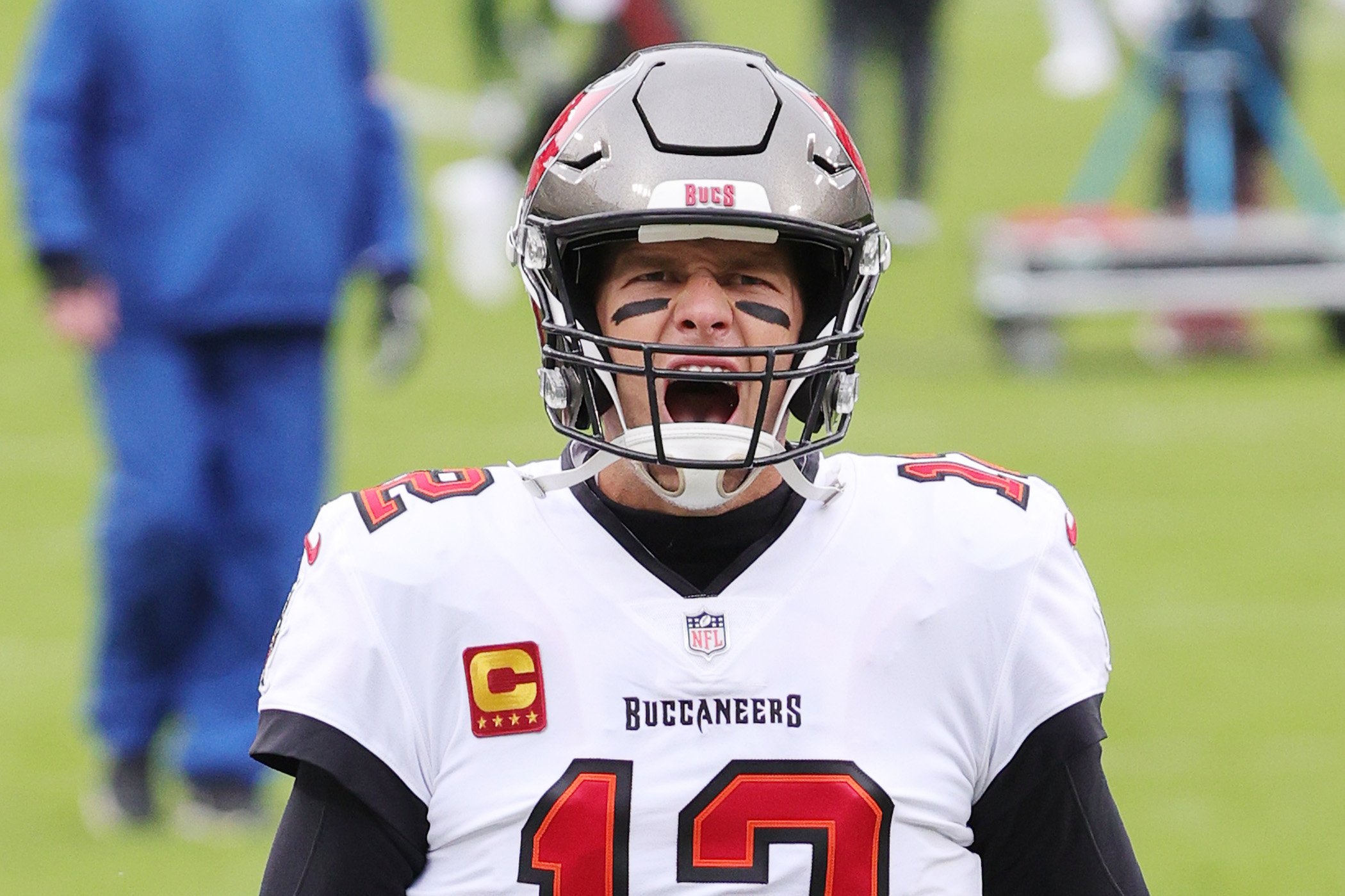 RELATED: How Old Is Tom Brady and When Will He Retire?
Related post url: 
Many may think Brady is too old to play the game as well as his peers who are half his age, but he's proving critics wrong time and time again. The quarterback was born in 1977 and was eventually drafted for the New England Patriots after attending the University of Michigan. While he's now with the Tampa Bay Buccaneers, Brady made history for staying with the Patriots as long as he did.
So, what is Brady's age today? He's 43 years old. And he's the oldest quarterback to participate in a Super Bowl. This doesn't mean Brady's the oldest player ever, though. Adam Vinatieri is 48 years old and is the oldest player currently.
So, given Brady's age and the relentless demands of his sport, will he retire anytime soon? It's tough to say. As of January 2020, it doesn't look like Brady plans on throwing in the towel.
"You don't always win," he said, according to Pro Football Network. "You can, however, learn from that failure. Pick yourself up with great enthusiasm, and place yourself in the arena again. And that's right where you will find me. Because I know I still have more to prove."
Tom Brady is the same age as Patrick Mahomes' mom
It looks like Brady and Patrick Mahomes' mother have something in common. Mahomes plays for the Kansas City Chiefs, and he went head to head with Brady in the 2021 Super Bowl. It seems his mother is the same age as Brady, too.
Back in 2019, Mahomes' mother commented on being the same age as Brady and how that must feel for the older quarterback. "I've gotta give it to Tom Brady," she said, according to The Spun. "We're the same age. I can't imagine playing someone 20 years younger than me. Whatever he's doing, you need to do."
It looks like Mahomes and Brady have a ton of respect for each other as well. "It was affirmation of what I'd been doing the whole year, that I was doing it the right way," Mahomes said about a talk he had with Brady in 2019. "As a young quarterback, you don't understand that. You try to put in as much time and work as possible and try to win as many games as possible, and for him to come talk to me and show me that respect, from Tom, it meant I was doing it the right way."
Tom Brady is impressed with Patrick Mahomes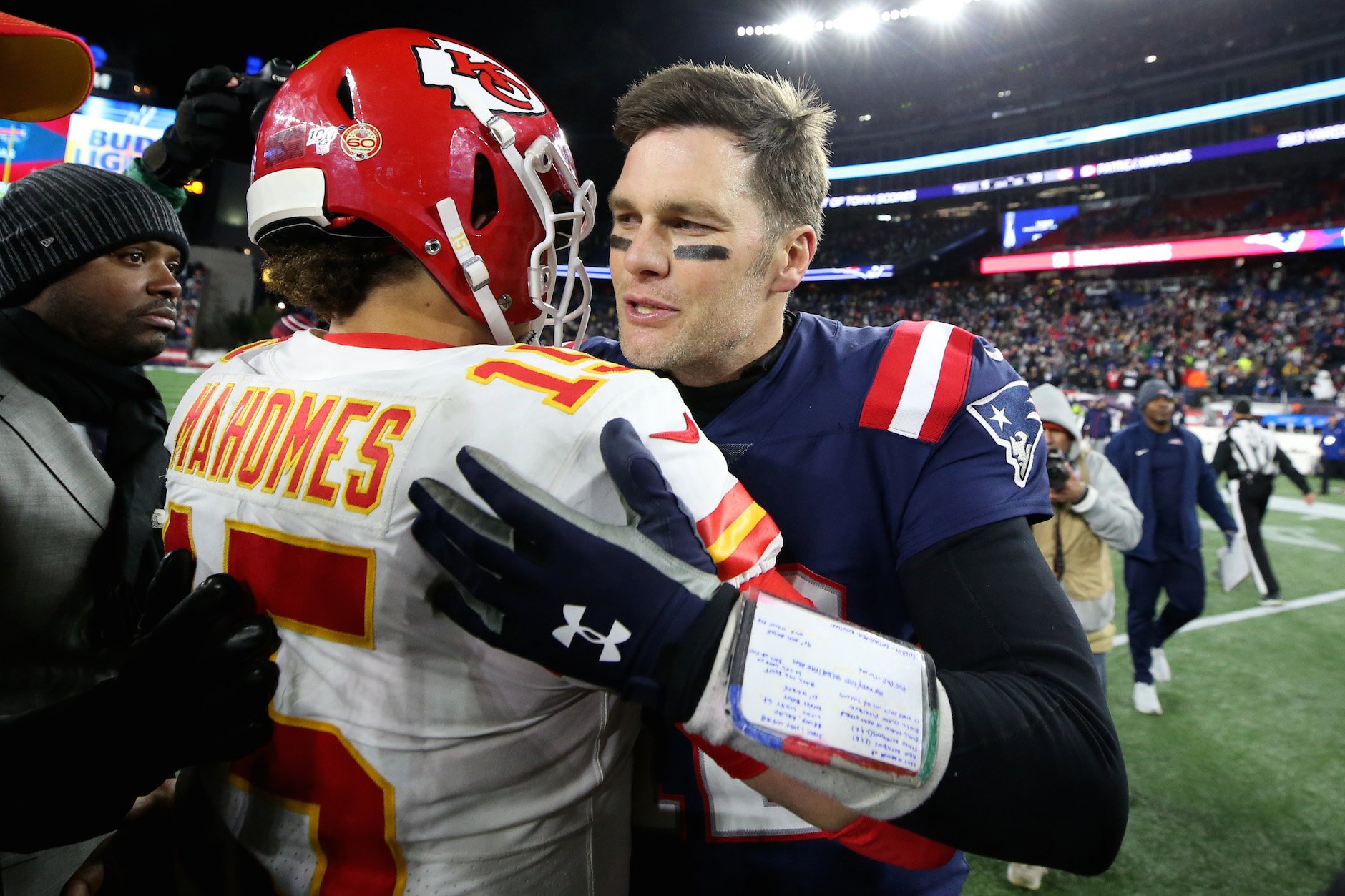 RELATED: What Is Tom Brady's Record Against Every NFL Team?
Related post url: 
While Brady and Mahomes are going head to head, both players have said nothing but good things about each other. Mahomes noted Brady met up with him in a locker room after a game a few years ago.
"He got the security to let him in and he said, 'Man, you had a heck of a season,'" Mahomes said of Brady on The Tonight Show Starring Jimmy Fallon, according to NBC Sports. "He knows what it's like to win a lot of big games; he knows what it's like to lose some big games — not many, but a few. And so he just said, 'You have to keep grinding.' He loved the way that I played. It was awesome for him to do that and show that class at such an exciting moment."
In 2021, Brady also spoke highly of Mahomes. "Well, I think I'm just so impressed with Pat as a young player," he told ESPN. "There's one thing about the physical skill but there's also how endearing he is to his teammates. I can see there's a special quality about him that attracts the teammates to him. He's a great leader. He has great charisma. He just has everything it takes."
Check out Showbiz Cheat Sheet on Facebook!