Tom Cruise and Hayley Atwell 'Hit It Off From Day One' — Is She a Scientologist Too?
Tom Cruise is reportedly dating his Mission Impossible 7 co-star Hayley Atwell after filming amid the pandemic "brought them closer." The duo has become "fairly inseparable" in recent months and have even appeared together in public. Now, fans are wondering if Atwell is a Scientologist just like her new beau.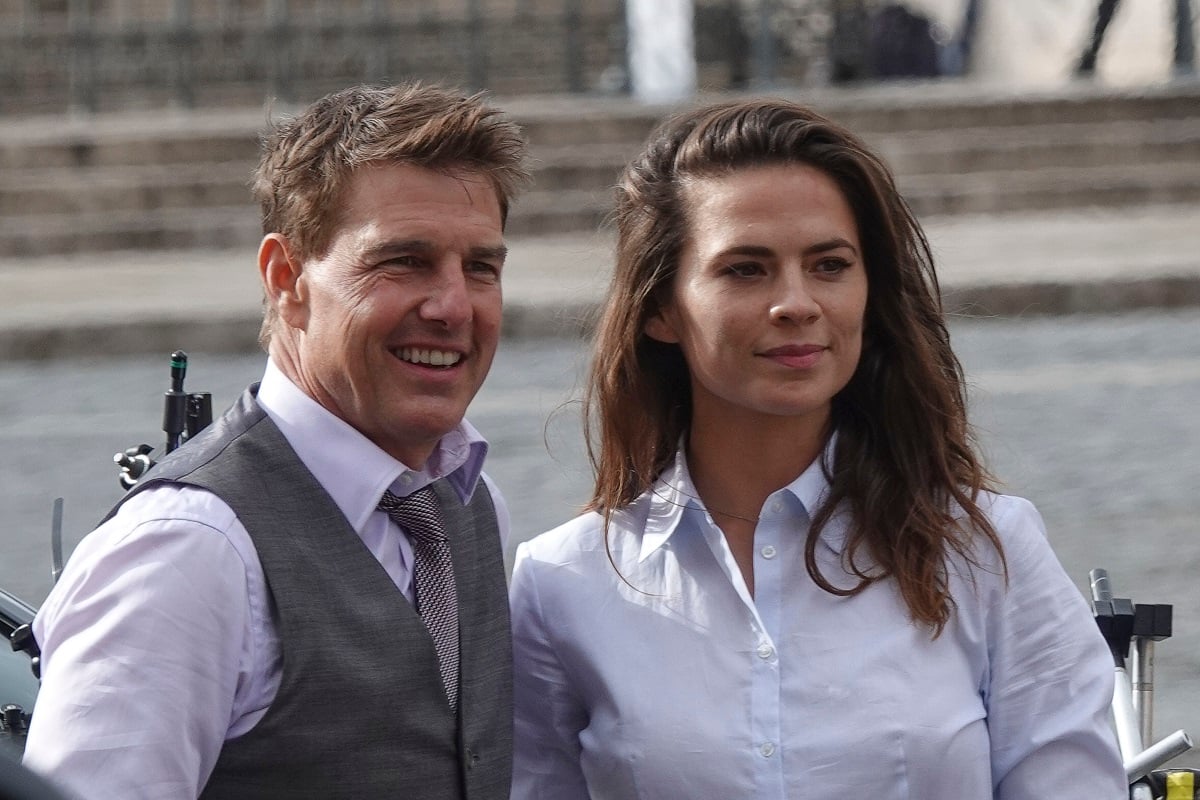 Tom Cruise's COVID rant caused a lot of tension on the set of 'Mission Impossible 7'
The pandemic caused lengthy production delays for Mission Impossible 7. When the cast and crew were finally able to go back to work at Warner Bros. Studios in Leavesden, Hertfordshire, there was a lot of tension. Cruise discovered some of the staff members were breaking COVID mask and distancing rules. The 58-year-old's rant in late 2020 was caught on camera, and it led to five crew members quitting.
"I am beyond your apologies. We are not shutting this f*ing movie down. Is it understood? "If I see it again, you're f-ing gone. And so are you. So you're gonna cost him his job," Cruise said. "Do you understand the responsibility that you have? Because I will deal with your reason, and if you can't be reasonable, and I can't deal with your logic, you're fired. That's it."
The pandemic delays weren't the only problem
In addition to delays caused by the pandemic, the production faced other problems. According to The Sun, financial constraints reportedly forced them to cut a planned scene involving a train crashing over a quarry ledge. The set piece cost a huge amount of cash to construct, but the pivotal scene was reportedly cut — angering Cruise.
The production also caused anger among the locals near Darlton Quarry in Derbyshire, England, because the film's set was causing repeated road closures and disruptions. But despite all of these issues, Cruise was able to find at least one bright spot — an immediate connection with his co-star.
Tom Cruise and Hayley Atwell hit it off immediately
Insiders say that Cruise and Atwell connected right away, and they've continued their relationship now that filming has wrapped. This is the first high-profile romance for Cruise since his split from ex-wife Katie Holmes in 2012.
"Tom and Hayley hit it off from day one," an insider told The Daily Mail. "Lockdown, and all the difficulties that came with it, brought them even closer and they've become fairly inseparable. They've been meeting up after hours, and she's been to his London pad. They get on brilliantly, and both seem very happy."
Is Hayley Atwell a Scientologist?
For nearly three decades, Cruise has been a vocal supporter and representative of the Church of Scientology. It's no secret that the controversial religion is a huge part of Cruise's life, and he has a history of dating fellow church members.
Cruise's first wife, Mimi Rogers, introduced the Top Gun star to Scientology in the late 1980s. His second wife, Nicole Kidman, and his third wife, Holmes, were both part of the church during their respective marriages. However, they both broke away from the religion after their divorces.
It's not yet clear if Atwell is already part of the Church of Scientology, or if she has plans to join. But if she plans on getting serious with Cruise, it appears that being a Scientologist might be a requirement.
Is Tom Cruise drifting away from Scientology?
Amid Cruise's production problems with Mission Impossible 7, there's been a report claiming that he's drifting away from Scientology. Traditionally, when Cruise is in the UK, he spends a lot of time at the church's British headquarters at Saint Hill Manor in East Grinstead.
But this time around, Cruise didn't establish a home base at the property. He wasn't even seen in the area at all. Instead, the actor has been staying at a secluded home in the Kent countryside close to Biggin Hill airport. Which is where Cruise keeps his private jet.
Insiders claim that Cruise's Scientology beliefs may be in question since many in the church are reluctant to get vaccinated. The church does not have an official position on vaccinations. But, their website does say that "an ounce of prevention is worth a ton of cure."
Mission: Impossible 7 is scheduled to hit theaters on November 19, 2021.