Here's Why Tom Cruise Was Humiliated on 'Interview with the Vampire'
Sometimes adapting a book to the big screen is hard work. Especially when the author plans to be there every step of the way to make sure their masterpiece gets a fair and accurate portrayal. Best-selling author Anne Rice wrote the screenplay for her 1976 novel Interview with the Vampire for Neil Jordan's adaptation, and she knew exactly who she wanted to play Lestat, and it wasn't Tom Cruise.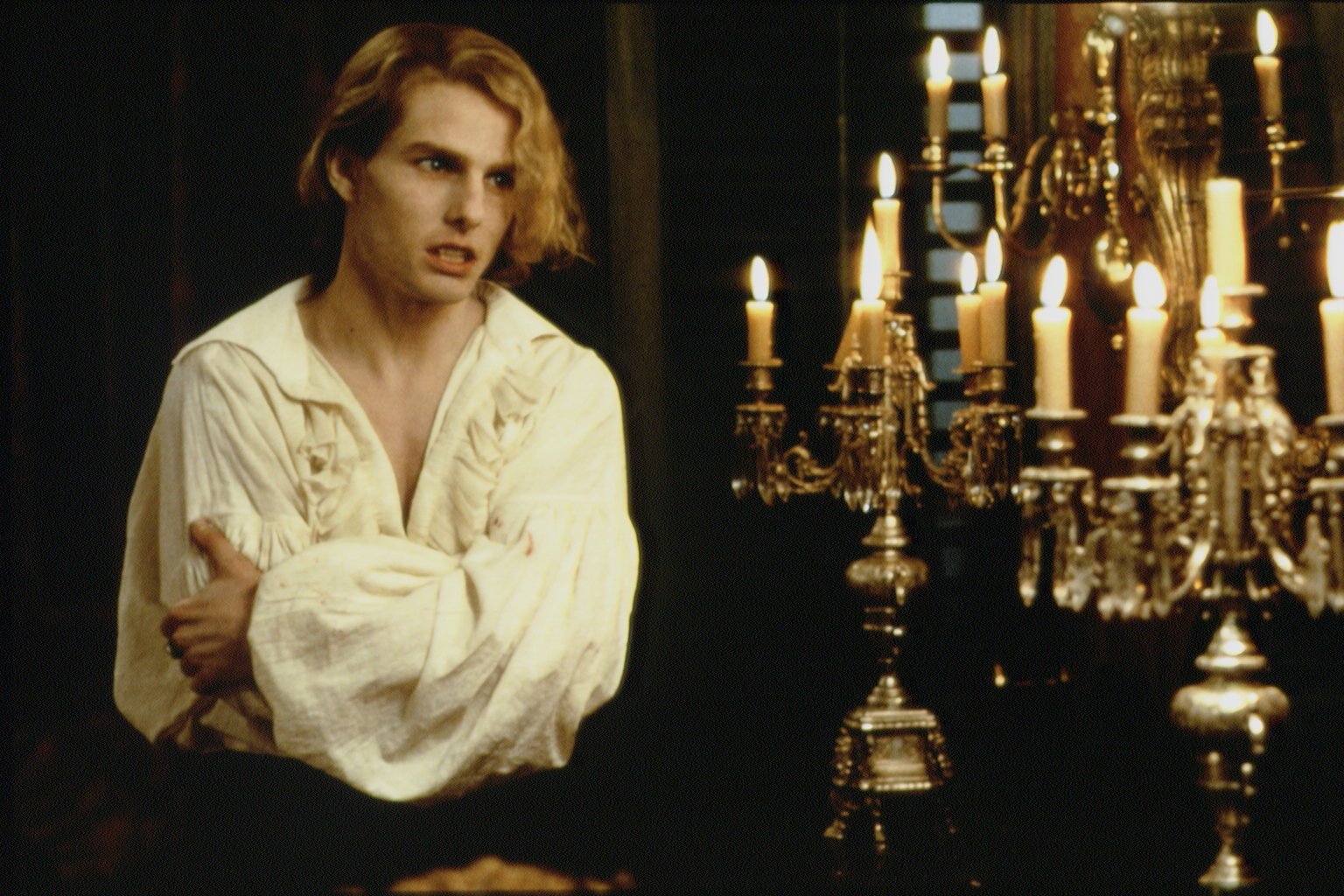 There were problems with the cast on 'Interview with the Vampire'
Interview with the Vampire follows the life of the vampire Louis (Brad Pitt). He tells an interviewer (Christian Slater) that he was turned by the vampire Lestat (Tom Cruise). When Louis makes the transition, he's left feeling empty and has some lingering human emotions, which Lestat detests. To get Louis to stay with him, Lestat turns a little girl named Claudia (Kirsten Dunst), but she ends up killing Lestat (a couple of times), so she and Louis can be free of him. It doesn't end well for the baby vamp or the interviewer, who a rotting Lestat later catches.
Things were just as gloomy off stage as they were on stage. River Phoenix, who was set to star as the interviewer, died before filming could start in 1993. Producers rushed to get a replacement. According to Entertainment Weekly, they looked at Leonardo DiCaprio and Stephen Dorff to jump into the character. However, they went with Christian Slater, who had tremendous respect for Phoenix and felt "really awkward" taking his role. Slater donated his salary for the film to Phoenix's charity.
Meanwhile, the film's leading actors were not in good shape either. Pitt has been very vocal about his time on set, and it wasn't a happy experience. Playing a vampire was not all it was cracked up to be. He was miserable spending six months in the dark and related working at Pinewood Studios to working in a "mausoleum." Pitt wanted to quit altogether, but he couldn't or else pay $40 million.
But Cruise was really the actor who had the worst time filming Interview with the Vampire. He was set up to fail by the screenwriter.
Anne Rice did not want Tom Cruise to play Lestat
According to Esquire, angry protesters met Rice at a book store appearance in 1994 and thrust a petition calling for Cruise's removal from the film at her. Rice understood; she was on their side. "Spurred on by her readers, Rice has embarked on a one-woman crusade to embarrass Tom Cruise; Warner Brothers, the studio bankrolling the film; and David Geffen, the film's producer," Esquire wrote.
"Rice has been cursing Cruise for butchering her script, sanitizing the sexual content to accommodate his clean-cut image, and perpetuating the worst crime in the name of casting since The Bonfire of the Vanities," they continued. Rice also apparently shouted to her faithful followers, "I wanted to call David Geffen and say, 'How the hell could you do this?'"
Besides the fact that Cruise is not blonde or European, Rice and company had a hard time seeing the Top Gun star as a villain. In fact, this was Cruise's first time playing the bad guy, but he saw playing the character as more of a challenge than a risk for his clean-cut image.
He was excited when he got the call to play Lestat and immediately jumped into preparing. He studied the lifestyle of the eighteenth-century French aristocrat, traveled to Versailles, and dropped 12 pounds to look gaunt. But nothing he did could appease Rice. He loved filming the movie, but the only downside was Rice's harsh attacks. She initially wanted Tom Hanks, but he had Forrest Gump. Then the idea of Daniel Day-Lewis, Johnny Depp, Jeremy Irons, and even Pitt came.
Cruise said, "When it first hit, it really hurt my feelings, to be candid about it." He was stunned, and "her venom hurt." He thought it was unusual and couldn't see what the issue was. "You don't usually start a movie with someone not wanting you to do it," he said. However, Rice issued him a public apology soon after seeing the film.
Does Anne Rice approve of the new 'Interview with the Vampire' show?
In 1994, Rice wrote that Jordan's Interview with the Vampire was a "masterpiece" in Vanity Fair and The New York Times. Now that the upcoming AMC series has been greenlit, what does she think?
So far, we know that AMC has cast Same Reid as Lestat and Game of Thrones' Jacob Anderson as Louis. But there's been no word from Rice on whether or not she opposes those casting decisions. Rice and her son are executive producers on the project set to drop in 2022, so we'll see when the series comes out of the coffin.