Was Tom Cruise and Mimi Rogers' Marriage Orchestrated by Scientology?
Tom Cruise is known as much for his acting as he is for his relationships with Nicole Kidman, Penelope Cruz, and Katie Holmes. However, people often forget about the Jack Reacher star's first marriage to Mimi Rogers. Was their marriage only about Scientology?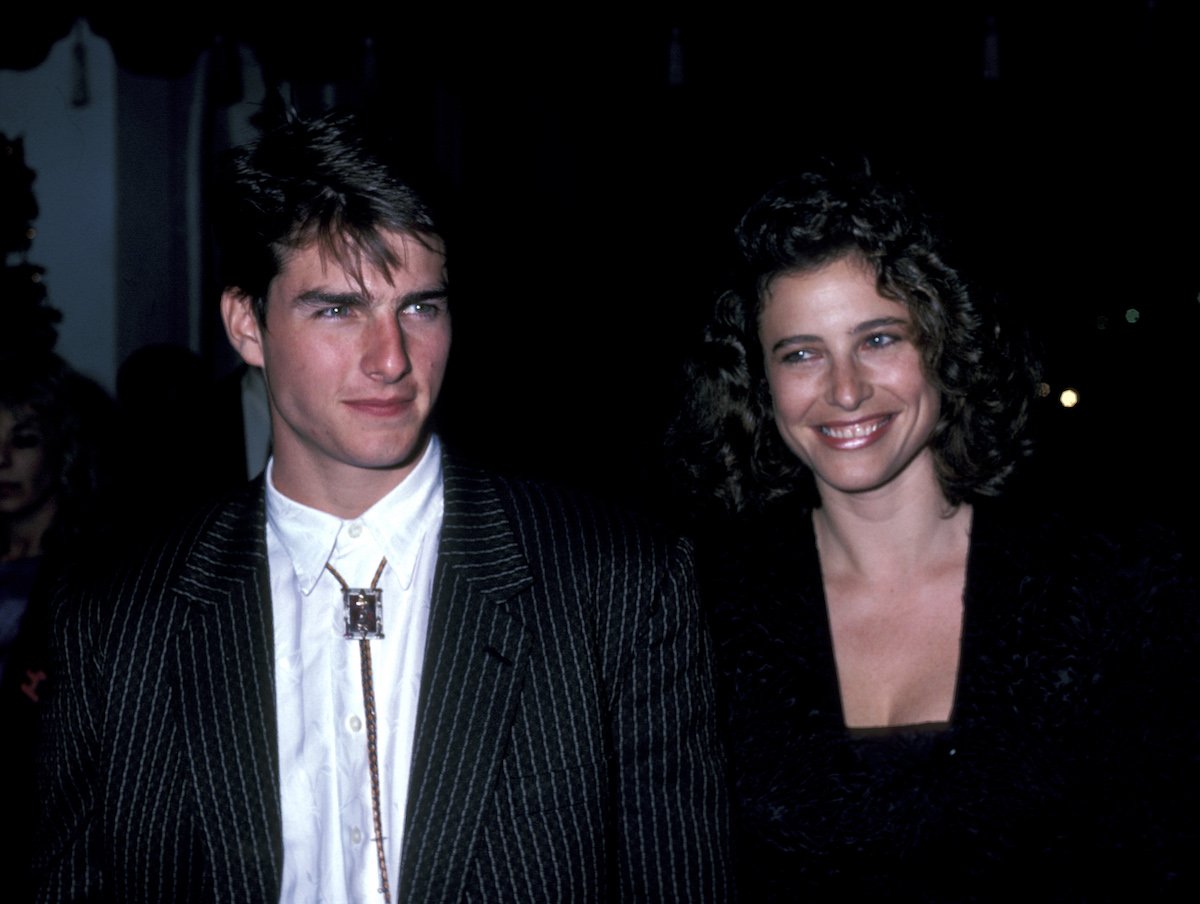 How did Mimi Rogers and Tom Cruise meet?
Crusie was an up-and-coming actor when he met his first wife. Rogers was six years his senior when they met at a party in 1985. The Born on the Fourth of July actor was 23. In a 1986 interview with Rolling Stone, Cruise revealed that they'd met "at a dinner party about a year ago when I was developing Top Gun." He added, "I thought she was extremely bright."
However, Cruise remembered that Rogers was actually dating a mutual friend, so things did not get romantic then. However, Rogers remembered the origins of the romance a bit different.
"I wasn't seeing anybody, he wasn't seeing anybody, and they thought, 'These people should be going out with somebody — let's see if they want to go out with each other,'" Rogers told Sun Sentinel in 1987. "And we said, 'Aw, what the heck. OK.'"
RELATED: Tom Cruise Sends This Former Co-Star a Birthday Gift Every Year
What happened between Mimi Rogers and Tom Cruise?
Rogers and Cruise tied the knot quickly, and at the time they strangely referred to their wedding as "The Project". Though their marriage was high-profile considering Cruise's stardom, in particular, they seemed very happy.
"Since I've been with her, it's opened me up a lot," the Mission Impossible star said in another Rolling Stone interview. "I think it's helped me be a better actor. We live a lot of life together. We share everything. That's the best thing about life. Otherwise you go through it pretty sad and lonely and angry."
Rogers also remembered their time together fondly. "There's a lot of contentment and security (in marriage)," she told the Chicago Tribune in 1988. "I highly recommend it."
However, on Dec. 9, 1989, Cruise filed for divorce seemingly out of the blue. IMDb notes that production of his film, Days of Thunder starring his future wife Nicole Kidman began just two days later. The Risky Business actor later described his connection with Kidman as "instant lust."
Was Tom Cruise and Mimi Rogers' marriage orchestrated by Scientology?
At the time of their divorce, there seemed to be no ill-will between Cruise and Rogers though they never seemed to be madly in love either. However, in 1993, she did have some interesting things to say in an interview with Playboy.
Here's the real story," she told the magazine. "Tom was seriously thinking of becoming a monk. At least for that period of time, it looked as though marriage wouldn't fit into his overall spiritual need. And he thought he had to be celibate to maintain the purity of his instrument."
She also explained that she resented being known as "Tom Crusie's wife." It does seem that the union between Rogers and Cruise was orchestrated by Scientology. After all, Rogers is a second-generation Scientologist and is believed to be one of Cruise's first connections to his religion.