Tom Cruise Read Every Anne Rice Book to Prepare for 'Interview With the Vampire'
The incredible stuntwork seen in the Mission Impossible franchise and Top Gun: Maverick make it clear that Tom Cruise will stop at nothing to be the movie star audiences adore. His intense dedication to his craft is not a 21st-Century phenomenon. These tendencies have always been there, and he leaned into them when preparing for Interview With the Vampire. 
There were doubts that Cruise could properly portray Lestat. But he won over skeptics by doing everything he could to understand the vampire world. 
Tom Cruise used every available resource to prepare for 'Interview With the Vampire'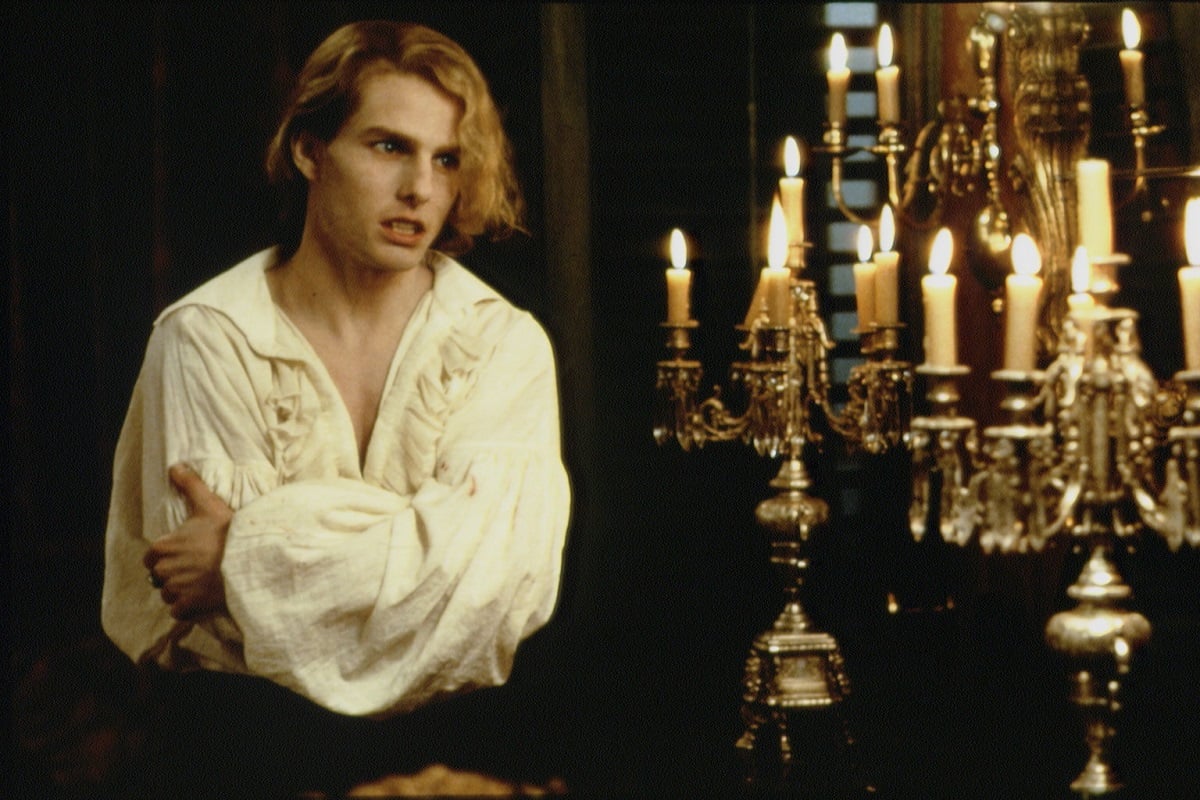 In 1994, Cruise's filmography was filled with different occupations. He'd played a cocksure pilot, a pool shark, and a Navy lieutenant. B but he had never played a villain before, much less a supernatural being. 
His casting in Interview With the Vampire was surprising to some. This includes the original novel's writer Anne Rice. She used multiple interviews to tell the world that Cruise didn't fit her vision of Lestat in any way. 
In fairness to Rice, this wasn't a simple case of an author being precious with their work. She described Lestat in her book as being a tall man with long blonde hair. Cruise is famously short and has naturally brown hair. So you can understand why she attempted to cajole the studio into swapping out Cruise for his co-star Brad Pitt who played fellow vamp, Louis.
"Oh, the choice [of Cruise for Lestat] is just so bizarre," Rice told Moviefone. "Yes, [Tom] could do Louis, he could do that part, the brooding, dark, guilt-ridden, passive, reflective, reactive thing." (The quote comes courtesy of E! Online.) She also recommended other actors including John Malkovich, Peter Weller, Jeremy Irons, and Alexander Godunov. The film's director Neil Jordan and executive producer David Geffen tried to smooth things over between her and Cruise. But Rice wasn't having it. 
Cruise eventually confirmed that the criticism hurt him deeply. But he responded by putting his head down to try to convince Rice through his performance. In the lead-up to the production, Cruise read all of Rice's books that were out at the time. He also learned to play piano, lost 12 pounds, and moved to France with his then-wife Nicole Kidman to get used to Lestat's partygoing lifestyle. 
In the end, he was arguably the best part of the movie
Once Rice saw Interview With the Vampire on the big screen, all she could do was apologize. 
"I think Tom did a wonderful job, I really do," she admitted in an interview after the film's release. "I too was shocked in the beginning and I was very much against it, but Tom Cruise really did read the books, I think, and he got the essence of Lestat. He got Lestat's power and his charisma and his charm. He got all of that across in the movie." Rice added, "He had great skill in that performance, I think, and great power." Her only problem, in the end, was that Cruise was so charming that he made it hard to believe that Louis could hate Lestat as much as he does. 
Cruise was generally praised for his work in the movie. Pitt, however, had a much worse time making Interview With the Vampire. He told Entertainment Weekly that he only got the script two weeks prior to shooting and that the movie's focus on Lestat left him with little to do. 
He became so miserable during the production that he considered leaving the project altogether, only for Geffen to remind him that it would cost him 40 million dollars to get out. 
'Interview With the Vampire' was a huge hit
Interview With the Vampire was one of the most successful movies of 1994, making $223.7 million worldwide. It also received Oscar nominations for Best Art Direction and Best Original Score. 
Critics were more divided on the movie's merits. It has a 64% rating on Rotten Tomatoes, with some reviewers taking issue with the film's lack of subtlety compared to the novel and being unimpressed by the performances of the actors besides Cruise and a young Kirsten Dunst. 
The film version of Interview With the Vampire still has its fans. But for some, it's been surpassed by the new TV adaptation on AMC, which is much more in touch with the sexual overtones of the book and makes several other decisions that make the relationship between Lestat and Louis more interesting.