Tom Felton 'Gave the Game Away' Hosting Early 'Harry Potter' Reunion Says Emma Watson
When Emma Watson found out about HBO Max's Harry Potter 20th Anniversary: Return to Hogwarts reunion special, she was already quite prepared. And she credits that prep to co-star Tom Felton, who reunited the cast a year earlier.
Emma Watson says her 'Harry Potter' co-star Tom Felton gave the game away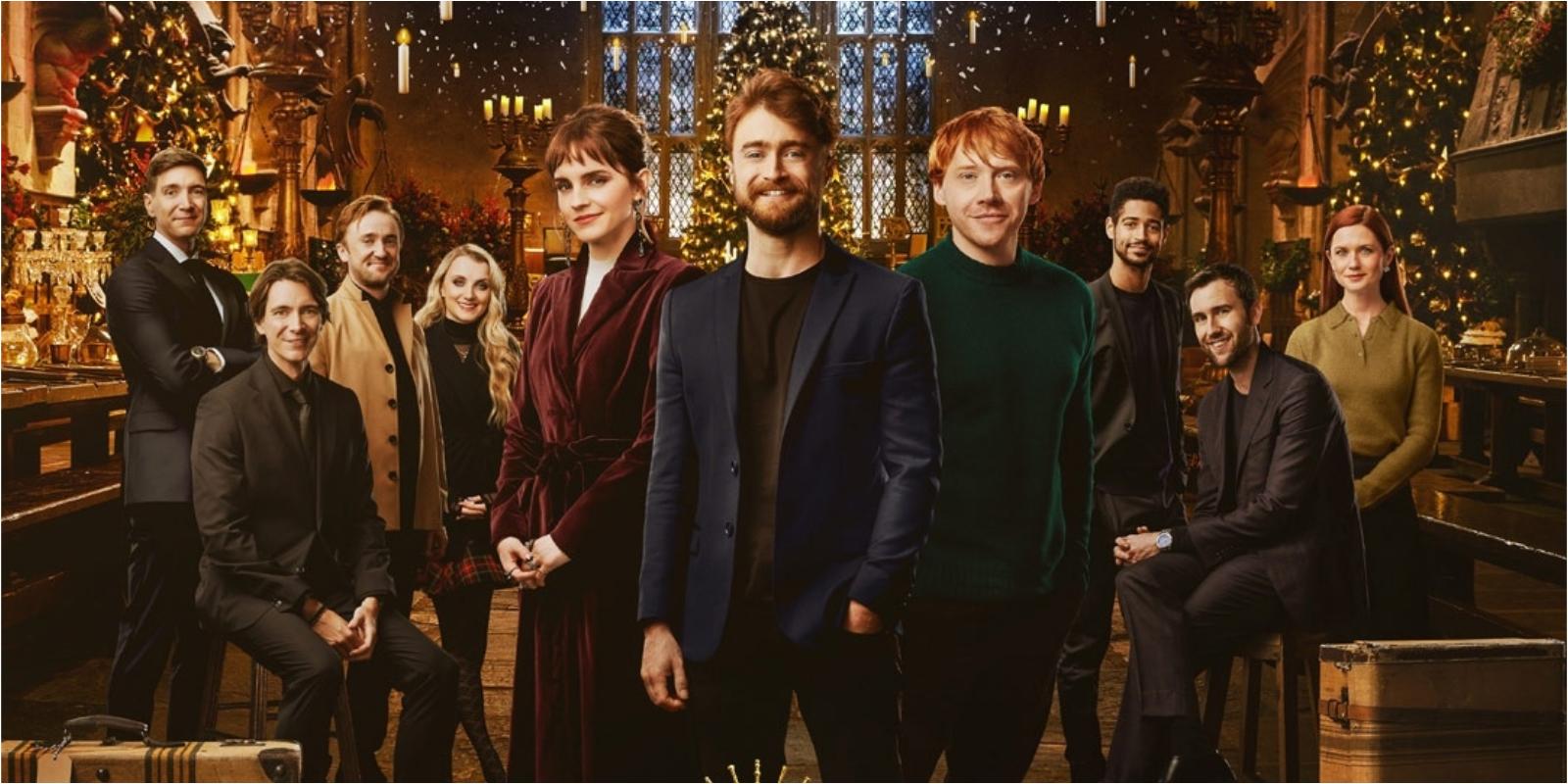 The Harry Potter 20th Anniversary special reunited several franchise cast members including Watson, Felton, Daniel Radcliffe, and Rupert Grint. Visiting the original movie sets, the actors came together to talk about the eight Harry Potter films they spent over a decade making.
The special, which was announced in November 2021, came as a welcome surprise to fans. But in a recent feature for Vogue, Watson said she knew it was coming because of Felton's reunion the year prior.
"Tom gave the game away by hosting a '19-year reunion,'" the actor said. "So the twentieth anniversary was definitely in my mind with a fair bit of run-up."
In November 2020, Felton hosted a virtual reunion, which he live-streamed from his home. Referred to as the "19 Years Later House Party," the event featured Radcliffe, Grint, and several other cast members.
Emma Watson admits sitting with Daniel Radcliffe, and Rupert Grint on set was emotional and intense
Felton's reunion served as a warm-up to the Harry Potter 20th Anniversary reunion special. But when finally sitting down with her co-stars Radcliffe and Grint on the sets of the film she gave 10 years of her life to, Watson said she became quite emotional.
"It was emotional and also intense to have such an intimate moment so closely watched," she told Vogue. "Mostly I was just so happy to have a mediator who could ask us these questions and get to be part of seeing how differently – and similarly – we had processed things. I love that we remembered different things."
Watson recalled the moment in the special when Grint recognized how special their bond is. "We're family. We always will be," he tells her. "It's a strong bond. We'll always be part of each other's lives."
That moment left Watson in tears. And she suggested it was because she knows how private Grint is with his emotions.
"That was the most emotional moment for me," she suggested. "When Rupert says things, he really means them. I was taken aback by how vulnerable and kind he was deciding to be so publicly. Similarly for Dan, it really touched me how reflective he had been over the years about how different it had been for me as a girl."
The 'Harry Potter' star says she learned a lot from the experience
Watson was about 11 years old when she started her Harry Potter journey as Hermione Granger. And she was nearly 21 when the final film was released. While reflecting on her experience, the star told Vogue that it taught her a lot about every aspect of life.
RELATED: 'Harry Potter' Star Daniel Radcliffe Reveals the Cheeky Parting Gift Rupert Grint Gave Him
"I don't think there was anything I didn't learn," Watson explained. "That was the beauty of it. It was my kindergarten, school, and university. Animals, special effects, media training, stunts… it was endless. I feel so thankful."
Harry Potter 20th Anniversary: Return to Hogwarts is currently available to stream on HBO Max.