Tom Hanks and Leonardo DiCaprio Barely Met Making 'Catch Me If You Can'
Catch Me If You Can had quite an A-list pedigree. Tom Hanks and Leonardo DiCaprio starred. Steven Spielberg directed and the cast included Christopher Walken, Martin Sheen, James Brolin, Jennifer Garner, Ellen Pompeo and future star Amy Adams. DiCaprio played real-life con artist Frank Abagnale, Jr. and Hanks played Carl Hanratty, an FBI agent on his tail. 
Frank and Carl have a few scenes together, one in which Frank impersonates another agent to make his escape, another on the phone. At the 2002 press junket for Catch Me If You Can, Hanks explained why he barely got to know his co-star. 
Tom Hanks and Leonardo DiCaprio had a lot to do between 'Catch Me If You Can Scenes'
It wasn't just that Hanks and DiCaprio were working on different scenes. Catch Me If You Can kept them apart behind the scenes, too.
Well, we didn't really work together that much. We weren't on the set at the same time and he always had a lot of makeup. I had to put on my glasses and there was my makeup. So, we really weren't around that much. There was no artificial separation. We really couldn't. We were working so fast that you had to essentially get ready and get on the set as soon as possible and everybody did that. So, there was plenty of hanging around. We don't sit and play cards in the trailer like John Wayne did on The Searchers, but we didn't have time to play cards. We would have otherwise.

Tom Hanks, Catch Me If You Can press junket, 2002
Why 'Catch Me If You Can' was such a hurried production
Catch Me If You Can was Hanks' second 2002 movie after Road to Perdition, DiCaprio's second along with Gangs of New York and Spielberg's second after Minority Report. Everyone was working fast, but especially Spielberg.
"Steven wants to shoot fast," Hanks said. "Part of it is the thematic element of the movie. It is a chase and you can get bogged down, and there's just no reason to linger. So, Steven says, 'I'm going to make it quick, I'm gonna make it fast, it'll be just like the movie, 52 days.' Steven would've shot it in 47 days if he'd had the opportunity, but I think he's chromosomally unable now to shoot anything above 65 days unless it's got robots in it. So, it was all a matter of stay close to the ground and go, go, go."
Leonardo DiCaprio and the script attracted Tom Hanks to 'Catch Me If You Can'
Even though he wouldn't share many scenes with DiCaprio, the co-star was one of the attractions to Hanks.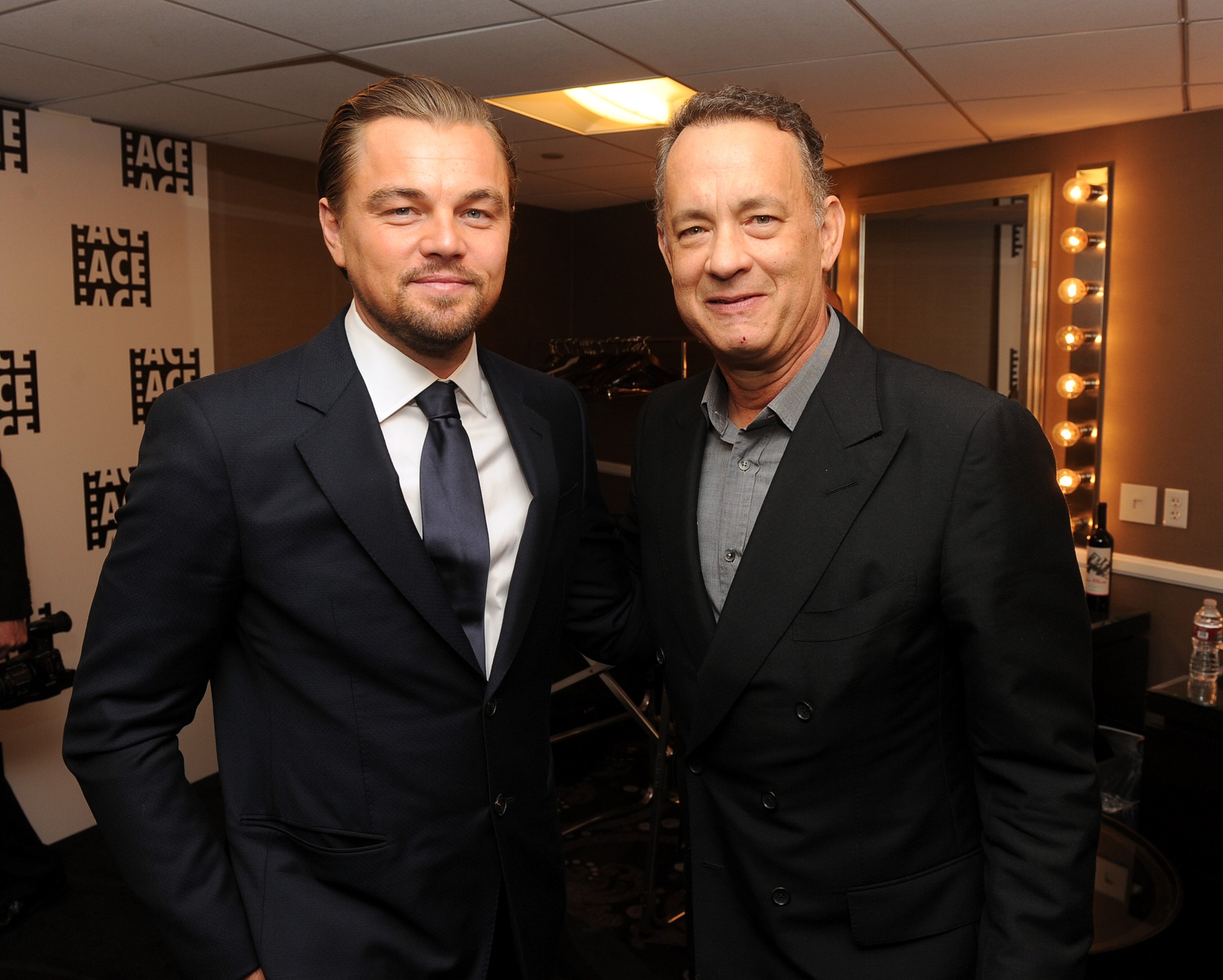 In this case, I read this as a writing sample of Jeff Nathanson's work, just because we have a lot of projects, who are the writers that we think about, and on that list is Jeff Nathanson. I had never read any of his stuff so Walter is a friend of mine. I knew this was going at Dreamworks. I knew that Leo was connected to it, but I just read it to see who this Jeff Nathanson guy was. I could see the movie when I was reading it. I just was delighted by it. I said, 'This is going to be a great movie. Is anybody playing Carl Hanratty? Has that role been cast?' They said no, it wasn't even at that point. 'Well, when the time comes, will you think of your old friend?' And that was that.

Tom Hanks, Catch Me If You Can press junket, 2002