Tom Hanks on 'Saturday Night Live' Asked Jerry Seinfeld's Permission for 1 Line
The first time Tom Hanks was on 'Saturday Night Live,' he had to call Jerry Seinfeld to settle an issue over 1 line in a sketch.
Tom Hanks has been on Saturday Night Live many times, long having joined the five timers club as host, plus other cameos. When he first hosted SNL, Hanks did a sketch called "The Stand-Ups" in which standup comedians talked backstage in the same voices they used on stage. In a recent interview, Hanks reveals he called Jerry Seinfeld to get permission to include one of Seinfeld's jokes in the sketch.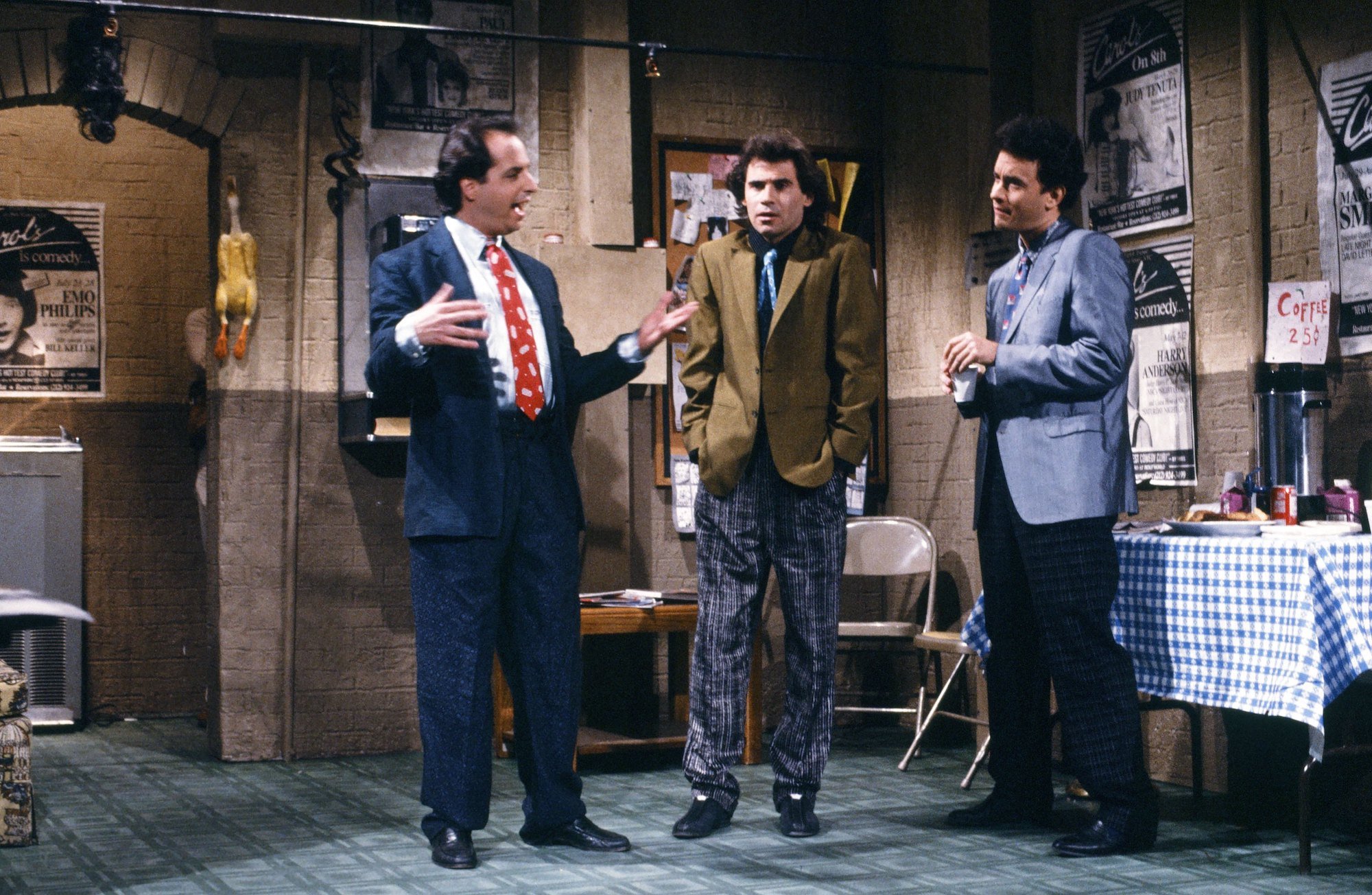 Hanks was a guest on Dana Carvey and David Spade's Fly on the Wall podcast on Feb. 2. While reminiscing about Hanks' Saturday Night Live hosting days, Hanks told the Seinfeld story. 
'The Stand-Ups' was a sketch on Tom Hanks' 1st 'Saturday Night Live'
The first "Stand-Ups" sketch starred Hanks, Jon Lovitz, and Damon Wayans. They did it again with Hanks, Lovitz, Dennis Miller, and Carvey. Every character spoke in Seinfeld's trademark "Why do they call it…/What is the deal with…?" way. Hanks recalled writer Robert Smigel pitching the joke.
"Robert Smigel, absolutely genius, he said, 'Listen, I wrote this thing about comedians who always [say] 'I mean, come on, I mean, hey, why would they do that?'" Hanks said on Fly on the Wall. "He wrote in a joke that was, 'Hey, what's the deal with socks?"
Smigel would write for SNL from season 11 to season 38, and return for 44. He created Triumph the Insult Comic dog and Carvey's short-lived sketch comedy show. As an SNL newbie, Smigel stepped in it with "The Stand-Ups" sketch.
"Dennis Miller, comedian par excellence says, 'Hey man, that's Jerry Seinfeld's material. You can't take that from him,'" Hanks said. "He was adamant. 'You cannot take a comic's A grade bit and blow it out on TV. He'll never be able to use it again.' Smigel was like, 'Oh, it's old. He won't miss it.' He said, 'No, man, you can't do this.'"
When Tom Hanks was on 'Saturday Night Live' he called Jerry Seinfeld himself 
Hanks has met Seinfeld since, but at the time he called Seinfeld cold. 
"So we called Jerry Seinfeld," Hanks said. "And I never met him but we're in the famous people's club. 'Hey, you're  famous, I'm famous so we can talk to each other like we know each other.' It was all a lie. I said, 'Listen, I'm on SNL. We're doing this thing about comedians. I'm like 'hey, what's the deal with socks?' But if you're still doing the sock bit, we'll come up with some other joke.'"
Jerry Seinfeld gave 'SNL' permission to use the sock joke 
Seinfeld signed off on the sock joke. In the sketch, it ends up being a bit about the stars of Miami Vice not wearing socks, and socks going missing in the dryer. 
"He said, 'You know, I really appreciate the call. Quite frankly, that's been retired from my act. If you guys want to do it, you can go ahead and do it' which was very gracious," Hanks said.