Tom Hanks on 'Saturday Night Live': 'Sony Guts' Based on True Story
Tom Hanks reveals the line 'Sony guts' from a 'Saturday Night Live' sketch was a phrase really said to him by a salesman.
Tom Hanks hosted Saturday Night Live enough times to have recurring characters. He played Mr. Short Term Memory, the Girl Watchers and even did a liar sketch with Jon Lovitz. One of Hanks' oft-quoted lines is "Sony guts" from the sketch Sabra Price is Right. In a recent interview, Hanks revealed the true story behind the SNL sketch.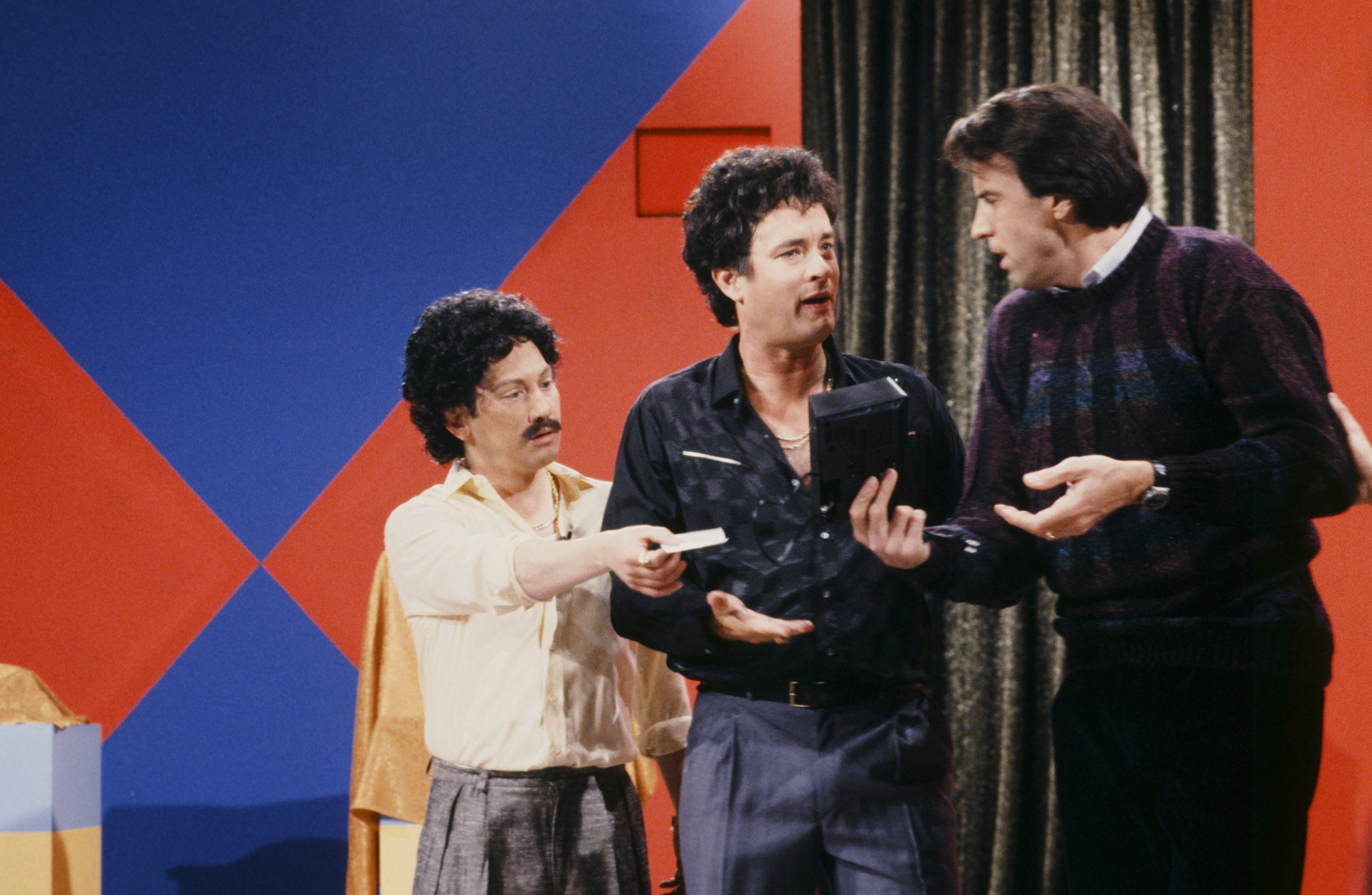 Hanks was a guest on Dana Carvey and David Spade's Fly on the Wall podcast on Feb. 2. Carvey brought up the Sabra sketch and "Sony guts" so Hanks explained it. 
Tom Hanks on 'Saturday Night Live' talking about 'Sony guts'
Sabra Price Is Right was like The Price Is Right, except the host as Uri Shulenson (Hanks) was a Middle-Eastern electronics salesman from 47th Street in New York City. Uri would argue with contestants that they should guess the products were more valuable than they thought. In the case of some electronics, he said they were just as good as Sony because they had "Sony guts."
"Which was something I was told at an electronic store owned by Middle-Eastern guys who really wanted to take cash, not a credit card," Hanks said on Fly on the Wall. "What he was telling me was, 'No, no, you don't understand. All of the electronics come from one single place. Everybody makes their electronics from this place. So this is actually Sony guts.'"
Carvey, a cast member at the time, praised Hanks' Sabra sketch. The sketch is not available on Saturday Night Live's YouTube channel but you can enjoy some other Hanks' SNL goodness while he and Carvey reminisce.
"He said it 300 times in that sketch," Carvey said. "'It's got Sony's guts, it's got Sony guts, it's got Sony guts.'" 
His favorite part of the 'Sony guts' sketch
Hanks said he was imitating the real-life salesman he met. 
"'Look look look, look look look,' that's what he said," Hanks said. "'No, no, no, look look'"
However, Hanks described his favorite part of that Saturday Night Live sketch. Robert Smigel wrote the sketch and constructed a visual gag that demonstrated the cheapness of Sabra electronics, despite "Sony guts."
"What I loved is Smigel did it so that it looked huge on the screen, it looked like it was a really big piece of electronics," Hanks said. "But when his finger came into the frame to push the button, you realized it was the size of a wallet. It was a very funny bit."
Tom Hanks on 'Saturday Night Live' was part of the family 
Hanks would join the five timers club and far exceed it, many during Carvey's years in the Saturday Night Live cast. Carvey paid Hanks the ultimate compliment. 
"When Tom came to SNL, he was the most like a cast member to me," Carvey said. "He felt like a cast member."
Hanks himself said he experienced some growing pains on Saturday Night Live. He said he finally settled into it for his third time hosting. 
"The first time I did it, I was wickedly excited," Hanks said. "The second time I did it I wasn't very good at all. But the third time I did it, which was when you were on, by that time I knew what not to do and how to save your energy and how to participate."