Is Tom Hanks and Steven Spielberg's 'Bridge of Spies' Worth a Watch?
Tom Hanks starred in Steven Spielberg's 2015 drama 'Bridge of Spies.' The movie is their least successful project. But is it worth watching?
Both on screen and off, Tom Hanks exudes such paternal energy that he seamlessly played both Walt Disney and Fred Rogers. Fittingly, Hanks has become both "America's dad" and king of the "dad movie." Ironically, one of Hanks' best recent entries in that category — Steven Spielberg's Bridge of Spies — is also the duo's least successful collaboration. Is it worth watching?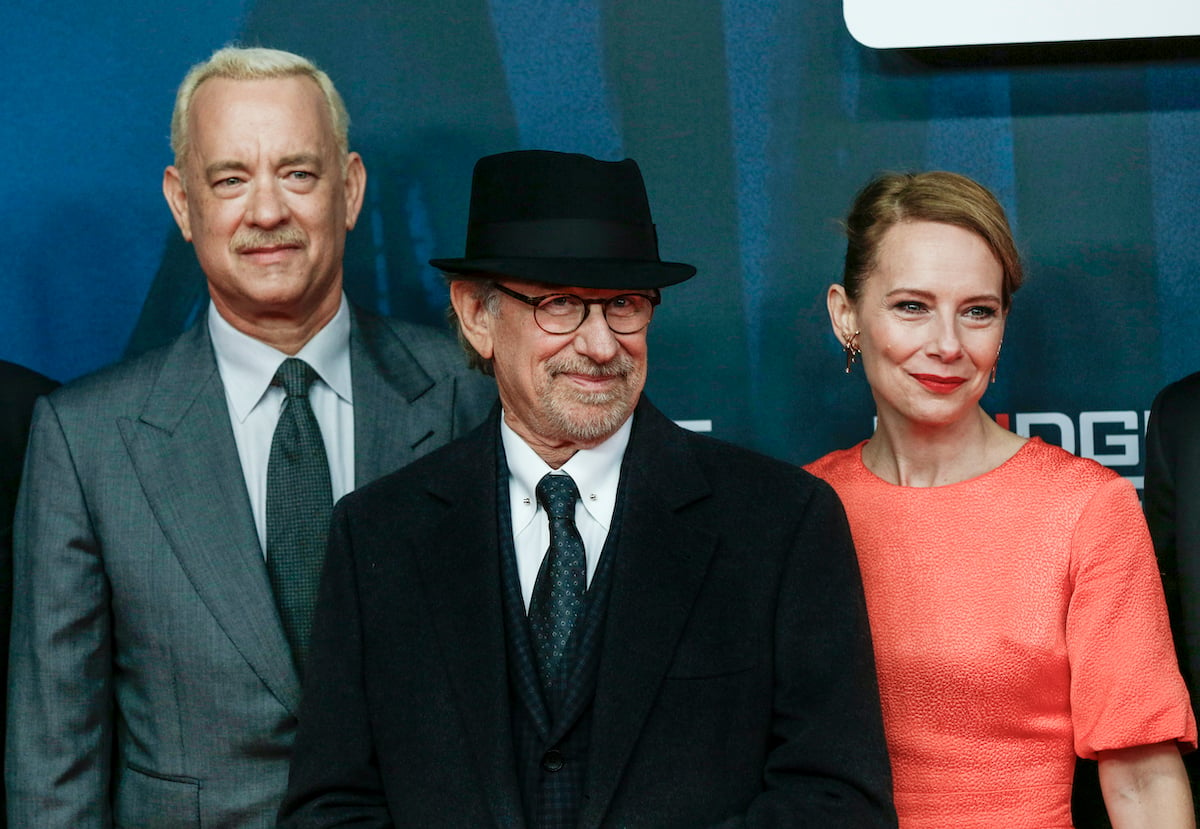 Tom Hanks and Steven Spielberg have made several movies together
Hanks and Spielberg are famously friends in real life. And their connection behind the scenes certainly comes across on screen. The pair share a passion for history and particularly World War II. So it's appropriate then that the first movie they collaborated on was 1998's Saving Private Ryan.
The film might have notoriously lost the Best Picture Oscar to Shakespeare in Love. But it proved to be a massive box office success, with a $482 million worldwide box office take according to Box Office Mojo. Moreover, the movie kicked off a streak of Hanks-Spielberg movies that continues today.
In 2002, the actor-director pairing re-teamed for Catch Me If You Can — with Leonardo DiCaprio — and then two years later for The Terminal. Then, following more than a decade-long break, Hanks and Spielberg reunited for 2015's Bridge of Spies and 2017's The Post, co-starring Meryl Streep.
'Bridge of Spies' is somehow the most underrated film they've made
Across their five movies together, it's easy to come to a relative consensus about the Hanks-Spielberg filmography. Saving Private Ryan isn't only the most successful financially; it also lives up to the hype. Likewise, The Terminal is the least well-regarded of the bunch and the only to receive zero Oscar nominations. Yet, Bridge of Spies is easily the most underrated.
To be fair, the movie doesn't deliver a visceral experience like Saving Private Ryan nor is it as politically relevant as The Post. However, Hanks delivers a powerfully restrained performance as James B. Donovan, an attorney sent in to negotiate the release of a U.S. Air Force pilot in 1960.
Set during the Cold War, Bridge of Spies explores a moral gray area in a battle fought with conversation and strategy, not bloodshed. Mark Rylance turns in an Oscar-winning performance as the Soviet KGB who gives Donovan the leverage he needs. While the lowest-grossing Hanks-Spielberg movie, Bridge of Spies is a riveting drama well worth checking out.
What are Tom Hanks and Steven Spielberg doing next?
For now, it doesn't look like Hanks and Spielberg have another project in the works together. But they're both staying very busy nonetheless. Following back-to-back star vehicles Greyhound and News of the World, Hanks has a number of projects in the works. These include sci-fi drama BIOS, Baz Luhrmann's Elvis Presley biopic, and Robert Zemeckis' Pinocchio.
Spielberg, meanwhile, intended to follow 2018's Ready Player One with his West Side Story remake in 2020. But due to the coronavirus (COVID-19) pandemic, the film's release was pushed a full year. The movie — starring Ansel Elgort and Rachel Zegler — is now set for Dec. 10, 2021.