Are Tom Hanks and Tim Allen Best Friends in Real Life?
Tom Hanks and Tim Allen have worked together for more than 25 years in the 'Toy Story' franchise. But are the actors friends in real life?
Since 1995's Toy Story, Tom Hanks and Tim Allen have lent their voices to Pixar's most beloved characters, Woody and Buzz Lightyear. The movie series has been such a huge part of the actors' lives that they even admitted to tearing up while recording their lines for Toy Story 4. But does Hanks and Allen's real-life relationship mirror the friendship on screen?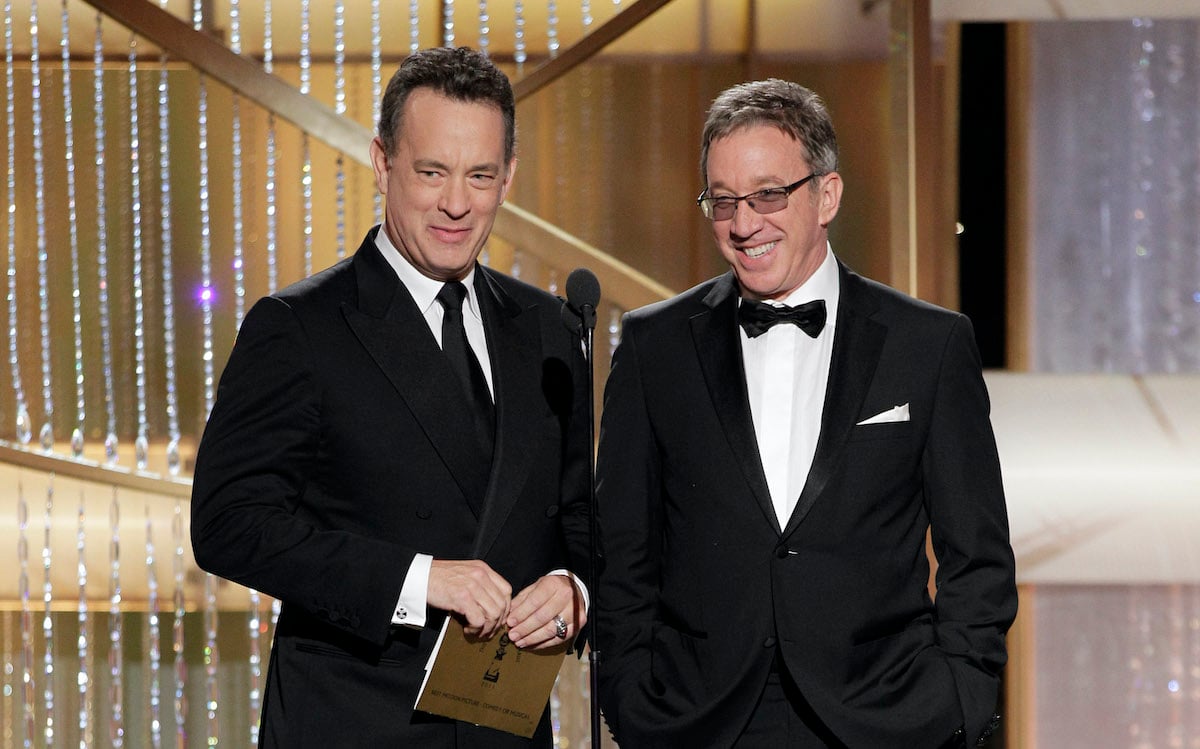 'Toy Story' united Tom Hanks and Tim Allen for the very first time
When Toy Story hit theaters in the fall of 1995, Hanks and Allen were at very different places in their careers. Hanks was fresh off his second consecutive Oscar win — for Forrest Gump — and just starred in Apollo 13. And Allen was the star of hit ABC sitcom Home Improvement and his own hit movie in Disney's The Santa Clause. Then Woody and Buzz united them.
As the first feature-length computer-animated movie, Toy Story was always going to be a cinematic pioneer. But the film captured audiences' hearts and imaginations moreso than even Disney's own animated films at the time. No wonder three more sequels and assorted media have followed. Over the years, Toy Story has even developed into a multigenerational favorite.
Are the two stars best friends like their 'Toy Story' characters?
Nearly 25 years later, Hanks and Allen returned as Buzz and Woody for Toy Story 4. But through the years, have the two actors had a friend in each other? In a 2019 interview with CinemaBlend, Hanks explained that he and Allen have indeed remained friends. However, he credits their decades-long friendship to the common ground they share in Toy Story.
"We actually have become very close simply because of the union of Woody and Buzz. After we made the second one, we began to have regular lunches about every three months or so in which he and I sit down. And alcohol is not involved. It's just we sit down and we talk for about three and a half hours straight every time we get together and we do seek each other out in order to touch on all the aspects of our lives. Certainly professionally. … But it would not have come out were it not for him being Buzz and me being Woody."
Although calling Hanks and Allen "best friends" might be a stretch, it seems both men recognize how vital their relationship has been. Certainly, Woody and Buzz are arguably the most iconic roles both have played. So Toy Story fans might take comfort in the fact that Hanks and Allen keep in close touch even when they're not hard at work on another Toy Story project.
Will Tom Hanks and Tim Allen reunite for 'Toy Story 5'?
During their recording sessions for Toy Story 4, Hanks and Allen might have gotten a bit emotional. And the movie does present itself as perhaps the final chapter in the series. Then again, fans thought the conclusion of Toy Story 3 served as the perfect finale to the trilogy. Could then Toy Story 5 actually happen at some point?
Hanks, for one, isn't opposed to the idea. Though he admits nothing is currently in the works, the actor said he'd be up for reuniting with Allen for another film. Given the long gaps in between Toy Story movies, it's a good thing Hanks doesn't rely on the franchise to keep his friendship with Allen alive.