Tom Holland Called Zendaya a 'Giraffe' for a Hilarious Reason
Zendaya and Tom Holland are Hollywood's newest "it couple". While the pair are supportive of one another, they're not above giving each other grief.
Tom Holland and Zendaya have certainly been in the news a lot lately. The pair are in the midst of promoting their movie Spider-Man: No Way Home, which premieres on December 17. Furthermore, the media has been buzzing about their personal relationship since they were photographed kissing in a car in Los Angeles.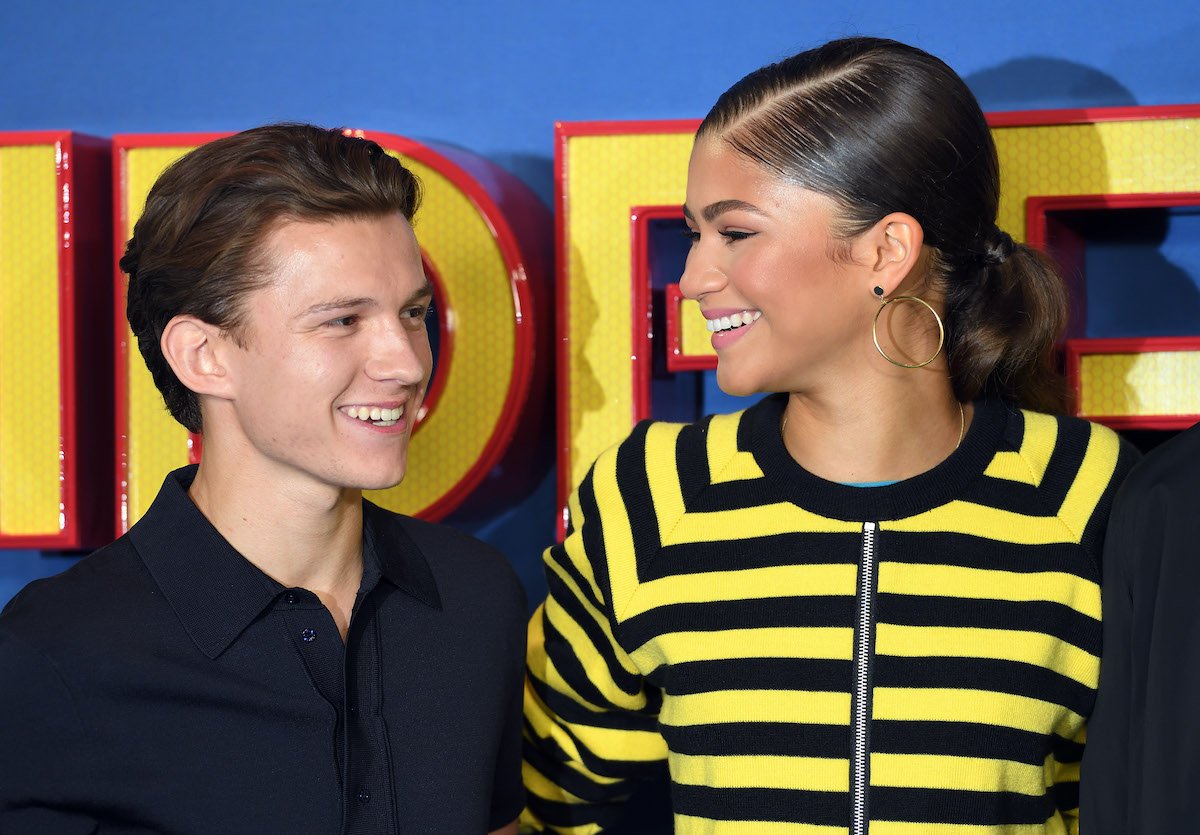 Even before dating rumors began, Zendaya and Holland have always spoken highly of one another. The Euphoria star has shown great appreciation and admiration for the Uncharted actor. Over the years, Zendaya has championed Holland's commitment to his craft and explained that he gives 100 percent of himself to his roles.
Zendaya and Tom Holland have learned a lot from one another
And the lovefest goes both ways. Holland has shared that Zendaya has taught him how to navigate life in the spotlight. Since the "Replay" singer got her start through Disney, she is used to being approached by fans. Seeing how she reacted to her supporters helped Holland learn how to do so in his personal life.
But just because the actors have learned to navigate fame doesn't mean it's always easy for them. Both stars admitted that they felt a sense of violation when their relationship was made public. In an interview with GQ, the Spider-Man: Far From Home stars got candid about what it was like to be photographed during such a private and intimate moment.
The couple talks about how their relationship became public after they were photographed kissing in a car
"One of the downsides of our fame is that privacy isn't really in our control anymore, and a moment that you think is between two people that love each other very much is now a moment that is shared with the entire world," Holland shared. "I've always been really adamant to keep my private life private, because I share so much of my life with the world anyway. We sort of felt robbed of our privacy."
Zendaya was quick to echo her boyfriend's sentiments. "It was quite strange and weird and confusing and invasive," she shared about her relationship with Holland being made public. "The equal sentiment [we both share] is just that when you really love and care about somebody, some moments or things, you wish were your own.… I think loving someone is a sacred thing and a special thing and something that you want to deal with and go through and experience and enjoy amongst the two people that love each other."
The 'Spider-Man: No Way Home' star called the 'Euphoria' actor a giraffe
Despite the invasion of privacy, Zendaya and Holland seem to be making the best of their now-public relationship. The actors are fond of openly showing support for one another, sending words of love and affirmation via social media. Of course, the couple isn't afraid to razz on each other also.
In an older video, Holland and Zendaya can be seen teasing one another. The Malcolm & Marie star asks her co-star to explain what his shoe lifts are. After feigning ignorance, claiming that nothing is there, and playfully threatening to call security, Holland finally explains his lifts. "You know what that is?" Holland declares. "It's to make a man taller when he's working with a giraffe of an actress." After explaining, he hilariously throws the shoe lift at Zendaya.
What is the height difference between Zendaya and Holland?
It's no secret that Zendaya is tall, but is she truly that much taller than Holland? Zendaya stands at 5'10. Meanwhile, her boyfriend is 5'8. So while the two-inch height difference is noticeable, it's not super drastic. Still, we're sure fans enjoyed the pair ribbing on each other for their respective heights.