Tom Holland Found It Easy to Cry Filming 'Spider-Man: No Way Home,' but Can Be Harder in Other Films
Tom Holland has been acting for years, but he became a household name when he was cast as Spider-Man in the Marvel Cinematic Universe. Since then he's gone into a couple more serious roles, especially in the past year, as he's trying to move away from the MCU and the teenaged Peter Parker. But he still has the third film that he's making, which comes out at the end of 2021. But one thing that he has in common between the MCU and any more mature content he creates is that he tends to cry a lot. And he has a few techniques in doing so on-camera.  
Tom Holland shared that crying on demand was easy on the 'Spider-Man No Way Home' set
During Holland's GQ Action Replay video for his upcoming movie, Cherry, he commented on crying based a moment where he was crying in the clip they showed. 
"It's interesting. Crying can sometimes be really easy and sometimes it can be really difficult," he said. 
And while it could be seen as a spoiler (although it's really not) he went into a story about a recent day on the Spider-Man: No Way Home set. 
"The other day we were doing a scene in Spider-Man 3, and I could just turn it on," he said. "I was like, 'This is amazing, if I could do this every time, this would be glorious.' And then other times, you try and cry and you just can't."
Holland didn't give specific examples of times where it was hard for him to film a crying or emotional scene, but he did talk more about that particular scene in Cherry. He's supposed to be on the phone with his co-star Ciara Bravo, who plays his love interest Emily, but instead he was running his lines with the first AD, who's a big "burly man" and definitely not a romantic partner for Holland. Despite that "weird" situation, Holland did say that crying on-demand gets "easier" with time, and even in his every day life. 
"I cry at watching films now all the time, it's really embarrassing as well," Holland said, joking that he doesn't know what's happened to him since he "went through a phase" where he didn't cry over anything before. "Now I reckon I cry four times a week. I don't cry four times a week but I cry a lot." 
What does Holland do when he needs a good cry on-screen?
For those times that are difficult to cry on-demand, how does Holland do it? Even though he finds it easier to cry while watching movies nowadays, if he's having a difficult time doing it on-set, he has some ways to get in the right, sad headspace. 
"Sometimes I listen to music, sometimes I'll have a real heartfelt conversation with someone I'm close to," he said. "Could be my brother or Rachael [Speke, Holland's hair stylist], or Anthony [Russo], or anyone that I work with. Sometimes I have to think about things in my past that make me upset."
In addition to thinking about "things that could potentially happen" in the future that could cause him to cry, he also finds that remind himself to be calm is key as well. 
"You just have to be patient and not get stressed out when people are waiting for you," Holland said.
Holland has two movies coming out soon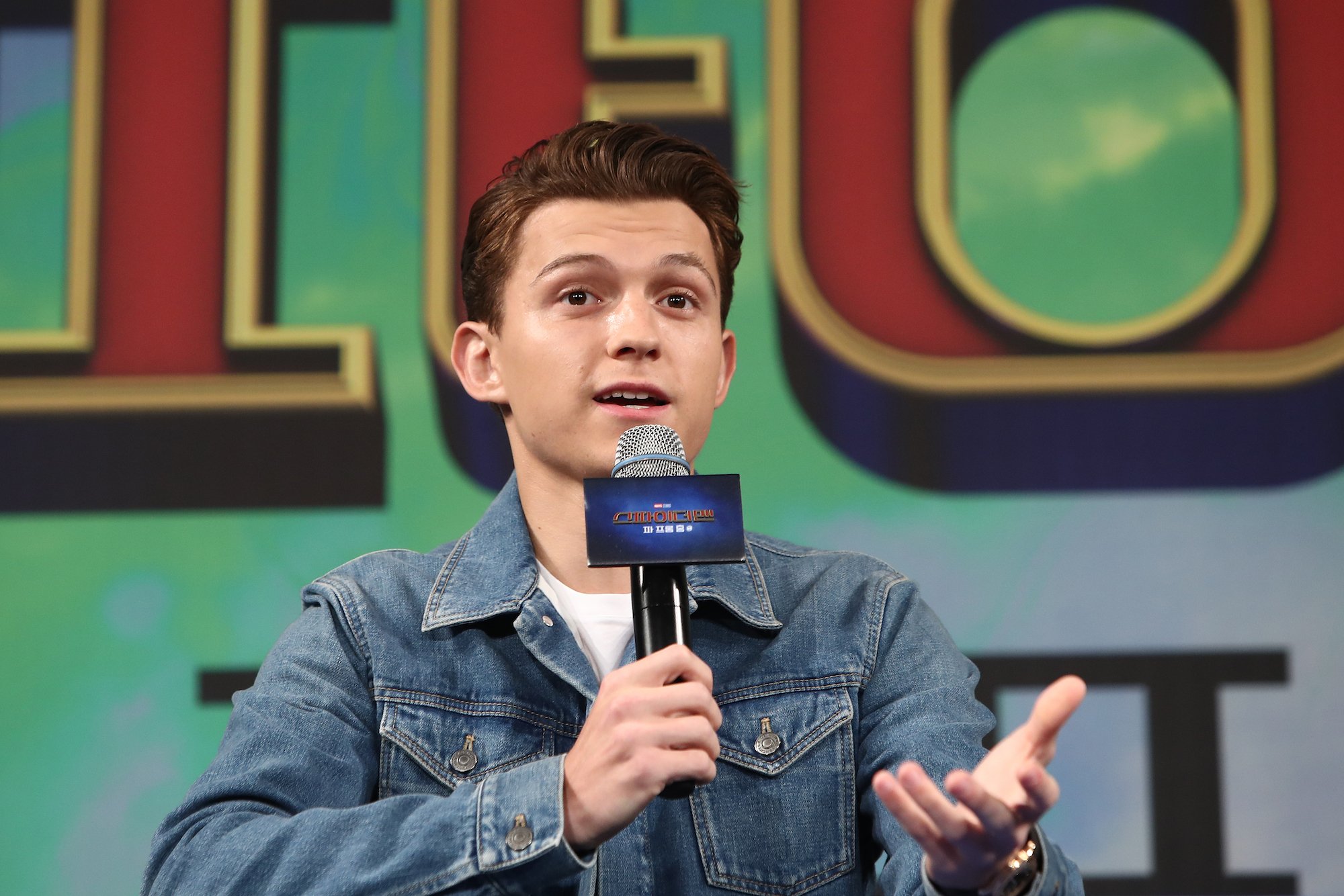 Again, noting that he cries in the upcoming Spider-Man film isn't really a spoiler since he cried in both Spider-Man: Homecoming and Spider-Man: Far From Home and really turned up the performance in both Avengers: Infinity War and Avengers: Endgame. Why he cries in Avengers: No Way Home is anyone's guess, though. 
When it comes to Cherry, Holland plays the title character who is a veteran and the movie follows him through his career in the military and coming back home. He experiences PTSD along with addiction which leads to more intense parts of his story. So it's easy to see why it can get pretty emotional. Cherry comes out on AppleTV+ on March 12.
Holland also has another film not too far away called Chaos Walking that looks pretty intense. He co-stars alongside Daisy Ridley, and it takes place in a dystopian society where women have died off and it's only men. The men and boys have developed a condition where they can hear and see each other's thoughts, but then Ridley's character Viola drops in as the only woman in a long time and she doesn't have these audible thoughts. It comes to theaters on March 5.