Tom Holland Is Just as Obsessed With 'WandaVision' as You Are
WandaVision is currently the only Disney+ series that's premiering on the streaming platform weekly. However, it's generating the type of excitement that the internet hasn't seen in quite some time. The series follows Wanda Maximoff and Vision, even though he's been dead for years. It goes through classic comedic formats in different decades while also going in and out of the "real" world, trying to get at what the heck is going on in Wanda's Hex. And Tom Holland is just as obsessed as the rest of the world. [Spoiler alert: Spoilers ahead for WandaVision]. 
Tom Holland shared that he and the 'Spider-Man 3' cast discuss the 'WandaVision' theories like everyone else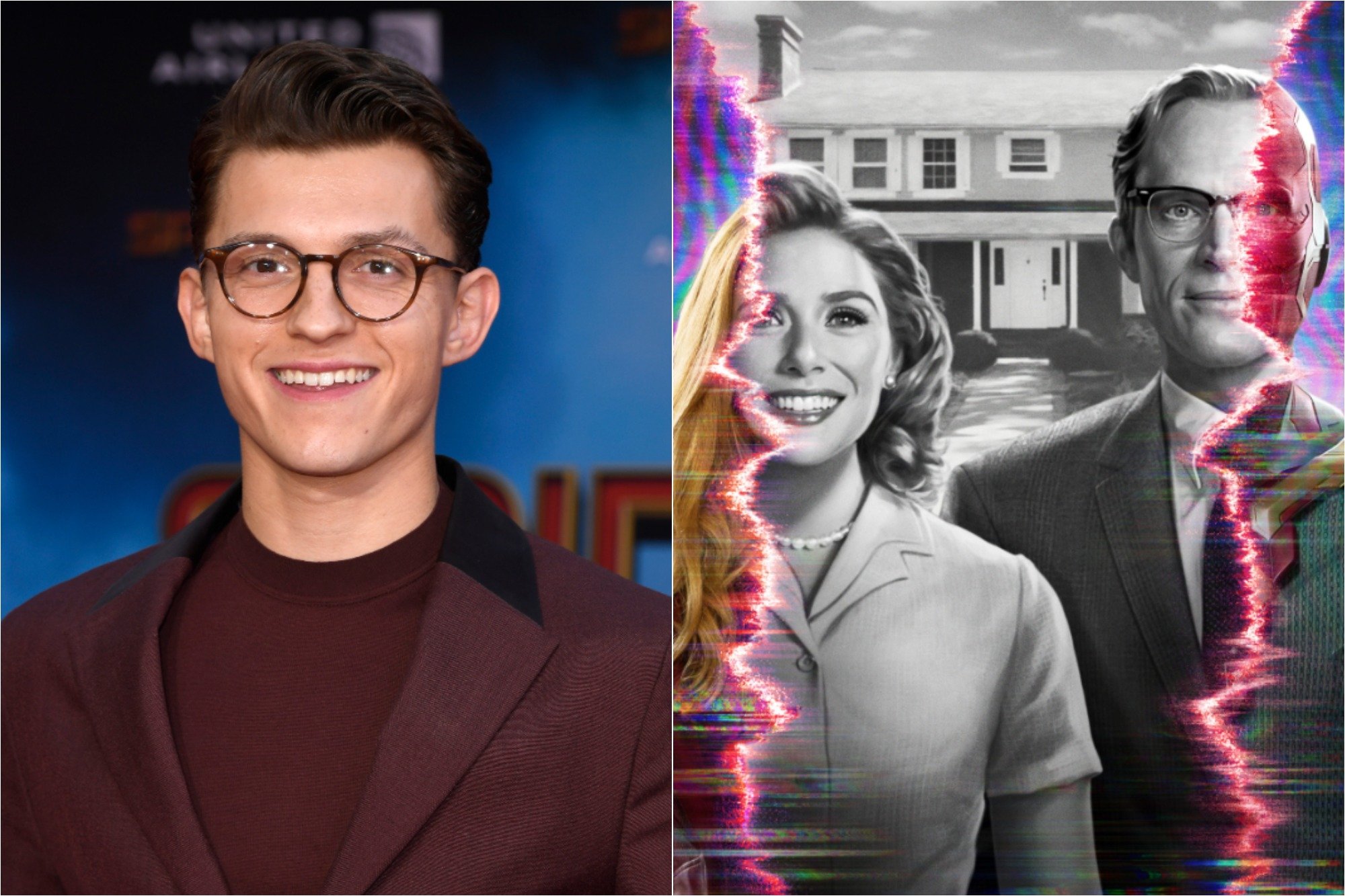 Being a part of the Marvel Cinematic Universe connects a lot of famous actors, but it's always fun to hear one Marvel actor talk about another MCU project they're not in. And that's definitely the case when Holland recently gushed about WandaVision. In an interview with The Playlist on Feb. 23, he shared he's "obsessed with it." He gave it some really high praise saying, "It's my favorite Marvel thing I've ever seen."
And while he's currently filming the third Spider-Man film, he said that he and his co-stars are just as caught up in trying to figure out what the heck is going on in the show. 
"I love the camaraderie that we have on set every Saturday. We work through the weekends. So, every Saturday everyone's on set, talking about it and everyone's spitting their theories out of what's going on," Holland said and also admitted that he's living for every WandaVision premiere day, just like the rest of the world. "I love the apprehension of waiting for Friday."
Mr. Peter Parker doesn't get any special treatment from non-Marvel folks and has to wait with everyone else to see the next piece of the WandaVision puzzle drop. He also shared that he thinks Elizabeth Olsen is "unbelievable" as Wanda Maximoff. 
"The way she can bounce between the different styles of acting and sitcoms is amazing. And I think it's really funny. I really think it's really funny," Holland said. Of course, he couldn't leave Paul Bettany hanging. "In that last episode, when he was doing the interview, I was howling. It's so funny. I think he's brilliant. Both of them are fantastic. I love it."
Holland is also having fun pulling fans' legs and saying he might be the massive guest star that comes in at the end 
Speaking of Bettany, he's teased for a couple of weeks that there's a very special cameo coming up in the next two episodes that is very exciting to him. It involves an actor that he's been wanting to work with for a long time. And while The Playlist assumed it wasn't Holland, the Spider-Man: Far From Home actor played into it a bit. 
"How do you know that though?" he said and pointed out that he's never worked with Bettany which is one of the criteria in this special guest star. They're both part of the MCU, but Holland notes that they've "never been on set together, so it could be" Holland. 
However, it seems like he really is just trolling. Plus, with his tendency to be a spoiler fiend, Marvel wouldn't let him out of their sights right now if he was the super-secret cameo. Not to mention Bettany's clues hint at someone he's wanted to work with his whole life, and Holland is a little young for that. 
When it came to actually guessing who it really could be, Holland didn't know. 
"Ooh, do you know what, don't have a Scooby to who it might be, I really don't," he said. "And I don't want to say it in case I'm right, and people think I spoiled it. Because people think I have inside information. So I'm going to have to keep my mouth shut there. I honestly haven't a clue who it might be."
Holland has been a fan of Scarlet Witch and Elizabeth Olsen for quite some time, and vice versa
But, if Bettany's Vision is somehow "reborn" or "lives" to see another day in the MCU after WandaVision, then getting Holland to work with Olsen and Bettany directly is definitely something that all parties would be happy about. 
For one, Holland told British GQ back in 2017 that he had a crush on Olsen. 
"I think Scarlet Witch is pretty hot, you know," he said when he shared his Marvel crush. "I think Elizabeth Olsen is super hot and really nice as well. She was really nice to me at the premiere."
And according to ComicBook.com, at an ACE Comic Con in June 2018, Olsen said she wanted to team up with Holland's Spidey for something. 
"I kind of want to play with Spider-Man. He's cute," Olsen said in response to a question about who she'd want to do a crossover with. "He's really funny, I think Holland's killing it. I think he's so, so funny."
So, obviously, with Holland being such a fan, and Olsen's Wanda not going anywhere anytime soon, a team-up — or possibly a take down? — could happen at some point.