Tom Holland and Zendaya: A Complete Timeline of the 'Spider-Man 3' Co-star's Romance
Tom Holland and Zendaya have finally confirmed they're an item after years of dating rumors. The Spider-Man 3 co-stars haven't released an official statement about their romance, but they were recently spotted kissing. Here's a complete timeline of their romance.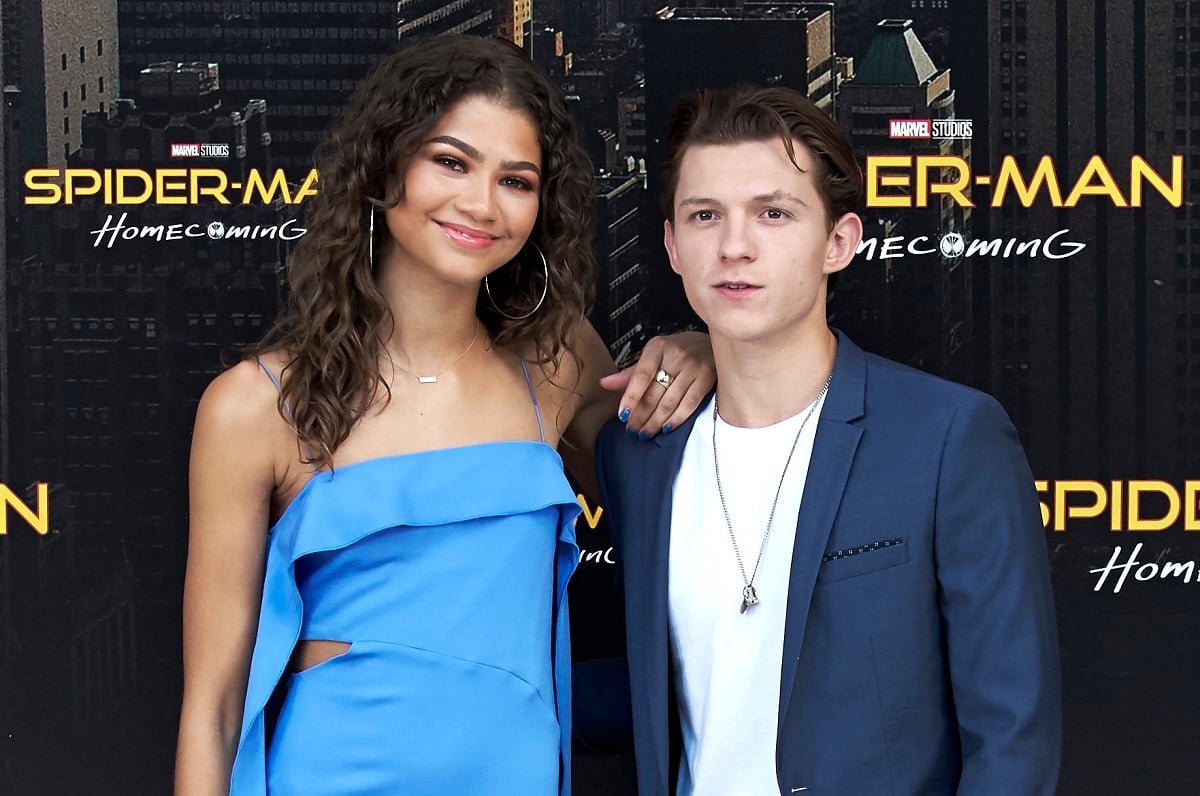 Tom Holland and Zendaya were co-stars for the first time in 'Spider-Man: Homecoming'
Holland landed the role of Peter Parker in the Marvel Cinematic Universe in 2015 and made his debut in Captain America: Civil War. One year later, Zendaya was cast as MJ in Spidey's first solo film, Spider-Man: Homecoming. Not long after Zendaya got the part, the duo started popping up in each other's Instagrams.
Of course, the pair had a lot of promotion and press to do together. They graced the cover of The Hollywood Reporter in late 2016. And when Zendaya posted the image on Instagram, she had nothing but good things to say about Holland.
"Amidst all the chaos and sadness…this one good thing did happen to me today," she wrote. "Honored to share it with the very best…Spider-Man himself @tomholland2013 🙏🏽."
The Marvel stars were just 'the best of friends'
By 2017, their first movie together had hit theaters and the chemistry was obvious. The dating rumors immediately started swirling. But during interviews, Holland insisted he and Zendaya were simply "the best of friends."
"We are like the best of friends. She's so great and amazing," Holland told People magazine. "I'm a little worried [about dealing with fame … but] Zendaya is super famous and she's been through this and I just call her up and say, 'How do I manage being famous?' I'm very glad I have a friend like her."
Tom Holland and Zendaya shot down the dating rumors
As the dating rumors heated up, the duo took to social media to shoot them down. Zendaya tweeted that she hadn't been on vacation in years, despite media reports that she had enjoyed a holiday with Holland. He responded by asking if their press tours counted.
A few weeks after the Twitter exchange, Zendaya reiterated to Variety that she and Holland were just friends.
"We are friends," she said. "He's a great dude. He's literally one of my best friends. This past how many months we've had to do press tours together. There's very few people that will understand what that's like at 20 years old."
The social media interaction continued
Throughout 2018 and 2019, Holland and Zendaya occasionally posted about each other on social media. Or, they would comment on one another's posts. They also filmed Spider-Man: Far From Home, which meant they spent even more time together.
But at the same time, Zendaya started dating her Euphoria co-star Jacob Elordi. They were spotted together on vacation in Greece, which briefly silenced the rumors about Zendaya and Holland.
By early 2020, Holland was dating actress Nadia Parks. When the pandemic hit, they decided to isolate together and continued dating through the end of the year. But at some point, both Zendaya and Holland's respective relationships came to an end.
Tom Holland and Zendaya were spotted kissing in Los Angeles
After the dating rumors completely died down, Holland and Zendaya set the internet on fire. On July 1, cameras caught them locking lips while they were sitting in Holland's car at a red light in Los Angeles.
According to Page Six, the duo was making out while sitting in Holland's Audi. The day before, they were spotted having dinner together. Will they publicly confirm their relationship? Maybe fans will see them walk the red carpet together for the premiere of Spider-Man: No Way Home? We'll have to wait and see.
Spider-Man: No Way Home premieres in theaters on December 17, 2021.
RELATED: 'Spider-Man: Far From Home' Stars Tom Holland And Zendaya Had One Of The Most Epic 'Lip Sync Battles' Ever