What Tom Petty Missed Most About George Harrison: 'His Enthusiasm Was Very Contagious'
Tom Petty said he was blessed to have known George Harrison. Petty missed his friend a lot after George's death in 2001.
Tom Petty was fortunate enough to have gotten really close to George Harrison. The ex-Beatle was friends with an eclectic group of people; musicians, artists, comedians, and race car drivers. He loved them all wholeheartedly. However, Petty was in his inner circle. He got to see the best and the worst of George. Petty witnessed how loud, enthusiastic, and painfully honest George could be on more than one occasion, and they loved each other like brothers. It was truly a beautiful friendship.
The leader of the Heartbreakers got to be one of George's bandmates through their work in the Traveling Wilburys. But like George's relationship with their fellow Wilbury, Bob Dylan, George and Petty had a deeper connection that Petty never forgot, years after George died in 2001.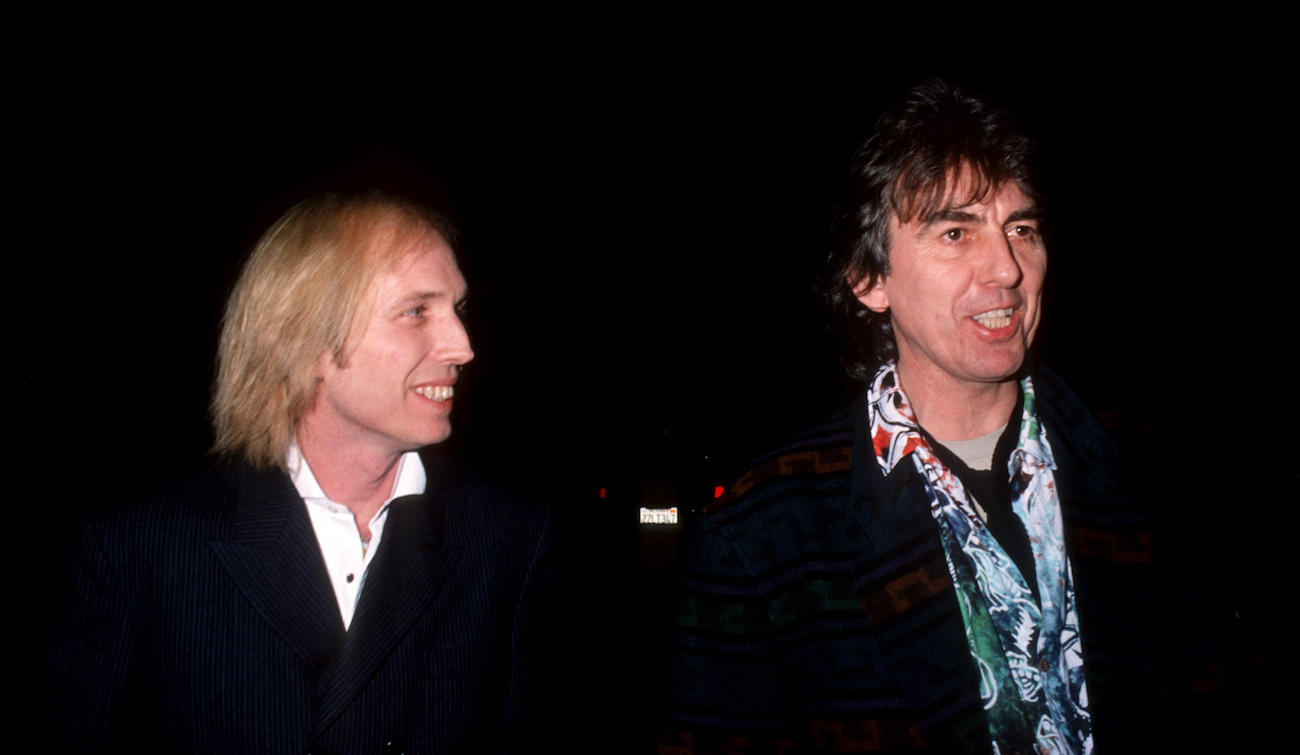 Tom Petty and George Harrison met in 1974
Petty first met George in 1974. Petty was working at Leon Russell's, and George and his fellow Beatle, Ringo Starr, appeared during a couple of sessions.
"It's a scary thing meeting Beatles, but George was so nice to me and included me in everything," Petty told Rolling Stone in 2002. After that, Petty didn't see George until years later, sometime around 1985, when the Petty and the Heartbreakers were touring England with Bob Dylan. "George came one night to see us in Birmingham," Petty continued. "Bob was busy with something, and so we wound up just talking."
"I reminded him that we'd met, and there was some kind of weird click," Petty explained. "It felt like we had known each other all our lives, and in a very personal way. We wound up just hanging a lot. I have a great photo somewhere — it was my birthday, and George brought a little cake to my dressing room. In the photo, there is me with George and Jeff Lynne, Roger McGuinn, Bob Dylan and Mike Campbell — all of my favorite people right there, and it was all so sweet. I think Ringo was there as well. That night there was a surprise hurricane in London, and my life never felt the same again after that hurricane."
Later, as if "by fate," Petty went into a restaurant, "spur of the moment." Petty explained, "I hadn't planned to go, and the waiter came over and said, 'Oh, your friend is in the next room, he wants to see you.' I didn't know who he meant. I walked in, and it was George. He said, 'God, it's so weird, I was just asking Jeff Lynne for your number.'"
"He said, 'Where are you going?' I said, 'I'm just going home.' He said, 'Do you mind if I go with you?' He came to my house and stayed for days." After that, Petty visited George in England just as often as George came to LA to see Petty.
Petty missed George's unexpected late-night jam sessions and his enthusiasm
Petty missed George a lot after he died. The one thing Petty missed most about his friend was how enthusiastic he could be, especially during unexpected late-night jam sessions.
"His enthusiasm was very contagious in a recording session, in a writing session," Petty said. "He just had unbridled enthusiasm. One of the things I'll miss most is when he used to drop by and he would always have a guitar or a ukulele in his hands most of the evening.
"He taught me so much guitar. I miss him showing me the guitar and some Beatles lick that I could never figure out. He would slow these licks to me, and they would be the simplest things in the world, but they'd eluded me because I didn't think they could be that simple. But what a beautiful player he was."
Petty loved that George obsessed over the ukulele. George played it so much that he cleared rooms with his playing.
"He really got into the ukulele," Petty continued. "It sounds kind of corny, but it gave him so much joy, you know. I was there when he first discovered it. The rest of his life was ukulele. He played the hell out of the thing. When my kids were little, we could clear rooms with those things, because they knew George was going to carry on till daylight with the ukulele."
Petty felt blessed to have known George
George loved his friends more than anything, and Petty definitely felt that love. "See, George really treasured his friends," Petty explained. "Mike Campbell was saying, 'George was the only kind of friend I knew who would bring you a gift every time he saw you.'"
"George was the kind of guy who wasn't going to leave until he hugged you for five minutes and told you how much he loved you. We knew where we stood with each other."
Looking back, Petty felt blessed having known George. However, he wasn't the only person who felt that way. "It's the only time in my life, really, that I had been that close to somebody — outside of like my mom dying or something. I loved him so much, and if he had never played a note, I would have been so blessed to have him in my life.
"And then over the weekend, it really comes home to you that, oh, wow, the whole world feels this way. They all knew him in their way, and they are mourning him as well. It was very hard, because there's a duality to it. I mourn for my friend, and then I also am a huge fan just like everyone else. I'm just blessed by God to have known him. He had so much love in him. I realized it more with him gone that he was just pure love."
Everyone George crossed paths with had an incredible experience in his presence, but Petty knew the real George.