Tom Petty Said 1 of George Harrison's Beatles Songs Had a 'Big Effect' on Him
Tom Petty said one of George Harrison's Beatles songs greatly affected him. He loved The Beatles as a kid and watched them perform on The Ed Sullivan Show. Petty wanted to be a Beatle when he grew up. They inspired him to become a songwriter and a musician. Eventually, his own fame allowed him to enter his idol's inner circles. He made friends with The Beatles and had a particularly close bond with George.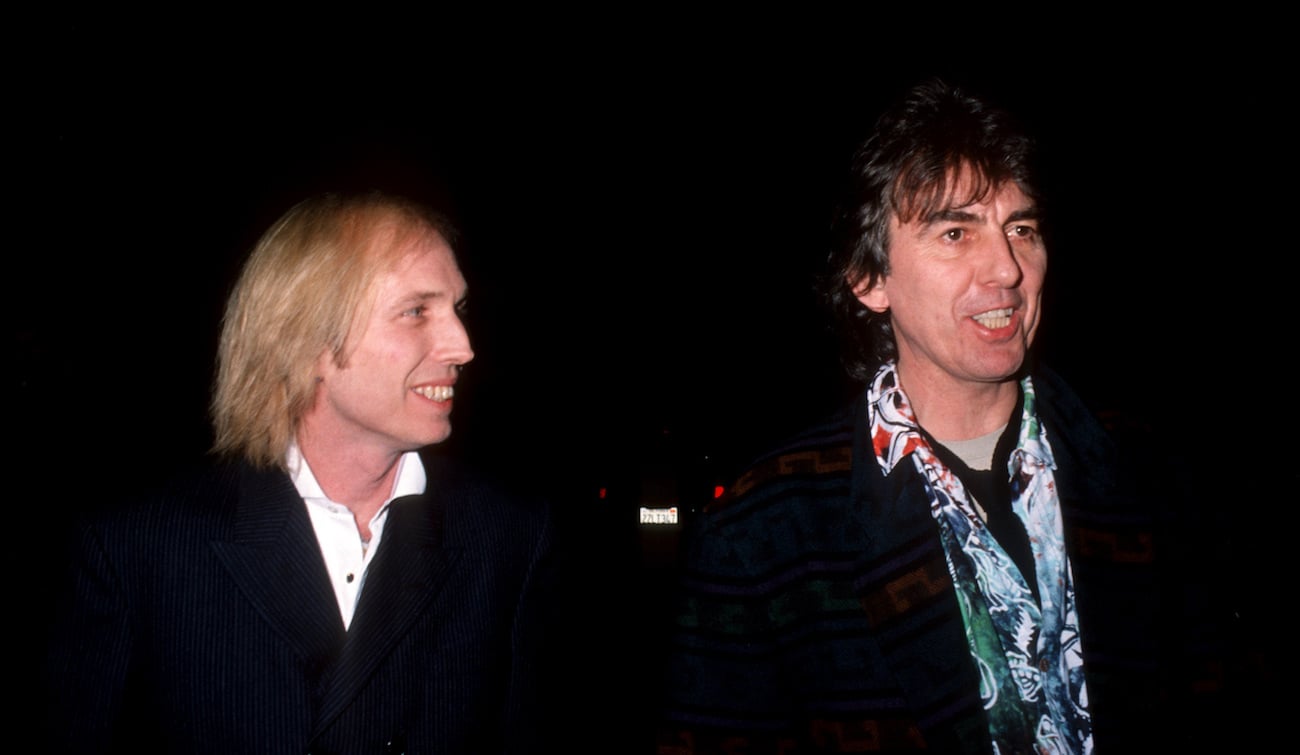 Tom Petty watched George Harrison and The Beatles perform their songs on 'The Ed Sullivan Show'
Petty remembered the day The Beatles performed on The Ed Sullivan Show in 1964. According to Ultimate Classic Rock, Tom Petty had this to say about watching the performance: "I think the whole world was watching that night. It certainly felt that way. You just knew it, sitting in your living room, that everything around you was changing.
"It was like going from black-and-white to color. Really. I remember earlier that day, in fact, a kid on a bike passed me and said, 'Hey, the Beatles are on TV tonight.' I didn't know him, he didn't know me, and I thought to myself, 'This means something.'
"[The Beatles] came out and just flattened me. To hear them on the radio was amazing enough, but to finally see them play, it was electrifying."
Petty wasn't the only future famous person to watch The Beatles perform their songs that night. However, he was the only person who watched the performance who'd later become best friends with a Beatle.
RELATED: Tom Petty Couldn't Sleep the Night He, George Harrison, and Jeff Lynne Asked Roy Orbison to Join The Traveling Wilburys
Petty said one of George's Beatles songs had a 'big effect' on him
When Petty started his music career, he bumped into two Beatles, George and Ringo Starr, while working at Leon Russell's Shelter Records. In a special edition of Rolling Stone called "Remembering George," Petty explained that it was a scary thing meeting Beatles. However, George was "so nice to me and included me in everything," Petty said.
Suddenly, his idol was talking to him and treating him like an equal. Petty never forgot that moment.
Reflecting on the George songs that meant the most to him, Petty said, "Oh, God, there are so many." Though, Petty named one of George's Beatles songs, "Here Comes The Sun." He said the song "always has a big effect on me."
Outside of The Beatles, one of Petty's favorite solo songs of George's was "Isn't It A Pity," which he called a masterpiece.
RELATED: Tom Petty Said There Was a 'Duality' to Mourning George Harrison
The pair formed a tight bond
Petty and George became close friends in the 1980s after bumping into each other several times. There was an interesting click as the pair talked. The first time they hung out, George stayed at Petty's house for days, getting to know him. After that, Petty and George were practically inseparable.
"We became very good friends, really, for decades," Petty told NPR. "I don't like to bring it up that much, because The Beatles are so special that people might see it as boasting or something.
"But he actually became my friend, past being a Beatle to me. It was like having an older brother that had a lot of experience in the music business, someone who I could go to with my troubles and questions."
They played ukulele together until dawn, and George taught Petty many things about music and spirituality. "He taught me so much guitar," Petty told Rolling Stone. "I miss him showing me the guitar and some Beatles lick that I could never figure out."
Adding to NPR, Petty explained, "I was always asking Beatle questions, and probably annoyed him. But, you know, he liked The Beatles, too. He liked talking about it and remembering it."
Petty loved all of George's songs in and out of The Beatles. However, it's clear Petty liked George for who he was a lot more.
RELATED: Tom Petty Said George Harrison Wanted The Traveling Wilburys to Be Like The Beatles