Tom Petty Said the Biggest Gift George Harrison Gave Him Was Spirituality, and He Wasn't Preachy About It
One of the first times Tom Petty and George Harrison hung out together, an unexpected hurricane swept through London. At the time, Petty took it as a sign. He knew he would be close with the ex-Beatle. Sure enough, fate brought them together again when they happened into the same restaurant.
Once Petty started hanging out with George more and learned about his spirituality, Petty realized that those strange occurrences happened for a reason. He and George were meant to be friends. They may have even been friends in a past life.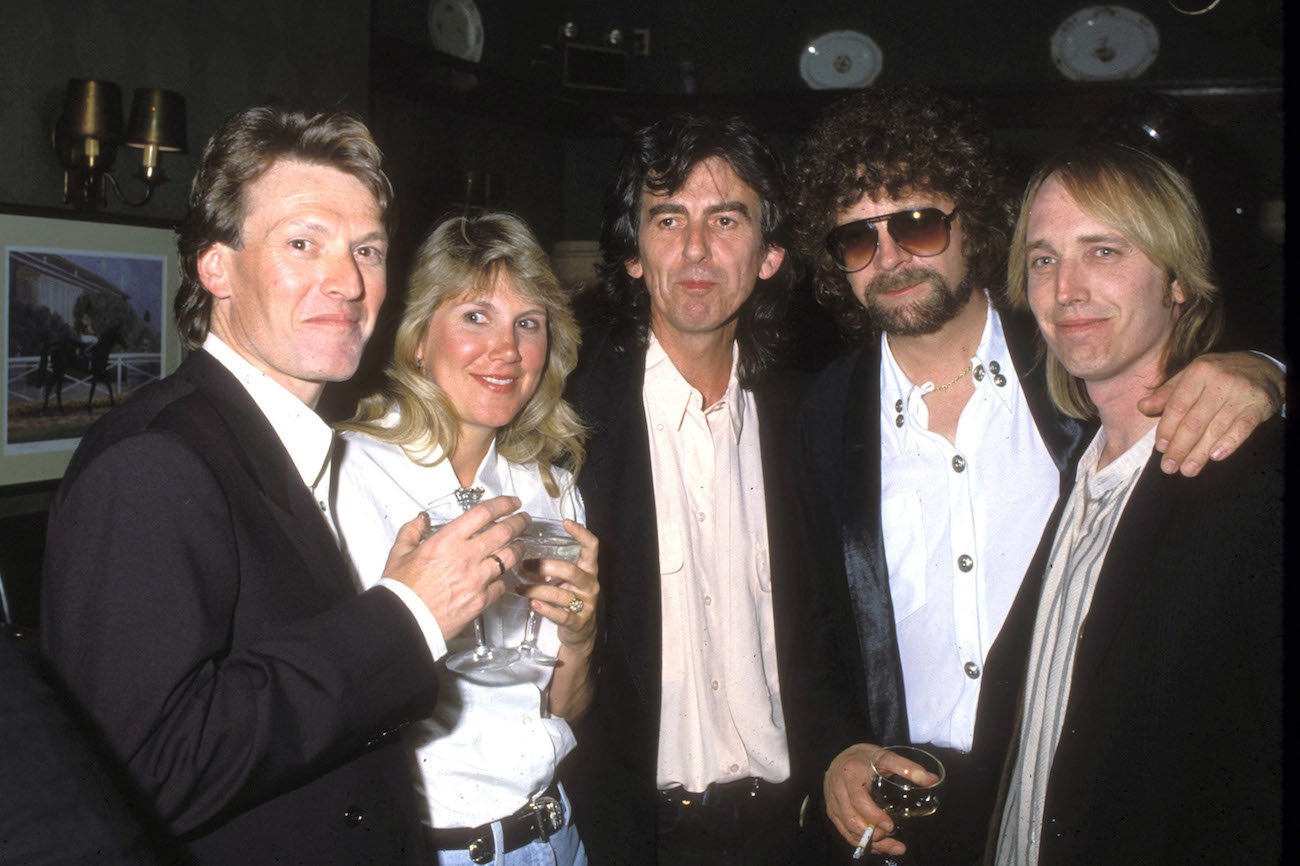 Tom Petty said George Harrison was like his older brother
Petty first met George in 1974. Then, they met again in 1985 when Petty and the Heartbreakers toured England with Bob Dylan.
"George came one night to see us in Birmingham," Petty said in "Remembering George," a special edition of Rolling Stone. "I reminded him that we'd met, and there was some kind of weird click. It felt like we had known each other all our lives, and in a very personal way."
One night George, Petty, and others celebrated Petty's birthday. There was "a surprise hurricane in London." Petty took it as a sign, and his life "never felt the same again." However, fate wasn't finished bringing Petty and George together.
Petty went into a restaurant in LA "spur of the moment." His waiter told him a friend wanted to see him. Petty walked into the other room and saw Jeff Lynne with George. "God, it's so weird, I was just asking Jeff Lynne for your number," George told Petty. Petty agreed it was strange.
Petty said, "He said, 'Where are you going?' I said, 'I'm just going home.' He said, 'Do you mind if I go with you?' He came to my house and stayed for days."
After that, Petty and George became close. George would turn up at Petty's house with beer and tons of ukuleles. They'd play together all night.
"We became very good friends, really, for decades," Petty told NPR. "He actually became my friend, past being a Beatle to me. It was like having an older brother that had a lot of experience in the music business, someone who I could go to with my troubles and questions."
Petty said the biggest gift George gave him was spirituality but wasn't preachy about it
In 2004, Petty and Lynne inducted George into the Rock & Roll Hall of Fame. Petty said George knew how to fill a room during his speech. However, most importantly, he was a very "upbeat person" who had a "keen sense of humor" and spirit. Although George was never "preachy." He "led by example."
The fact that George was never preachy about his spirituality was what Petty loved most. He wanted to share that spirituality with his friend. It became one of the biggest gifts George gave him.
"I think [spirituality], probably, was the greatest gift he gave me," Petty told NPR. "He gave me a way of understanding a higher power without it being stupid, or having tons of rules and books to read.
Eventually, looking back at all the strange occurrences that happened at the start of his relationship with George, Petty realized that they were meant to be friends. First, it was that weird hurricane on the night they hung out. Then, the strange meeting in the restaurant happened.
It made Petty feel like he and George were friends in their past lives.
In Paul Zollo's book, Conversations with Tom Petty, Petty said, "The Hindus think that when you meet someone and you feel really close to them immediately, that maybe you knew them in a past life. And that was how it was with George. We instantly became very close.
"And I remember him saying to me, 'You know I'm not going to let you out of my life now.' We really got along well, and shared a sense of humor. And we became very close friends."
Petty never forgot the ex-Beatle
George truly loved all of his friends, including Petty, so he wanted to form a band where they could all come together as equals, jam, and maybe record some tunes. He formed The Traveling Wilburys with Petty, Lynne, Bob Dylan, and Roy Orbison. It happened by accident, but it turned out perfect. George considered himself a Wilbury for the rest of his life because he loved the band.
"The best thing I can say to people that are curious about that is George was probably everything that you thought he was, and then some more," Petty told NPR. "Very funny man; he could just kill me with his humor. He was a great guy and I miss him terribly."
"George was the kind of guy who wasn't going to leave until he hugged you for five minutes and told you how much he loved you. We knew where we stood with each other," he explained to Rolling Stone.
"Oh, I feel blessed. And it's the only time in my life, really, that I had been that close to somebody — outside of like my mom dying or something. I loved him so much, and if he had never played a note, I would have been so blessed to have him in my life."
Petty missed George's "unbridled enthusiasm" and their late-night ukulele jam sessions. However, the pair are undoubtedly jamming up a storm together, wherever they are.