Tom Petty Said He Couldn't Be a Fan in The Traveling Wilburys
In 1988, Tom Petty, George Harrison, Bob Dylan, Jeff Lynne, and Roy Orbison formed the supergroup The Traveling Wilburys. It all happened by accident. George needed a song for a European 12-inch single. Lynne helped him. Dylan supplied a recording studio. Orbison wanted to watch. Then, Petty, well, he only found out what was happening when George came to his house looking for his guitar.
Long story short, the five rock stars ended up recording "Handle With Care." Shortly after, they formed the supergroup and recorded an album. There was no time for being a fan among the legends.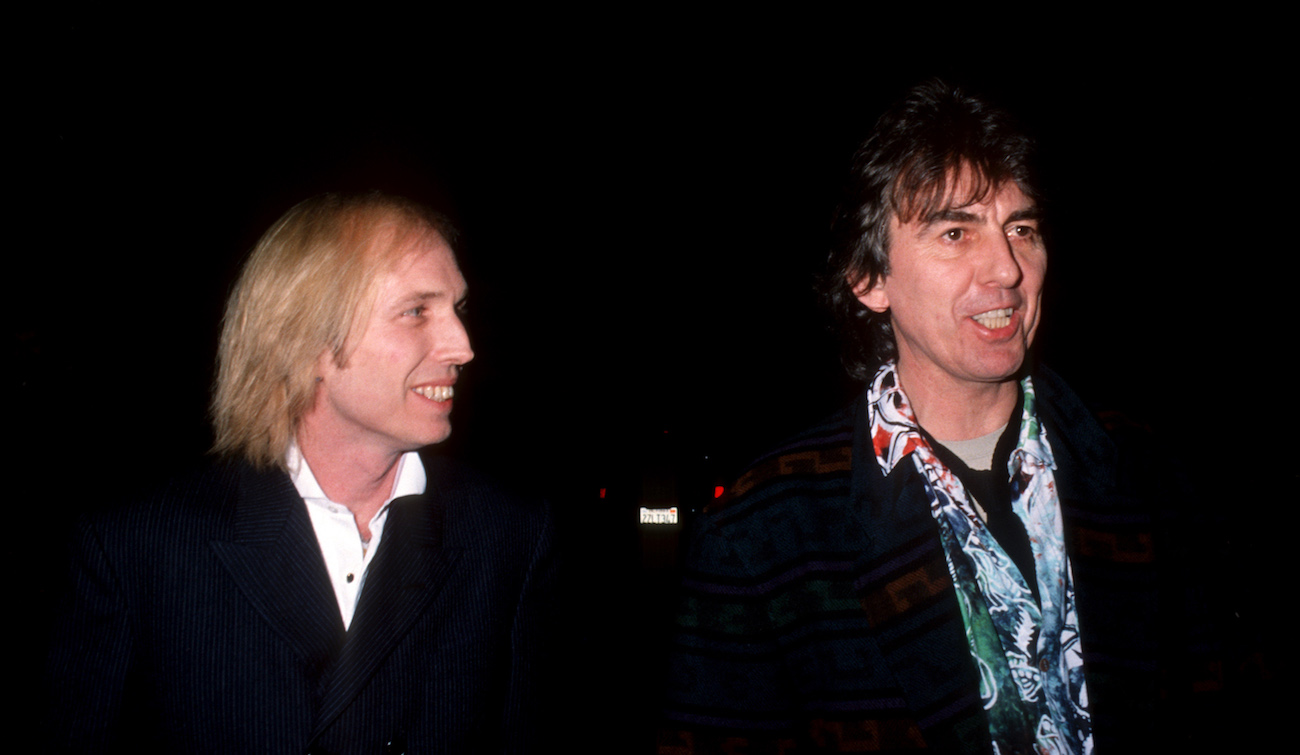 Tom Petty said there were no egos in The Traveling Wilburys
The Heartbreakers frontman realized the five rock stars had a band when they asked Orbison if he'd be willing to join. "I was so excited, I couldn't go to sleep," Petty told Mass Live in 2007.
When they all agreed to join, they also agreed to drop all their egos. Petty said there was never any issue with that "because these guys weren't those kind of people."
He continued, "None of us thought we had anything to prove. There was never even a glimpse of ego. As Jeff has said, 'You would have been laughed right out of the room if you had an ego. Not those kind of people.'"
When the band reconvened to record their album, George went up to Dylan and told him he wouldn't get any special treatment just because he was Bob Dylan.
"When the Wilburys started, George was so reverent of Bob," Petty said in the special edition of Rolling Stone, "Remembering George." "At the end of the first day, he said, 'We know that you're Bob Dylan and everything, but we're going to just treat you and talk to you like we would anybody else.'
"And Bob went, 'Well great. Believe it or not, I'm in awe of you guys, and it's the same for me.' I said to George, 'That is really amazing, how you said that to Bob.' George goes, 'I can say those sort of things. But you can't.'"
RELATED: Tom Petty Said He Got Emotional Listening to The Traveling Wilburys' Song 'End of the Line'
Petty said he couldn't be a fan in The Traveling Wilburys
Although he was super excited to be working with his idols, Petty had to contain his excitement. Petty couldn't be a fan in The Traveling Wilburys. That wouldn't have helped the recording process. However, the guys were good at making Petty feel comfortable.
"They had a knack, all those guys did, of making you feel really comfortable about getting right past that," Petty said. "And, of course, you knew it. But you wouldn't be much use in the band if you let that overcome you, at least that's the way I always felt, I won't be any good here if I turn into a fan."
For instance, working with Dylan was no problem for Petty. "I was never afraid of Bob [Dylan], he was always nice to me," Petty told Classic Rock (Louder Sound). "I have never been in awe of anyone and I think it's worked in my favour.
"A lot of people think that the Traveling Wilburys were united because it was a good idea, but really we were pals and hanging out long before the Wilburys."
Working with Orbison was intimidating, though, because he was one of the best singers. Out of the five, George was the one who turned into a fan the most.
RELATED: George Harrison Named the Traveling Wilburys After a Slang Term He Used in the Recording Studio
George geeked over Dylan
The former Beatle was a huge fan of Dylan. They'd met in the 1960s and had written a couple of songs together. They were close. Petty recognized George's love of their Traveling Wilburys bandmate. He said George quoted Dylan like Scripture.
So, working with Dylan in the supergroup excited George. Even though George told Dylan to leave his ego at the door, George still fanboyed over him.
In a video about the making of The Traveling Wilburys Vol. 1, George talked about working with Dylan on "Tweeter and the Monkey Man." He was astounded by how Dylan worked on the track.
"It was just fantastic watching him do it because he had like one take warming himself up and on take two, he sang 'Tweeter and the Monkey Man' right through, and what he did was change some of the lyrics," George said. "Maybe in about four places, he'd change a couple of lines and improved them and dropped those lines in. And that was it.
"The way he writes the words down, like very tiny. Looked like a spider's written it. You can hardly read it. And that's the amazing thing. It's just unbelievable seeing how he did it."
Petty might have thought there was no time for being a fan in The Traveling Wilburys, but it's clear all five musicians loved each other; otherwise, none of them would've joined the supergroup. The Traveling Wilbury was about friends coming together to jam.
RELATED: The Joke Bob Dylan Told Tom Petty Once George Harrison Was out of the Room