Tom Petty Said He Didn't Think George Harrison 'Had Much Interest in Rock Music Past About '57'
Tom Petty said he didn't think George Harrison 'had much interest in rock music past about '57.' George said contemporary music didn't give him a 'buzz.'
Tom Petty knew something important about his friend George Harrison; he didn't have much interest in rock music past 1957. Although, George himself extended it to the late 1960s. The former Beatles grew up listening to Carl Perkins and Chuck Berry. In the 1960s, he loved the music he was making with The Beatles. He enjoyed what other artists were doing.
However, once 1970 rolled around, George became disenchanted with rock's new sounds. After that, George only listened to the new rock music from older artists.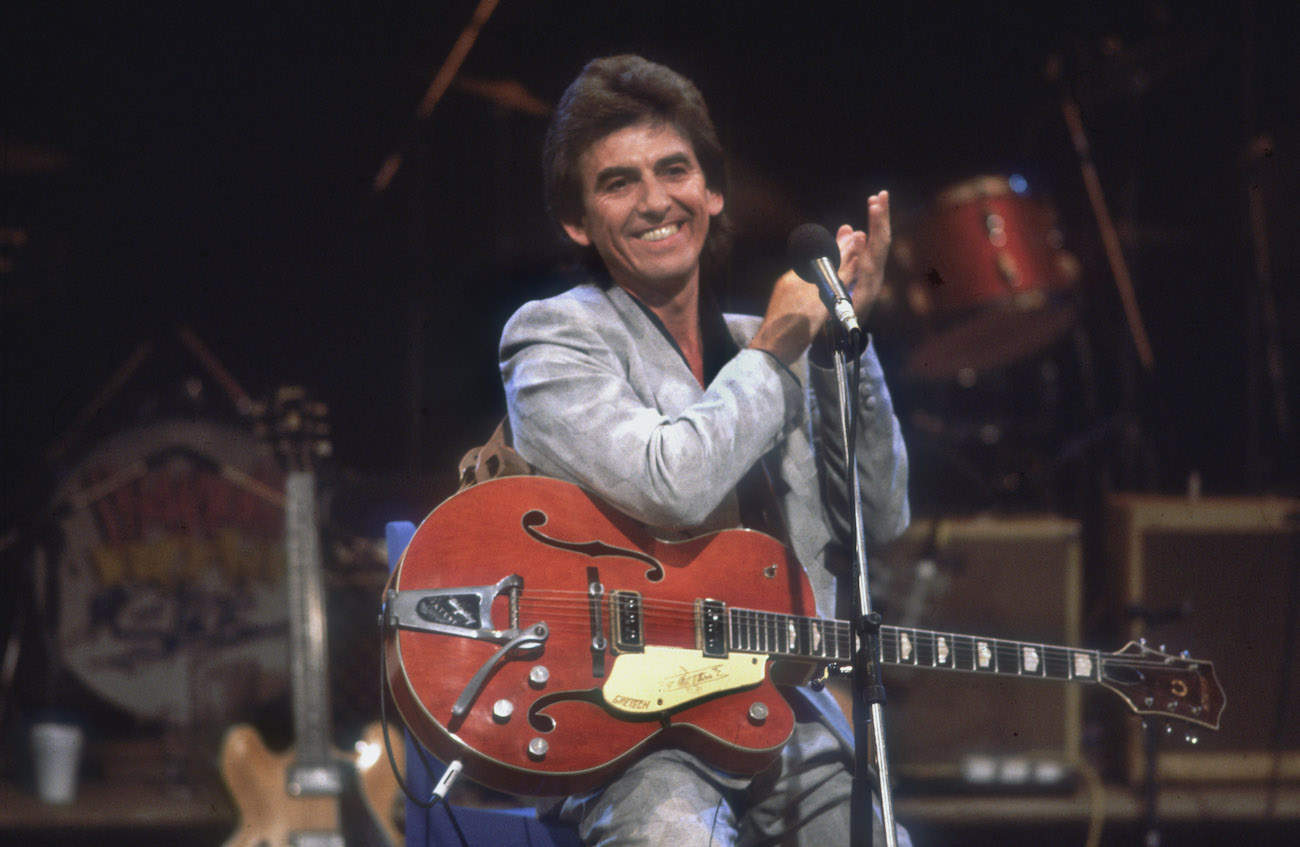 Tom Petty said he didn't think George Harrison 'had much interest in rock music past about '57'
In a special edition of Rolling Stone called "Remembering George," Petty said he didn't think George had much interest in rock music past 1957.
"The thing he was proudest of was the Beatles," Petty said. "He said the Beatles put out such a positive message. He was appalled at the things being said in pop music. Once he got into his Indian music, that rock & roll music to him was in the past.
"I don't think he had much interest in rock music past about '57. I remember him visiting me on tour in Germany. He would come to the side of the stage and look out. But he really didn't want to go on. He would go, 'It's so loud and smoky, and they are acting so crazy. I just feel better back here.'"
Petty wasn't the only friend of George's who noticed his contempt for current rock music. Elton John told Rolling Stone, "He was very forthright. There was no holding back. You know, at a time when Oasis were kissing the Beatles' feet, George Harrison said, 'Well, they're rubbish.'"
George didn't get a 'buzz' from contemporary rock music
It was hard to impress George with contemporary music. In 1992, Guitar World asked George if any contemporary bands struck him "as having a bit of the same spark" as his early heroes. George said no.
"I can't say I've really heard anything that gives me a buzz like some of that stuff we did in the Fifties and Sixties," George said. "The last band I really enjoyed was Dire Straits on the Brothers in Arms album. To me, that was good music played well, without any of the bulls***.
"Now I'm starting to get influenced by my teenage son, who's into everything and has the attitude. He loves some of the old stuff, like Hendrix, and he's got a leather jacket with Cream's Disraeli Gears album painted on the back. As for recent groups, he played me the Black Crowes, and they really sounded okay."
The former Beatle didn't listen to contemporary artists in the 1970s either
George hardly listened to any current rock music after 1970. In 1979, he told Rolling Stone he only listened to his buddies Eric Clapton, Elton John, Bob Dylan, and "those sort of people." He couldn't stand punk rock, "it never did anything for me at all."
George didn't feel "estranged" from what was "happening musically and socially at a grass-roots, youth-culture level." The punks were over.
"Well, musically the punks have been and gone, haven't they, and it all seems to be very musical again," he explained. "Elvis Costello is very good – very good melodies, good chord changes. I'm pleased about his success, but I never liked those monotone kinds of yelling records."
Rolling Stone pointed out that they said the same thing about artists like Larry Williams and Little Richard. "Yeah, but those guys were inventing something at the time and I don't think punk was inventing anything except negativity," George continued.
"The old rock & roll singers sang fantastically, they had great drummers, great sax players. As far as musicianship goes, the punk bands were just rubbish – no finesse in the drumming, just a lot of noise and nothing."
However, the dangerous thing was that George didn't make any music in 1977. When he started playing and writing again, he felt he might have "lost a feel for the public ear." However, George didn't mind.
George never embraced newer rock music, although he did play some of his best slide guitar on a Belinda Carlisle record (He couldn't remember her name, though). However, it's OK that George never got into newer rock music. He carried on making good old-fashion rock 'n' roll for the rest of his life.