Tom Petty Said George Harrison Could 'Clear Rooms' With His Ukulele Playing
Tom Petty said his Traveling Wilburys bandmate George Harrison could 'clear rooms' with his ukulele playing because he played so much.
Tom Petty was on the receiving end of many a late-night ukulele jam session with George Harrison. He reserved those sessions for his closest friends. He fell in love with the instrument's sound and started playing it in the 1980s.
When George started playing the ukulele, he sometimes couldn't stop. Its sound was tied to his soul somehow. It tuned him into something, almost like chanting mantras tuned him into God. George played so much ukulele that he cleared rooms with his playing.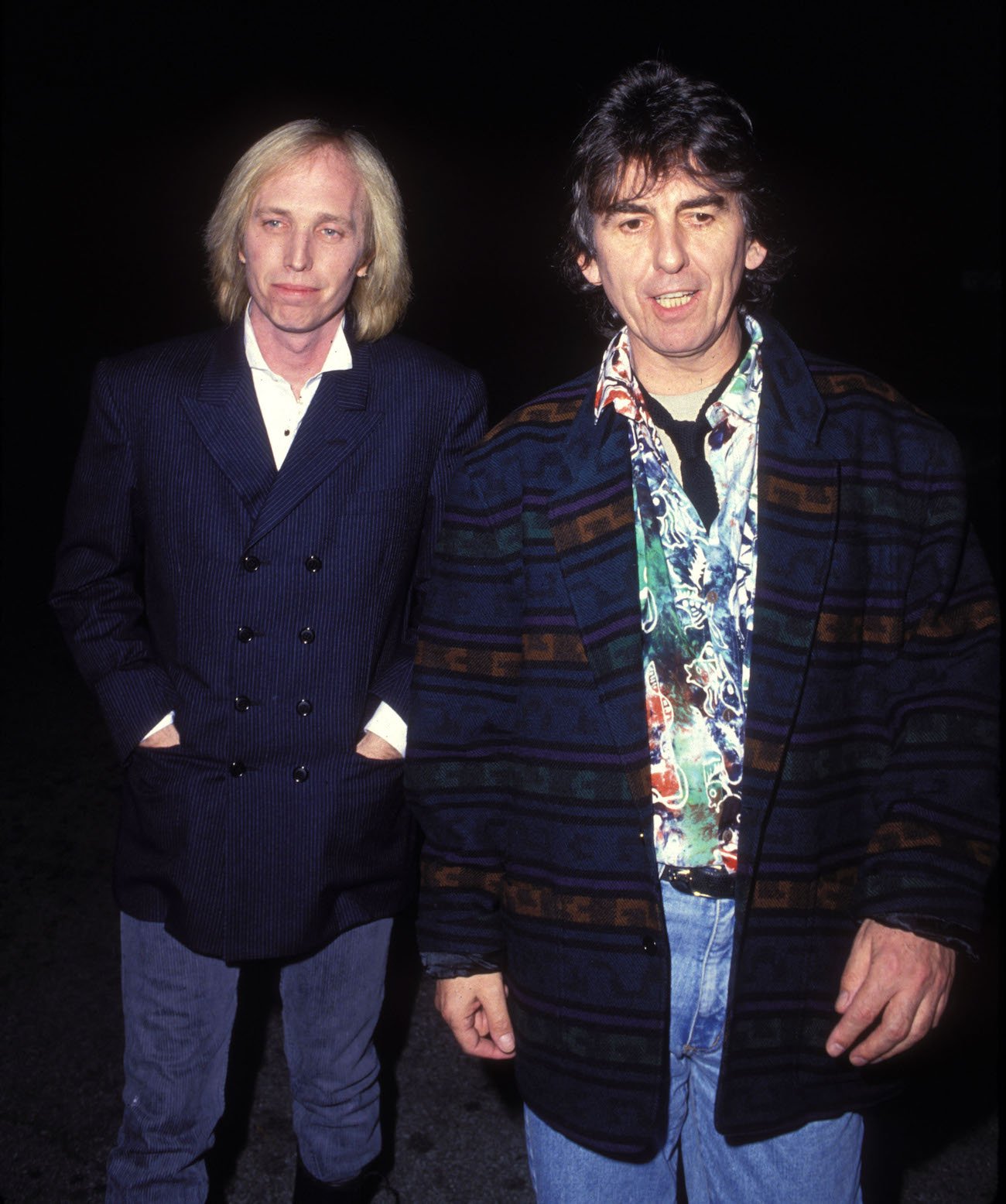 The former Beatle fell in love with the ukulele in the 1980s
According to Ukulele magazine, George wouldn't have fallen in love with the ukulele without George Formby, who popularized the instrument in England in the 1920s. At one point, Formby was the highest-paid performer in the country.
Formby's songs inspired George during his childhood. However, he didn't start playing the ukulele until the 1980s, after jamming on the instrument with fellow musician Joe Brown. George then started raking in an impressive collection of ukuleles.
When George traveled to Hawaii, he'd buy up the music store's entire stock. He'd buy some for himself or friends, and they quickly noticed George's developing obsession. By the time George met Jeff Lynne in the late 1980s, he had so many.
"The first time I met George was in his garden at his lovely house," Lynne told Ukulele magazine. "About two hours later, he'd given me this old Wendell Hall ukulele; it was actually a banjolele. We'd strum every day—we'd have at least a half-hour or 15 minutes on the uke or banjolele.
"And then other people would come over to Friar Park and they'd want to join in and have a go, and sometimes we'd have four people playing ukes in sync. It was like a ukulele orchestra!"
Tom Petty said George Harrison 'cleared rooms' with his ukulele playing
Tom Petty experienced something similar to Lynne. When Petty visited George, they'd wind up playing ukulele late into the night until George's enthusiastic late-night sessions cleared rooms. His playing was bad; it just went on forever. George and Petty's wives and children would get so tired of hearing the ukulele late into the night that they'd fall asleep.
"He once brought me four ukuleles in a week," Petty explained in a special edition of Rolling Stone called "Remembering George." He continued, "I said, 'George, I don't think I need four ukuleles.' He said, 'Well, this one is better than the other ones. And it's just good to have them here — you never know when we're going to all be over and need them.
"One of the things I'll miss most is when he used to drop by and he would always have a guitar or a ukulele in his hands most of the evening. He really got into the ukulele. It sounds kind of corny, but it gave him so much joy, you know.
"I was there when he first discovered it. The rest of his life was ukulele. He played the hell out of the thing. When my kids were little, we could clear rooms with those things, because they knew George was going to carry on till daylight with the ukulele."
Lynne played the instrument to George while he died
In 1990, George joined the George Formby Society. During one GFS meeting, George told the BBC, "It's Formbymania! It's sweeping the nation and that's all there is to it. I haven't slept for months. I'm having dreams about Ludwig banjos and these songs going through my head…
"The best thing about it for me is it's just funny music. It's very lighthearted. It's hard to play a ukulele banjo without smiling. It tends to lighten your life a bit."
George played ukulele for the rest of his life. Lynne even played the instrument for him as he lay dying. During those last days, George was "weak and drifting in and out of consciousness," Rolling Stone wrote. Many of George's friends came to say goodbye, including Lynne.
"I went over to the house," Lynne said. "I was with my girlfriend, Rosie, and she brought a ukulele without telling me. So I went into the room and strummed some little George Formby tunes – all these tunes that George loved and could play fantastically well – just quietly to him. I hope he heard me – I think he did, because he did look at me.
"The one thing I was upset about was that George didn't leap up and say, 'That's the wrong bloody chord!' That's what I was hoping for – that I would wake him up and he would go, 'You bastard, you're playing the wrong chord!'"
George connected with many people through the ukulele, not just Petty and Lynne. He surprised actor Michael Caine will his late-night playing once.
"What I didn't know was that George was the president of the George Formby fan club," Caine said. "George had brought a ukulele and sang George Formby songs all evening. Which were great, but it was such a surprise."
George is also the reason why Fleetwood Mac's Mick Fleetwood plays the instrument. "He was such a great player, and he was obsessed with it," Fleetwood said.
So, even though George could "clear rooms" with his constant ukulele playing, he was a master of the instrument and used it to bond with people. That's what George was all about.