Tom Petty Said George Harrison Considered Himself a Traveling Wilbury for the Rest of His Life
Tom Petty said that George Harrison loved the Traveling Wilburys so much that he considered himself a Wilbury for the rest of his life.
George Harrison cherished his band, the Traveling Wilburys, because no strings were attached. The objective of the supergroup, which consisted of George's good friends, Tom Petty, Jeff Lynne, Bob Dylan, and Roy Orbison, was to have fun and see what happened.
While George loved his first and most famous band, The Beatles, deep down, the Traveling Wilburys lived in a special place in his heart. Petty claims George was a Wilbury until the day he died.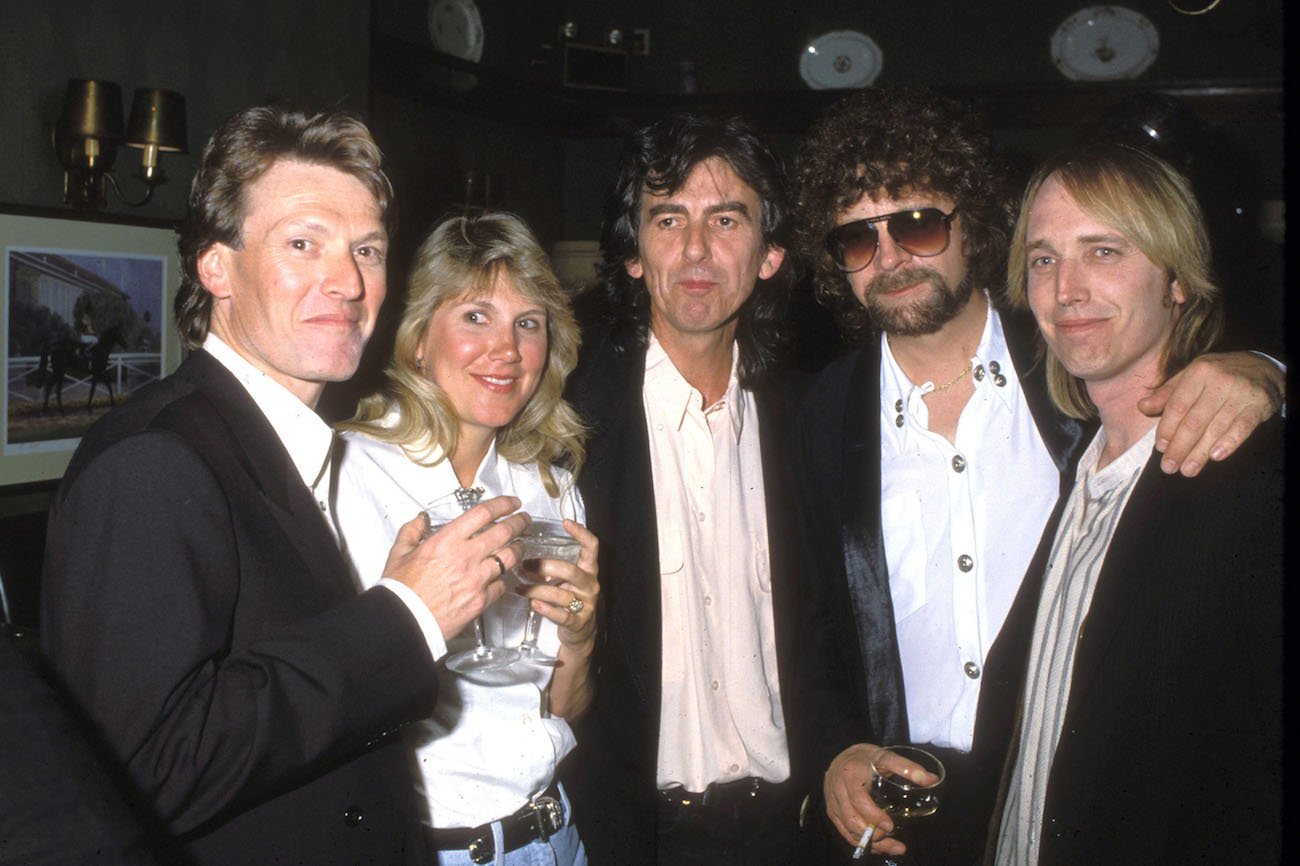 George Harrison formed the Traveling Wilburys by accident
Five of the biggest singer/songwriters accidentally formed the Traveling Wilburys. George needed an extra song for his album Cloud Nine and asked Lynne to help. Since it was short notice, George asked Dylan if he could use his recording studio. When Orbison and Petty realized those three were going to be in the studio together, they decided they wouldn't miss it.
Then, George realized that it would be silly if he didn't get all of them to sing on the tune. So, they recorded "Handle With Care" by accident. The record companies refused to put the song on Cloud Nine because it was too good, so George kept it for a while until everyone agreed to make a record with "Handle With Care" as the centerpiece.
Again, something like a full moon must have given them luck because all of their schedules were relatively free for them to record more songs. The next step was naming their supergroup.
In the recording studio, George used the slang term "Wilbury," meaning "We'll bury 'em," for mistakes in the recording process. Initially, George suggested the Trembling Wilburys. However, either Lynne or Dylan suggested the Traveling Wilburys.
After just over a week in the recording studio, the result was Traveling Wilburys Vol. 1. It was all thanks to George's love of jamming with his best friends.
Tom Petty said George considered himself a Wilbury for the rest of his life
During an interview with Rolling Stone, Petty talked about his friend George. He said George loved his family, friends, music, and especially his bands.
"George absolutely adored the Wilburys," Petty said. "That was his baby from the beginning, and he went at it with such great enthusiasm. The rest of his life, he considered himself a Wilbury… His enthusiasm was very contagious in a recording session, in a writing session. He just had unbridled enthusiasm."
"George's idea of a band was that everybody hung," Petty continued. "From what he told me, the Beatles were that way. They were very, very tight. He really wanted the Traveling Wilburys to be like that. Like, 'If we're going to the party, we're all going.' I'm so glad I got to be in a band with him. He taught me so much."
Of course, George loved the Traveling Wilburys so much. The supergroup was his chance to jam with his friends with no strings attached.
George loved that the Traveling Wilburys had no strings attached
Petty said George was never far from music, but releasing music and performing was another thing. That's what was appealing about the Traveling Wilburys. He didn't have to do anything he didn't want.
"The last time he came over here, which wasn't that long ago, he was playing the guitar and singing, singing me new songs that he had written, which were just so beautiful," Petty said. "I said, 'I wish you would just put a mike up, and let's tape you just like this.' He didn't want to do it — 'Maybe later.'"
The guys were making records in the supergroup, but that wasn't the primary goal. Plus, there were no strings attached to the band. They recorded, jammed, had fun, and saw where it all landed. Just as the Traveling Wilburys formed, whatever they did in the band happened naturally. That's one of the reasons why they left their names off the record. They didn't want people to only buy the album because of who was in the band.
George loved that the most because it was a huge difference from being in The Beatles. When George was free of the constrictions that came with being a Beatle, he wanted to do whatever he wanted. If that meant releasing a couple of albums with his friends just for the fun of it, he did it.