Tom Petty Said George Harrison Was Hesitant About Performing on Stage
George Harrison started performing professionally at 15 years old when he joined John Lennon and Paul McCartney's band The Quarrymen. Before that, George had only performed for family members at parties or his No. 1 fan, his mother, late at night. Suddenly, George was touring Hamburg, Germany, and establishing a residency at the Cavern Club back home in Liverpool. Still only a teenager, George and The Beatles bonded by playing the clubs together.
However, when the band's popularity grew into the 1960s, they found themselves playing bigger venues. Soon, some of the world's biggest stadiums replaced the clubs. The Beatles toured the world, and their fame skyrocketed, but George wasn't always happy. Touring quickly became the bane of his existence. He grew paranoid of being killed, and it started aging him. Thankfully, The Beatles stopped touring in 1966, but the fears of being on stage never left him.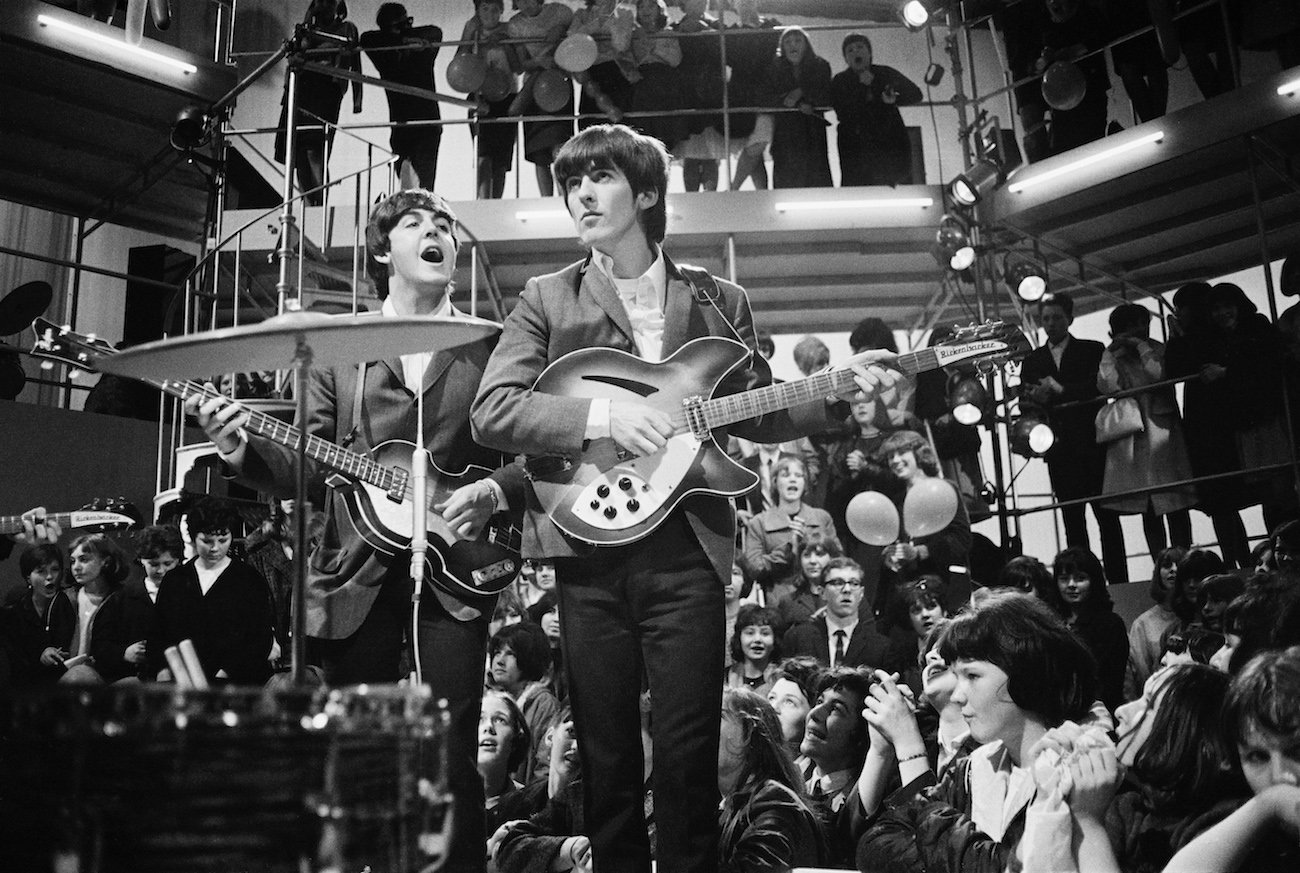 Tom Petty said George Harrison wasn't thrilled about being on stage
During an interview with Rolling Stone in 2002, Tom Petty said that George was often hesitant about performing. "For a guy who loved music and people so much, he rarely played in public," Rolling Stone pointed out. "He was never far from music," Petty explained.
Petty said that George never meant to start a solo career, which, of course, led to touring. "But he told me something once like, 'I never really pursued a solo career. All Things Must Pass was a reaction to leaving the Beatles. I had to do something.' And when that went so well, he made another one. But he never really had a manager or anybody to report to, and I don't think he had any interest in touring. He told me many times he was very uncomfortable being the guy up front having to sing all the songs. It was just not his idea of fun.
"I remember him visiting me on tour in Germany. He would come to the side of the stage and look out. But he really didn't want to go on. He would go, 'It's so loud and smoky, and they are acting so crazy. I just feel better back here.'"
George hated touring with The Beatles
Experiencing Beatlemania first-hand had a lasting effect on George. According to the Daily Mail, George's time in The Beatles was "a horror story… awful… manic…crazy, a nightmare," that was marked by "'madness,' 'panic' and 'paranoia.'" He got through flights "taking uppers and drinking whisky and coke." Soon, George developed a fear of planes, cars, airports, and crowds.
George's paranoia of being shot in a crowd worsened after John F. Kennedy's assassination. "I was very nervous," George said. "I didn't like the idea of being too popular."
"He told me often how afraid he was in The Beatles, how he thought he was going to die," producer Ted Templeman said. "He had a terror of it, and that did affect him a bit overall." Pattie Boyd, George's first wife, would receive phone calls from her then-husband saying he and the band were locked in their hotel rooms. "They couldn't go out, and the audience couldn't hear them, and it all started to seem a little pointless," she said.
"He had a very, very bad experience in Manila and it remained unforgettable for George," Boyd said of The Beatles' horrible tour of Manila, Philippines. "He was a very slight man, very light, and the fear of being vulnerable to fans, and crazy people, remained with him."
Plus, playing the same 10 songs over and over got boring. In 1966, George got a rest from the physically and mentally taxing world tours. But even then, The Beatles still had performing on the brain. As we've recently seen in Peter Jackson's The Beatles: Get Back, the band, at least Paul and John, craved communication with their fans. That meant doing some kind of live performance or TV special. Either way, George wasn't a fan. Lucky for him, The Beatles only did a rooftop concert at Apple Records.
Outside The Beatles, George couldn't get away from touring or performing either. In 1971, George's good friend and musical mentor, Ravi Shankar, told him of the conditions in Bangladesh, India, so they held the Concert for Bangladesh.
Then, in 1974, George embarked on his first solo American tour. It was a disaster.
George liked jamming with friends instead
We don't know why George decided to tour America in 1974 when he detested performing so much. It was doomed to fail from the start.
In an interview with Rolling Stone in 1979, George said, "I don't like going on the road. Sometimes I feel physically very frail. I can feel knackered, really tired, just having to get up early to get an airplane – I can feel ill having to travel. On the road there're all these medicines flying about to help you catch the plane on time, all that sort of stuff. And I'm a sucker for that. I could do myself in."
By the time George left for America, he'd worn out his voice from recording too frequently. "With the Beatles we used to do thirty minutes onstage, and we could get it down to twenty-five minutes if we did it fast. We were on and off and 'thank you,' and back to the hotel. Suddenly to have to be playing two and one-half hours for forty-seven gigs, flying all round, I was wasted," George continued.
"But I had that choice of canceling the tour and getting everybody uptight, or going through with it. So I decided, 'Sod it, it's probably better to do it.' But no, I don't miss it at all – being in crummy hotels, eating lousy food, always having to be somewhere else."
When it finished, George returned to Friar Park exhausted. "When I got off the plane, and back home, I went into the garden and I was so relieved," George wrote in his autobiography I, Me, Mine. "That was the nearest I got to a nervous breakdown. I couldn't even go into the house. I was a bit wound up – then, when I came in, I looked in the mirror and decided: 'Oh, I'm not that bad after all.'"
After that, George rarely performed in public, and not just because he hated it. He disliked catering to fans who only wanted to hear him play old Beatles tunes. Surprisingly, he showed up for The Beatles' Rock & Roll Hall of Fame induction in 1988. Besides that, George would have rather played a show at the Holiday Inn in Minnesota or somewhere where nobody goes. Most of all, George loved jamming with his friends late into the night. That's what he really lived for.