Tom Petty Said George Harrison Quoted Bob Dylan 'Like People Quote Scripture'
George Harrison was Bob Dylan's No. 1 fan. The ex-Beatle had many friends, from all walks of life, including Monty Python comedian Eric Idle, Formula 1 race car driver Jackie Stewart, and his musical and spiritual guru Ravi Shankar. However, Dylan was one of George's oldest friends. They first met in 1964, and Dylan gave The Beatles their first joint.
They collaborated through the years, most notably on George's debut solo album All Things Must Pass and later with the Traveling Wilburys. But their friendship went deeper than that.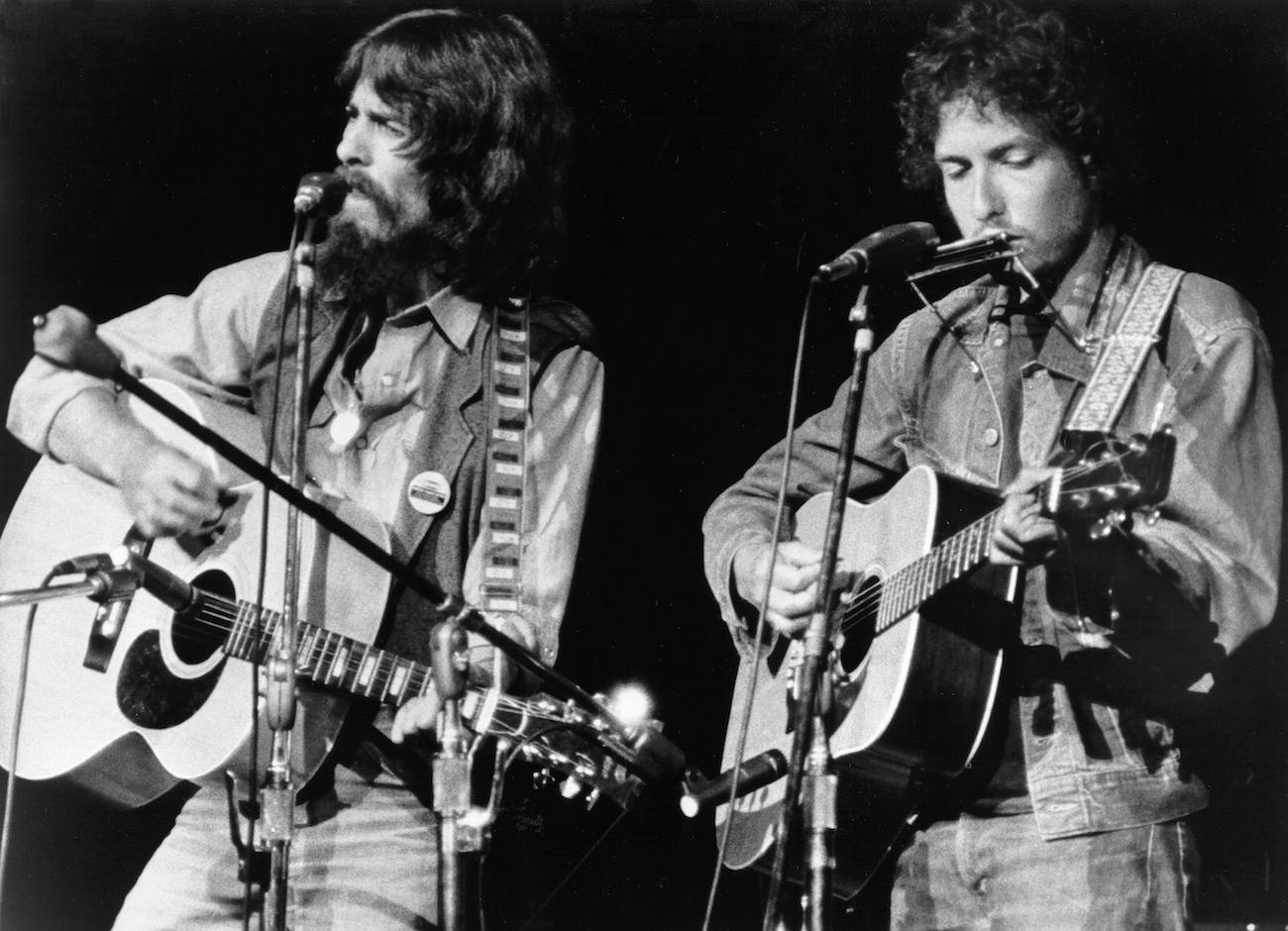 Tom Petty said George Harrison quoted Bob Dylan 'like people quote Scripture'
George met Tom Petty in 1974. By then, George and Dylan had already established a tight bond, and Petty instantly recognized it. Still, Petty was welcomed as an equal and later joined George and Dylan in the Traveling Wilburys. A year after George died in 2001, Petty reflected on George's relationship with Dylan during an interview with Rolling Stone. Petty said that George often quoted Dylan "like people quote Scripture."
"Bob really adored George, too," Petty said. "George used to hang over the balcony videoing Bob while Bob wasn't aware of it. Bob would be sitting at the piano playing, and George would tape it and listen to it all night." Essentially, George made his own Bob Dylan bootlegs because he loved Dylan so much.
Petty continued to explain that George and Dylan were able to collaborate in the Traveling Wilburys because they both agreed to leave their egos at the door. They were already such big fans of each other that it was easy.
"When the Wilburys started, George was so reverent of Bob," Petty continued. "At the end of the first day, he said, 'We know that you're Bob Dylan and everything, but we're going to just treat you and talk to you like we would anybody else.' And Bob went, 'Well great. Believe it or not, I'm in awe of you guys, and it's the same for me.'
"I said to George, 'That is really amazing, how you said that to Bob.' George goes, 'I can say those sort of things. But you can't.' [laughs] George adored Bob Dylan, like 'Dylan makes Shakespeare look like Billy Joel.' And George absolutely adored the Wilburys. That was his baby from the beginning, and he went at it with such great enthusiasm. The rest of his life, he considered himself a Wilbury."
RELATED: George Harrison's Son Says George Was Extremely 'Nonchalant' About Leaving The Beatles
George's wife Olivia says George and Dylan 'had a soul connection'
George didn't just love everything that Dylan did. The ex-Beatle loved everything about Dylan because he was a friend. George's wife, Olivia, told Rolling Stone that George and Dylan "had a soul connection." In Martin Scorsese's documentary, George Harrison: Living in the Material World, she later explained that George had an almost romantic relationship with Dylan and the rest of his friends.
"They say in this life you have to perfect one human relationship in order to really love God," Olivia said. "You practice loving God by loving another human and by giving unconditional love. George's most important relationships really were conducted through their music and their lyrics. I mean 'I'd Have You Anytime,' the song that George and Bob wrote together. 'Let me in here, I know I've been here, let me into your heart.'
"He was talking directly to Bob because he'd seen Bob and then he'd seen Bob another time and he didn't seem as open and so that was his way of saying, 'Let me in here, let me into your heart.' And he was very unabashed and romantic about it in a sense. I found that he was very- he had these love relationships with his friends. He loved them."
RELATED: George Harrison Said People Would Buy a Beatles Record Even if It Was 'Rubbish'
George said Dylan was the 'looniest' yet the most 'consistent' person he knew
George was able to find the words to describe Dylan and what he thought about him easily. During an interview with Melody Maker (per Cosmic magazine) in 1975, George said that Dylan was the "looniest" yet the "most consistent" artist he knew.
"Bob Dylan is the most consistent artist there is," George said. "Even his stuff which people loathe, I like. Every single thing he does represents something that's him. He may write better songs tomorrow, sing high on this album and low on another, go electric or acoustic, go weird or whatever, but the basic thing that causes all this change is an incredible character named Bob Dylan. He's the looniest person I know."
The pair wrote "I'd Have You Anytime" together while hanging out one day. Seeing Dylan perform at the Isle of Wight Festival inspired George to write another song, "Behind That Locked Door," and George covered Dylan's "If Not For You." Both pieces ended up on All Things Must Pass. The following year, Dylan helped George out with the Concert for Bangladesh.
Meanwhile, Dylan always kept his feelings about George close to his heart. Dylan couldn't appear at the Concert for George the following year after the ex-Beatle died in 2001, but he made sure to pay tribute to his friend in the only way he knew how. By dedicating a song to him. "I just want to do this song for George," he told his audience that night, "because we were such good buddies."
George didn't pursue relationships haphazardly. Petty said he liked surrounding himself with the best people imaginable, and Dylan was one of those people.