Tom Petty Said He Wasn't Afraid of Working With Bob Dylan in The Traveling Wilburys
Tom Petty said he wasn't nervous about working with Bob Dylan in The Traveling Wilburys.
In 1988, George Harrison accidentally formed The Traveling Wilburys with Tom Petty, Bob Dylan, Roy Orbison, and Jeff Lynne. He needed an extra song for a European 12-inch single for his 1987 album Cloud Nine. So George asked Lynne to help and invited Orbison to come to watch. Petty didn't want to miss the excitement, so he came along. They all met up at Dylan's recording studio.
They recorded "Handle With Care" during the spur-of-the-moment, once-in-a-lifetime recording session. The song was too good for a European 12-inch, so they decided to reconvene to make an album. They called the supergroup The Traveling Wilburys after George's slang term for accidents in the studio.
The point of the supergroup was the five great singers/songwriters coming together as equals. No egos involved.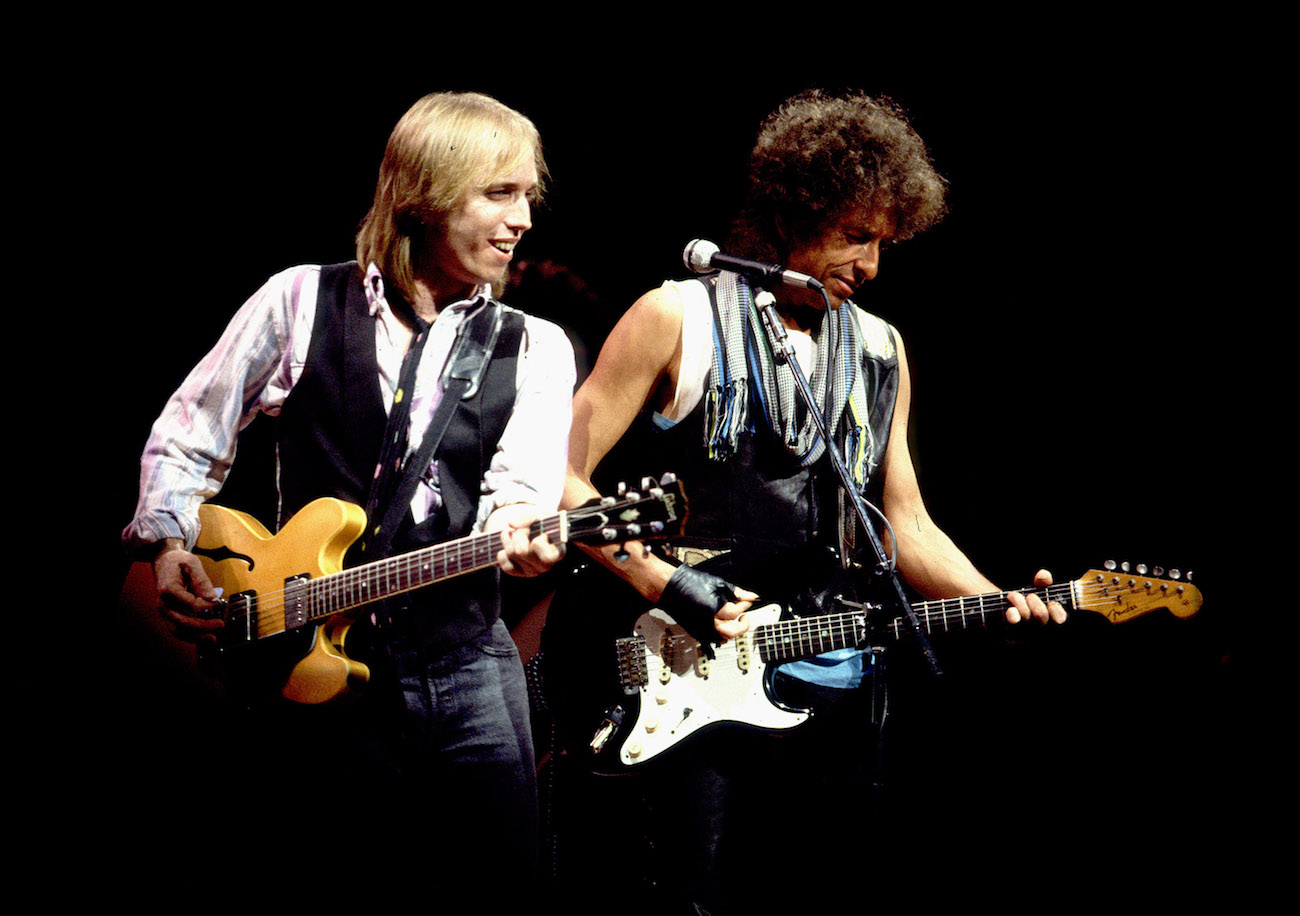 Tom Petty was never afraid of working with Bob Dylan in The Traveling Wilburys
The Traveling Wilburys wouldn't have worked with egos. They were all friends, equals, and fans of each other. Thankfully, it wasn't intimidating working with Dylan, one of the best singer/songwriters in history.
"I was never afraid of Bob [Dylan], he was always nice to me," Petty told Classic Rock (Louder Sound). "I have never been in awe of anyone and I think it's worked in my favour.
"A lot of people think that the Traveling Wilburys were united because it was a good idea, but really we were pals and hanging out long before the Wilburys."
In a video about the making of The Traveling Wilburys Vol. 1, Petty said the whole experience was great. "The thing I guess that would be hardest for people to understand is what good friends we were," he said. "It really had very little to do with combining a bunch of famous people.
"It was a bunch of friends that just happened to be really good at making music."
Petty said Dylan liked spontaneity in the recording studio
Working with Dylan was an eye-opening experience for Petty. The Heartbreakers frontman said Dylan liked spontaneity in the recording studio.
"Dylan comes from folk music where if you wanted to play an extra bar you could, so he might play five bars instead of four and think nothing of it," Petty told Classic Rock. "There is an air of spontaneity about him; if things get too well rehearsed he doesn't seem to like it. Although he never said it to me, I think he likes to keep things a little bit edgy."
Petty said Dylan influenced his songwriting. He told American Songwriter, "He influenced everybody's songwriting. There's no way around it. No one had ever really left the love song before, lyrically.
"So in that respect, I think he influenced everybody, because you suddenly realized you could write about other things. If you're going to play with Bob, it's a little like playing with a jazz artist. They improvise." 
George said similar things about Dylan. He said it was amazing working with Dylan, especially on "Tweeter and the Monkey Man."
"It was just fantastic watching him do it because he had like one take warming himself up and on take two, he sang 'Tweeter and the Monkey Man' right through, and what he did was change some of the lyrics," George said. "Maybe in about four places, he'd change a couple of lines and improved them and dropped those lines in. And that was it."
Petty was scared of working with Roy Orbison
It might not have been scary for Petty to work with Dylan, but it was intimidating singing with Orbison. He loved Orbison and thought he was one of the best singers. So, of course, it was scary.
In the video about the making of The Traveling Wilburys Vol. 1, Petty said, "Every time we'd start thinking about it, 'Wow, Roy Orbison's in the band!'"
On recording with Orbison, Petty said, "Sometimes we'd sing the same song just to see who sounded good or this key fits somebody. That was a lot of fun. George would kinda audition us, which could be really intimidating. Roy Orbison would sing the song, and then they'd send you out to sing it. It was like, 'Well, damn, that's really intimidating.'"
When The Traveling Wilburys reconvened to record their debut album, George told Dylan to leave his ego at the front door. Dylan replied, "Well great. Believe it or not, I'm in awe of you guys, and it's the same for me." The Traveling Wilburys allowed the five musicians to come together and jam. They didn't care about how well their albums did. They only wanted to make music with each other.