Tom Petty Was Scared of Meeting George Harrison and Ringo Starr, but George Made Him Feel Included
When Tom Petty began his career in the early 1970s, he came across former Beatles, George Harrison and Ringo Starr. As a new artist, being in such company was intimidating, but George liked Petty and made him feel comfortable immediately. They quickly became close friends.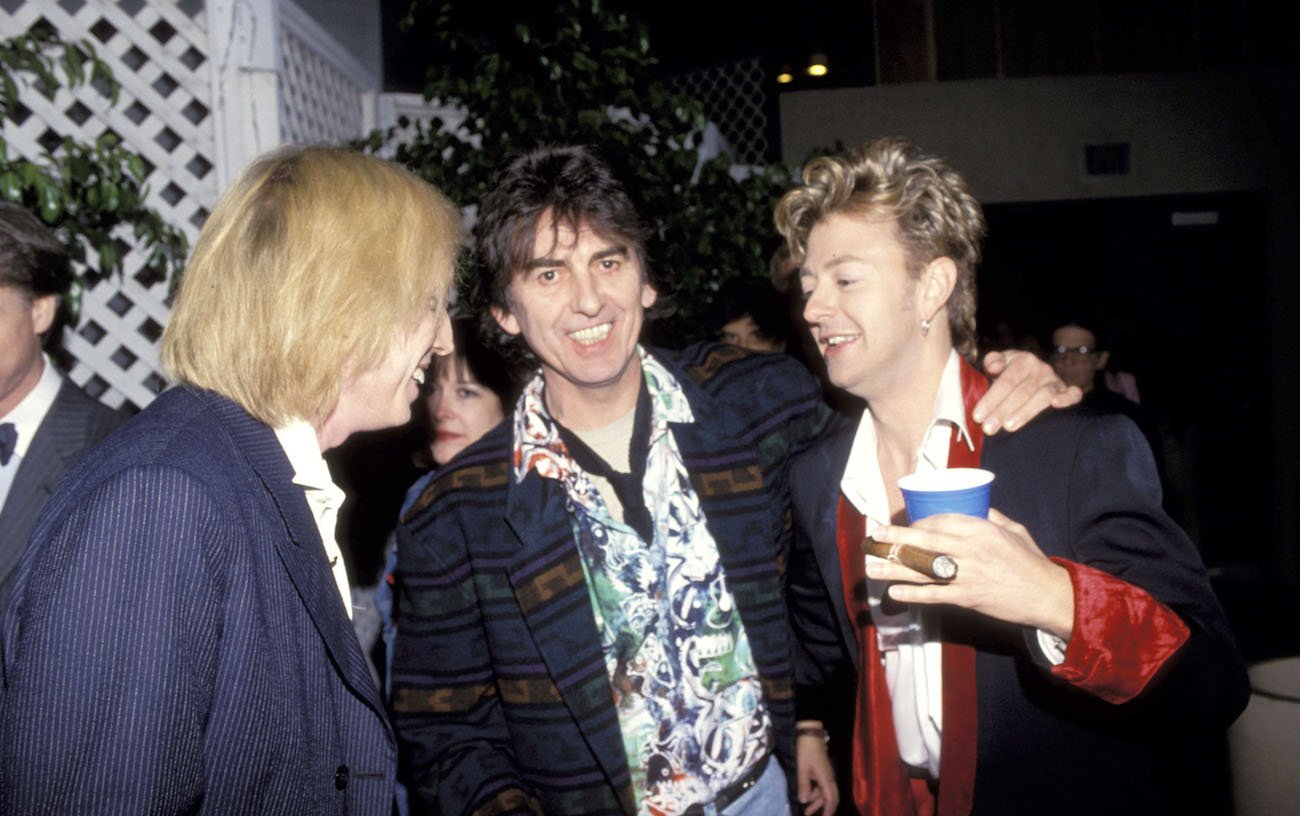 Tom Petty said it was scary meeting members of The Beatles, but George Harrison included him in everything
In 1974, Leon Russell asked Petty to stick around his record company Shelter Records, in case anyone needed his help writing songs. George, Ringo, and drummer Jim Keltner came in on the first session.
During his speech at the MusiCares Person of the Year Gala, Petty said, "So, the first session, in comes George Harrison and Ringo and Jim Keltner and they didn't need any words. But those cats were so cool, you know?"
Speaking about meeting George for the first time in a special edition of Rolling Stone called "Remembering George," Petty explained that he was nervous about meeting the Beatles. However, George made him feel comfortable.
"It's a scary thing meeting Beatles, but George was so nice to me and included me in everything," Petty said.
Fortunately, their paths crossed again in the mid-1980s, when Petty and the Heartbreakers were touring England with Bob Dylan, one of George's good friends. While Dylan was busy, Petty and George talked.
"I reminded him that we'd met, and there was some kind of weird click," Petty said. "It felt like we had known each other all our lives, and in a very personal way. We wound up just hanging a lot.
"I have a great photo somewhere — it was my birthday, and George brought a little cake to my dressing room. In the photo, there is me with George and Jeff Lynne, Roger McGuinn, Bob Dylan and Mike Campbell — all of my favorite people right there, and it was all so sweet. I think Ringo was there as well.
"That night there was a surprise hurricane in London, and my life never felt the same again after that hurricane."
RELATED: Having New Music on Record Store Shelves Wasn't George Harrison's Biggest Priority
Petty said George was like his big brother
When Petty went back to Los Angeles after the hurricane, he found George and Jeff Lynne in a random restaurant he happened into one night. Geoge said it was weird because he'd just asked Lynne for Petty's number, and then there he was, standing before them.
George then asked Petty if he could come over to his house. Petty agreed, and the former Beatle stayed for days. That was how George formed friendships. Petty said that when George knew he wanted to be friends with someone, he became aggressive.
George did something similar with Eric Idle. When the pair met in the 1970s at a screening of Monty Python and the Holy Grail, they started a dialogue that lasted 48 hours. After meeting and spending days talking, both Petty and Idle emerged as close friends of George's.
"We became very good friends, really, for decades," Petty told NPR. "I don't like to bring it up that much, because The Beatles are so special that people might see it as boasting or something. But he actually became my friend, past being a Beatle to me.
"It was like having an older brother that had a lot of experience in the music business, someone who I could go to with my troubles and questions."
RELATED: George Harrison Hated School but He Always Craved More Knowledge
The guys in The Traveling Wilburys also made Petty feel comfortable
By the late 1980s, George knew Petty was one of his closest friends. However, the pair had no idea they'd become bandmates too. Along with Dylan, Lynne, and Roy Orbison, Petty helped George record a song called "Handle With Care." Recording the song resulted in the five rock stars forming The Traveling Wilburys.
Although he was super excited to be working with his idols, Petty had to contain his excitement. He couldn't be a fan in The Traveling Wilburys. That wouldn't have helped the recording process. However, the guys were good at making Petty feel comfortable, just as George had done when they first met.
"They had a knack, all those guys did, of making you feel really comfortable about getting right past that," Petty told Mass Live in 2007. "And, of course, you knew it. But you wouldn't be much use in the band if you let that overcome you, at least that's the way I always felt, I won't be any good here if I turn into a fan."
Petty and George remained close friends until George died in 2001. Then, Petty made sure to help keep George's legacy alive by appearing at events and playing his music. Now they're together again, jamming up a storm.
RELATED: Tom Petty Said George Harrison Could Be Funny When He Was Cynical