Do the Tomorrow X Together Members Speak English?
They released original songs and toured across the globe. Tomorrow X Together is a K-pop group consisting of five members, some of them proficient in a second (and third) language. 
Which members of this boy band can speak English? Here's what we know about Tomorrow X Together and their history with the language.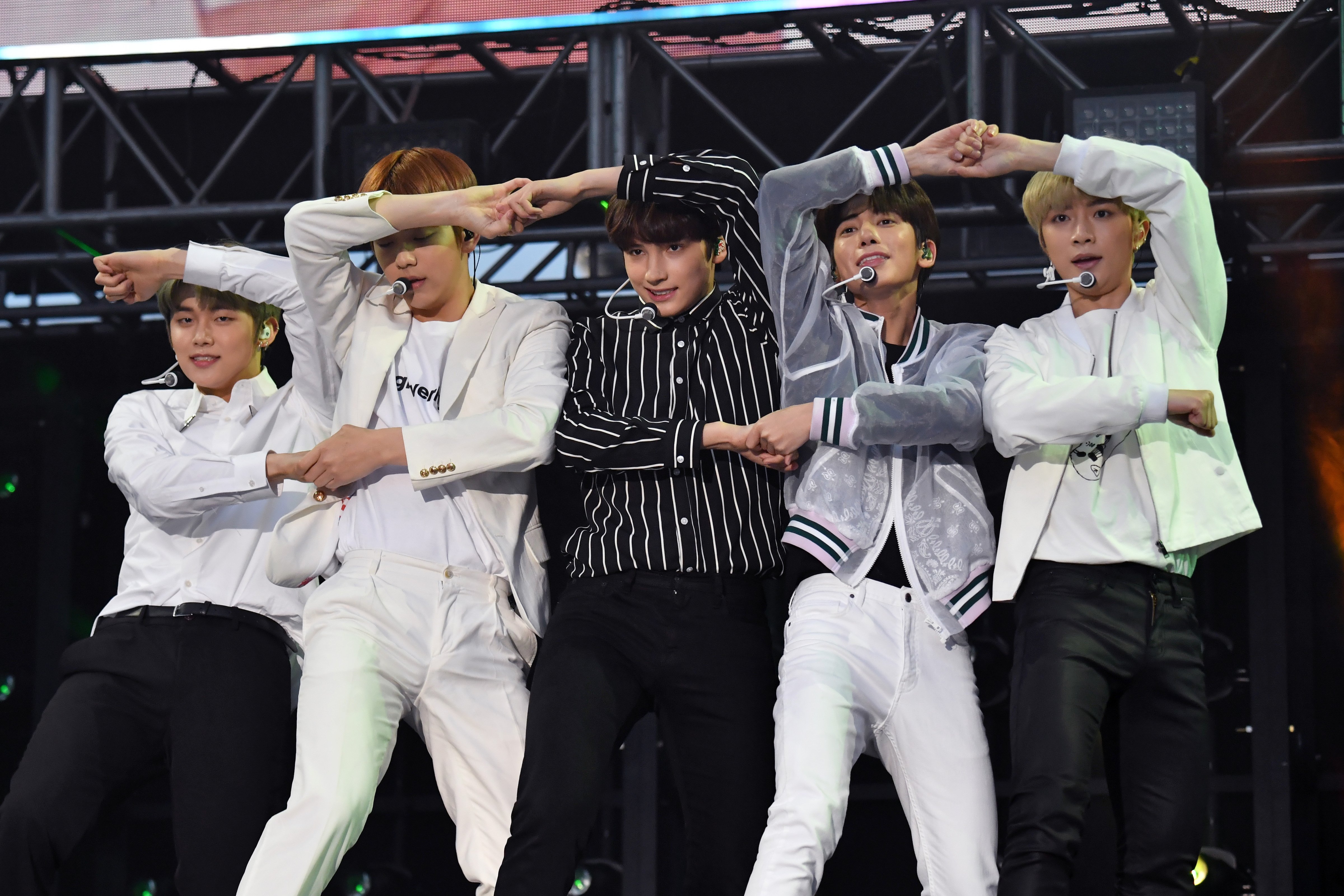 Tomorrow X Together is one of K-pop's up and coming boy bands
This boy band is one of the "next big things" in K-pop. Tomorrow X Together consists of five members Soobin, Yeonjun, Beomgyu, Taehyun, and Huening Kai. 
This band appeared under the same label as BTS (Big Hit Music) but featured an entirely new style and sound, releasing their debut EP, The Dream Chapter: Star, in 2019. Since their debut, Tomorrow X Together recorded a cover of Ariana Grande's "Thank U, Next," performed on Good Morning America, and earned millions of fans worldwide. 
The idols also earned millions of streams on music platforms like Spotify. "Anti-Romantic" currently holds over 40 million plays. Additionally, most of these idols understand and somewhat speak a second language. 
Do the Tomorrow X Together members speak English?
Most of the members in this K-pop group understand and somewhat speak the second language. Of the five performers, Yeonjun and Huening Kai are considered to be the most proficient, with "American-ish" accents, according to one fan on Quora.
That could be because they both spent time in the United States. Yeonjun even went to elementary school in America, according to TALK X TODAY Episode 2. According to Amino Apps, Taehyun even used to create educational videos teaching kids how to speak English. 
Most members showcase their English during interviews and concerts. Two members of Tomorrow X Together are also proficient in Japanese — Yeonjun and Huening Kai. Of course, as a K-pop group, all of the idols speak and sing in Korean.
However, speaking in a second language is a lot of pressure for some members. During one video, according to Koreaboo, Soobin said, "I'm worried that our international fans won't be able to understand what I'm saying." 
Other K-pop idols speak English
It's not uncommon for K-pop idols to be bilingual or even trilingual, as some K-pop groups feature members from other countries. Lisa from BLACKPINK is known as the unofficial "language genius" of the girl group. 
Born in Thailand, Lisa's native language is Thai. After moving to South Korea to start training, Lisa learned Korean. Before her debut, she picked up both English and Japanese, meaning she can speak four languages proficiently.
The Tomorrow X Together members are younger than other K-pop groups, but they still connect with fans internationally, both during concerts and social media. Music by TXT is available for streaming on platforms like Spotify and Apple Music, while their music videos are available on YouTube.