Tomorrow X Together: Who Are the Rappers of the Group?
There are five members in this K-pop group, but their roles are somewhat different from bands like BLACKPINK and BTS. Here's what we know about the rappers of Tomorrow X Together.
The members of this boy band are unapologetic fans of BTS, earning millions of fans since their debut. TXT, unlike other K-pop groups, does not have an official rap line. As a result, multiple members of Tomorrow X Together rap, depending on which song they are performing.
Here's what we know about this K-pop band, featuring members Yeonjun, Soobin, Beomgyu, Taehyun, and Huening Kai.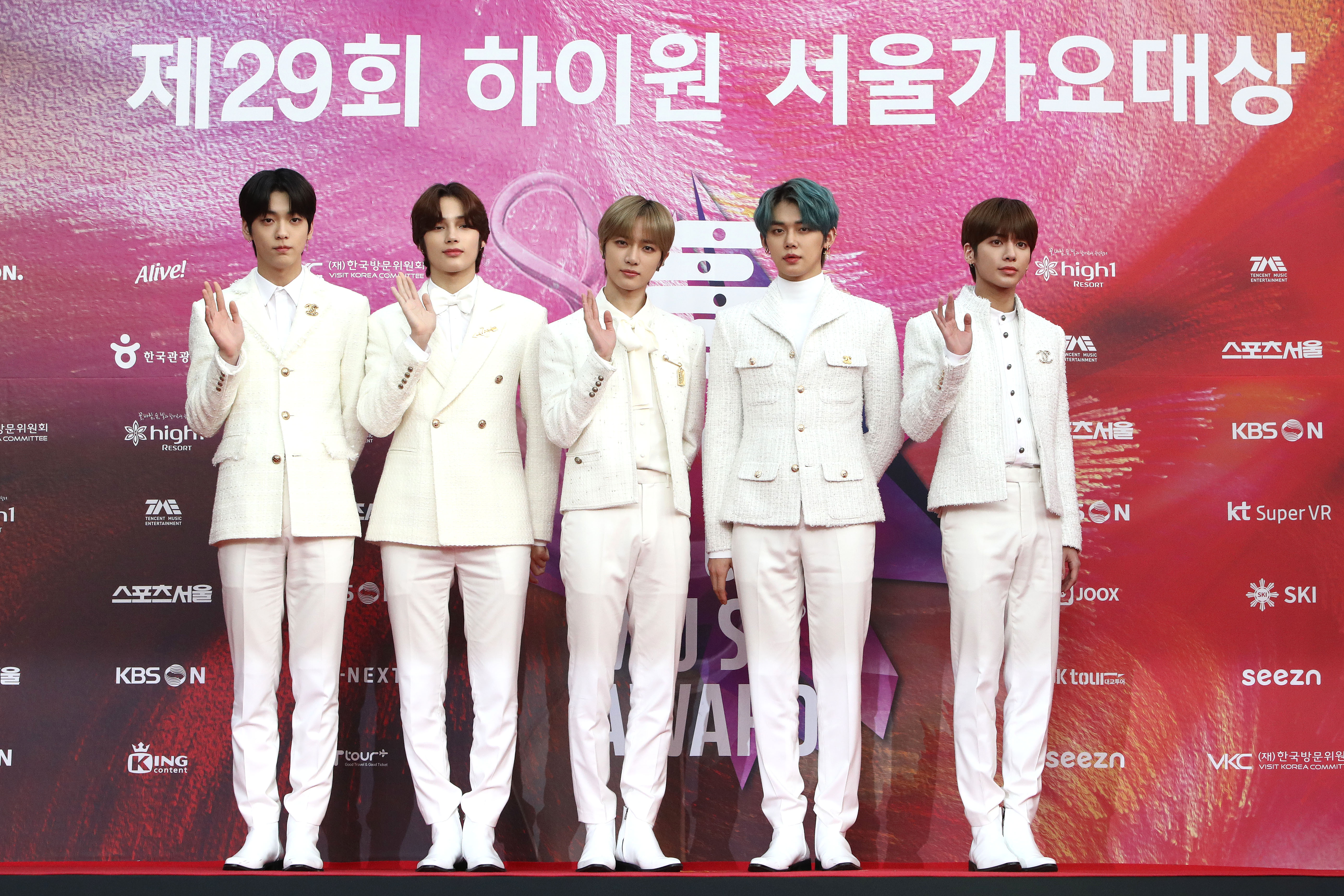 Tomorrow X Together is the K-pop group behind songs like 'Blue Hour' and 'Crown'
They've one of K-pop's up-and-coming boy bands. Tomorrow X Together, sometimes stylized as TXT, features five members and was created by the same company that manages BTS. This group debuted in March 2019 with the EP The Dream Chapter: Star. 
Since then, they've recorded a cover of Ariana Grande's "Thank U, Next," performed on Good Morning America and earned millions of fans worldwide. Their music videos posted to YouTube sometimes break personal records, raking in millions of plays. 
"At first, it was sometimes difficult to understand each other because each of us has very different backgrounds," Beomgyu said during an interview with Rolling Stone. "We've communicated a lot since then, and we've been together for a long time, so now we only need to meet eyes to know what the other is thinking."
Who are the rappers in Tomorrow X Together?
There are five members in Tomorrow X Together, some taking on specific roles when performing. However, this boy band doesn't have an official "rap line" for its members. That means that sometimes the "rappers" sing — other times the singers showcase their rapping skills. 
This group doesn't have a "main rapper." However, if there were one, it would probably be Yeonjun. He is also a dancer and somewhat of a vocalist for the group. Beomgyu is considered another rapper for this group, in addition to his role as the main dancer. This idol can play guitar and also appears as one of the "visuals" for this boy band. 
He's part vocalist, as well as a sub-rapper. In addition to being a rapper for TXT, Soobin is considered the leader of this group, meaning he has some extra responsibilities on his shoulders. 
Who are the other members of Tomorrow X Together?
There are two other members in this K-pop group, both of which sometimes rap and dance. That includes Huening Kai, the youngest member of TXT and also one of the main visuals for this group. 
Another member of this group is Kang Taehyun, who is a vocalist, dancer, and rapper for Tomorrow X Together. This member is bilingual, speaking both English and Korean, and even taught others to speak English at a tutoring center.
Music by TXT is available for streaming on platforms like Spotify and Apple Music, while their music videos are available on YouTube.